Movie Review of Johnny Depp, Amber Heard and Aaron Eckhart in The Rum Diary
The Rum Diary: A Hangover You Won't Mind
You know that friend who always has a crazy story to tell about one time he was "so drunk"? The tale meanders into several different tangents, and by the time you get to the middle, you've forgotten how it started and realize the story is going nowhere. And yet, you don't mind listening because you're highly entertained the whole time. That's basically The Rum Diary. Johnny Depp stars in the film as Paul Kemp, a journalist who takes a job at a struggling newspaper in Puerto Rico in the 1950s in the adaption of Hunter S. Thompson's novel. He's excited to be on the island and eager to get to work, but he's relegated to writing horoscopes and profiles on tourists. Kemp fights to cover some of the region's more important issues, but he loses his focus on work whenever his favourite pastime comes into play: drinking.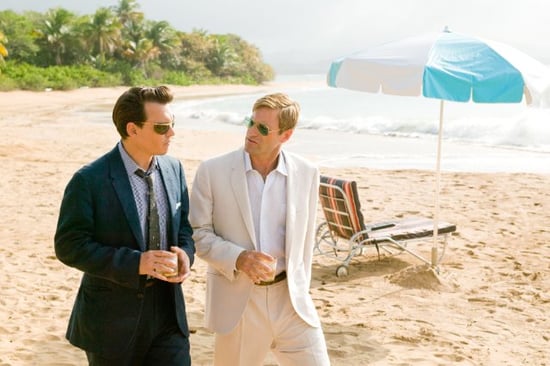 Thanks to the proliferation of rum in the area and his ever-willing drinking buddy Sala (Michael Rispoli), there are always plenty of opportunities for various adventures. Kemp sobers up long enough to get involved with a morally questionable project, lured by charming but crooked businessman Sanderson (Aaron Eckhart). Or more accurately, he's lured in by Sanderson's temptress of a girlfriend, Chenault (Amber Heard). Though Kemp has a few ambitions when the movie begins, they mostly devolve into afterthoughts as he becomes more consumed with his alcohol-soaked lifestyle and his crush on Chenault. It parallels the film's similar lack of direction; though a few plot threads are introduced, they're all abandoned in favour of portraying Kemp's partying ways on the sandy shores of Puerto Rico.
To find out why that's not necessarily a bad thing, just keep reading.
There are several situations that arise in the aftermath of Kemp and Sala's escapades that are side-splittingly funny, like when they have to drive their stripped car home with Kemp sitting on Sala's lap. The dialogue is also wry but silly, which plays to Depp's strength as a comedian. Though he's fairly mild-mannered as Kemp, his occasional breaks into goofy territory are delightful. Giovanni Ribisi also pops up as a degenerate writer, who, with his bloodshot eyes and a scratchy voice, is kind of a creep, but a consummate scene-stealer.
One other major pleasure is the gorgeous scenery; in addition to the tropical beaches, the cast makes for plenty of eye candy. Depp and Eckhart are dashing in their slick '60s garb and chic sunglasses, and the one woman in the cast, Heard, is breathtakingly gorgeous. Her looks are perfect for the time period's silhouettes and retro fashion, and she's as beguiling to the audience as she is to Kemp. While I'd hoped for a more satisfying storyline, the lighthearted trip is a fun one that you don't have to get too invested in. You'll be glad you got invited to this party — even if you don't quite know what happened the next morning.