Movie Review of Let Me In Starring Chloe Moretz, Kodi Smit-McPhee and Richard Jenkins
Let Me In: Beautiful and Bloody
Twilight and True Blood have made vampires into a sexy trend. Grown women coo over the likes of Edward Cullen and Eric Northman, but Let Me In reminds us of the creatures' less glamorous qualities: uncontrollable, often terrifying, and bloodthirsty.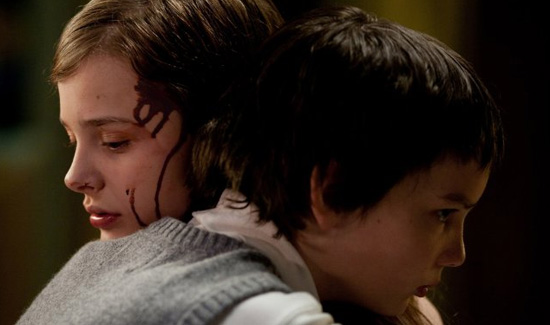 Based on the lauded Swedish original Let the Right One In, the film follows a scrawny school boy named Owen (Australian actor Kodi Smit-McPhee) who spends most of his days hiding from bullies or hanging out in the courtyard of his rundown apartment building. When a girl, Abby (Chloe Moretz), and her father (Richard Jenkins) move in next door, Owen takes an immediate interest in his new neighbours. He watches the father mysteriously leave late at night, and Owen can hear the man and his daughter yell through their paper-thin walls when he returns. As you might expect, their story is sinister. To find out what I mean, read more.
Keep reading . . .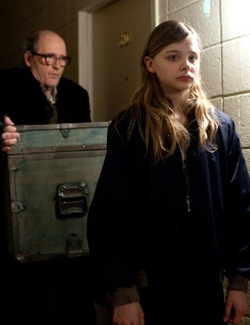 Abby, though only 12 years old ("more or less," she says), is a vampire, and she relies on her guardian to do her bidding. In a nutshell: he kills for her. Gory? Yes. But the film also explores the relationships between the hellion and those around her, as well as her desire for companionship. She and Owen bond over being outsiders: he introduces her to Now and Laters, while she teaches him to defend himself. The two begin an innocent romance, knocking on the walls in Morse code to communicate and holding hands. Could Abby be sympathetic despite her destructive nature? Talented Moretz's long, lingering looks are disturbing, but there's also a genuine loneliness behind them.
This is one of the rare cases of a remake that stays very true to its original material. Setting aside (Let Me In moves locations from Sweden to New Mexico), the highly tense film often copies scene-for-scene and, in many cases, word-for-word dialogue from Let the Right One In. However, this latest version is decidedly more Hollywood. The camera shots feel more complex, often switching perspectives and going for artistic nuances with blurred focuses and unusual angles, which makes the film surprisingly pretty. But to appeal to stateside audiences, director Matt Reeves has also upped the horror factor. Blood sprays the walls, creates puddles on floors, gushes from bodies—it's sure to make even strong stomachs a little queasy. And while the original doesn't delve too much into effects for Abby's vampire looks, here she has the obligatory changing eye color and visible transformation. The changes to her appearance are a disappointment; they feel tired, whereas the rest of the film is more high-brow than its scary-movie peers.
Let Me In is more intelligent than your typical made-to-spook flick. It is indeed scary, yet what's most chilling is the bond formed between its two young leads. Both seem almost naive about the repercussions of Abby's horrific actions, as they continue to stay friends despite the bodies she leaves in her wake. Puppy love has never been so twisted.