Movie Review of The Other Guys Starring Will Ferrell, Mark Wahlberg, and Eva Mendes
The Other Guys: A Comedy That Takes No Prisoners
Will Ferrell and Mark Wahlberg are both in somewhat uncharted territory in The Other Guys. Wahlberg isn't known for his comedic chops and while Ferrell has been playing immature buffoons for years, he's surprisingly conservative here—well, at least in the beginning.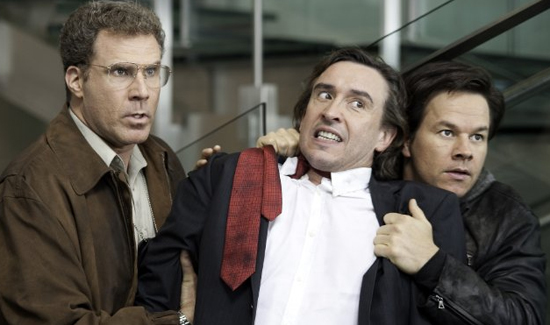 Ferrell plays Allen Gamble, a member of the NYPD who is perfectly content crunching numbers and filing paperwork (while happily humming to himself) instead of going out for duty. The loose cannon is his partner Terry Hoitz (Wahlberg). Unlike Allen, Terry loves to get in the thick of crime fighting—but unfortunately Terry has been relegated to staying at his desk after a shooting incident made him the joke of the force. To combat his embarrassment, Terry pokes fun at Allen (which he does often) and it's their banter that's sure to win over audiences. To find out what else makes the movie fun, read on.
Keep reading...
The film opens with the NYPD's top duo (Samuel L. Jackson and Dwayne Johnson) as they run down a bunch of bad guys on the streets of Manhattan. It's a total spoof of Hollywood's over-the-top action scenes, and Jackson and Johnson are casting perfection. However, when those guys get killed during a theft chase, the rest of the men in the force—including "the other guys," Allen and Terry—have the chance to step up. It's an opportunity that the anxious Terry has been waiting for and one that Allen has been expressly trying to avoid.
Ferrell and Wahlberg may be the leads of this film—and they play off each other well—but I'd say the biggest star is the script. There are so many hilarious one-liners that I wouldn't be surprised to see them sprout up on Facebook walls come Monday. The secondary players also deserve their due: Michael Keaton gets several laughs as a police chief and Bed Bath & Beyond manager who likes to quote TLC, while Eva Mendes turns her role as Will Ferrell's spouse into more than just "hot wife." Yes, the film plays up her looks to the umpteenth degree, but she gets to have some fun too. My one complaint: the plot feels a little jumbled. But so what? This film is meant to be a silly, entertaining comedy. And in that respect, The Other Guys are winners.
Photos courtesy Sony Pictures