Movie Review of Tim Burton's Alice in Wonderland, Starring Johnny Depp, Mia Wasikowska, Helena Bonham Carter, and Anne Hathaway
Alice in Wonderland: A Fun Trip, but Lacking Muchness
Towards the opening of Alice in Wonderland, a young Alice lays in bed as her father leans in to tell her a secret. She's been having odd dreams about a rabbit in a waistcoat and questions if she's losing her mind. He responds by telling her that crazy people are the most fun. I'd venture even further: in this film, crazy is king.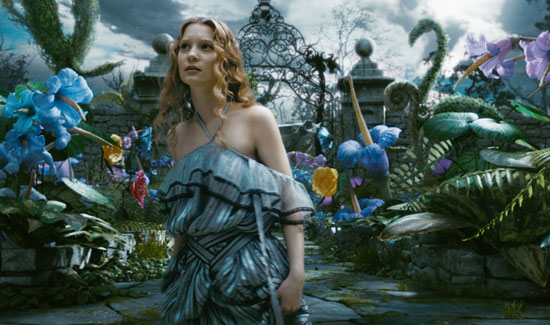 Alice in Wonderland feels like a story that's tailor-made for Tim Burton's directorial touch. Where else can you shrink ten sizes smaller with just a sip of a drink? In this new re-telling, a now 19-year old Alice (Mia Wasikowska) is about to be engaged against her wishes. That is, until she spies her old furry friend the White Rabbit (Michael Sheen). Chasing after him, she once again ventures into the world known as Underland (which she once fondly referred to as "Wonderland" in childhood). Seeing the new landscape, we immediately empathize with Alice's mix-up. This land is not the Disney-riffic place that many of us think of, but a bleaker setting where the Mad Hatter's tea party is in the middle of a wasteland and lopped-off heads float in a moat around the Red Queen's castle. It should go without saying then, that this film is not for tiny tykes. Older children and adults, however, may find stuff to like—particularly the performances. For more on those,
.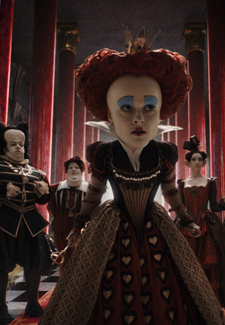 Helena Bonham Carter nearly steals the show here as the Red Queen; her huge, heart-shaped head sits atop a tiny body as she shouts "off with her head" like a bad tick. Alice infiltrates her castle in order to retrieve a sword that controls the kingdom and put it into the benevolent hands of Red's sister the White Queen (Anne Hathaway). Thus, Alice becomes a Joan of Arc heroine and this story is ultimately about her finding her own gumption, aka her "muchness"—with some help from the Mad Hatter (Johnny Depp), naturally. Depp delivers his usual silly shtick, breaking into a jig or a brogue at the drop of a, er, hat; but he also has tender scenes with Alice that depict the Mad Hatter as Alice's alternative father figure. It's these interactions that give the film heart in the midst of the chaos. It's also something I would have liked to see more of. Where the film misses its own "muchness," however, is perhaps in the collaboration of Burton and Disney. The film is a little too dark for Disney, but a little too slicked out in CGI and 3D for Burton. I'd be curious to see where Burton would have taken the story if left to his own devices. Instead, the film we get builds up to a battle climax that takes a page from Lord of the Rings. It's still entertaining, but to me, the treasure to be found in Wonderland is its characters—and for a story that lends itself to such an array of delightful possibilities, we don't get to play with them nearly enough.