Music Interview With Australian DJ Duo Flight Facilities
Your Music Playlists Sorted Thanks to Flight Facilities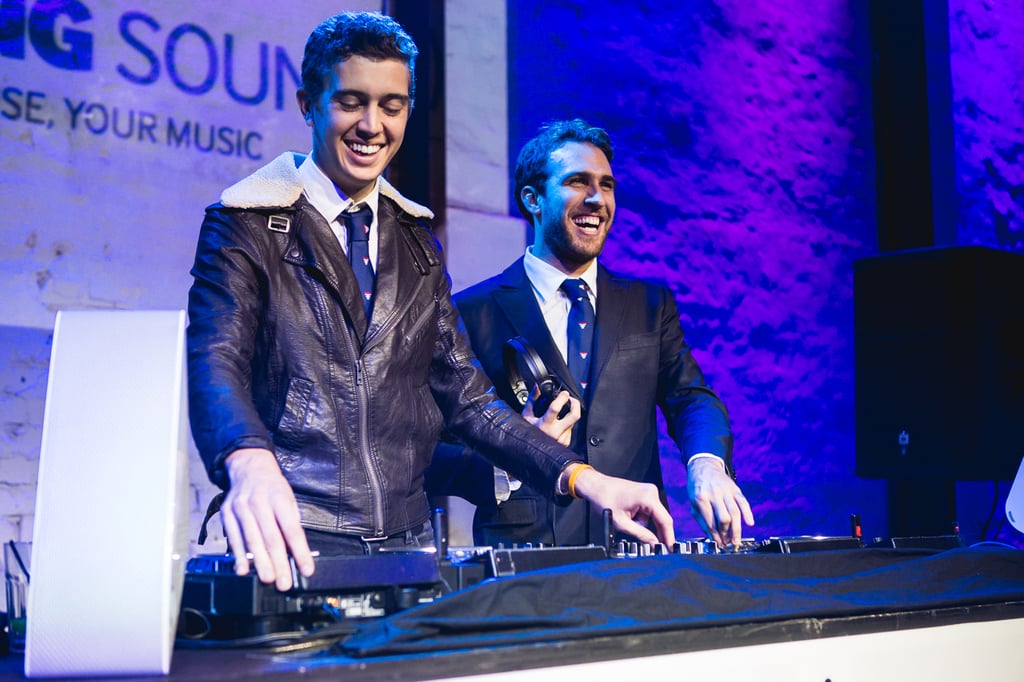 Source: KUHLEKTIV
Getting the music right for any occasion can be tough, and once the playlist has started, it can be a point of contention. How do you please everyone? Short answer: you can't. So we decided to turn to some pros to see what they would play in any given situation. Aussie music producing duo Flight Facilities, aka Hugo Gruzman and James "Jimmy" Lyell, who are part of Samsung Sound's line-up of artists performing at exclusive gigs in Australia (the next one features Jinja Safari this Saturday in Sydney), gave us their playlist picks for events like weddings, house parties, and what's appropriate for an office.
Songs to Get the
Wedding

Dance Floor Started

Jimmy: "Get Lucky" by Daft Punk

Hugo: "Best of My Love" by The Emotions

Jimmy: "Drop the Pressure" by Mylo

Hugo: "The Way You Make Me Feel" by Michael Jackson

Jimmy: "Stomp" by The Brothers Johnson
Songs For a House Party
"Saturdays" by Cut Copy
"I Wish" by Skee-Lo
"Gangster's Paradise" by Coolio
"Pony" by Ginuwine
"Around the World" by Daft Punk
"Smells Like Teen Spirit" by Nirvana
"The Lovecats" by The Cure
Office Playlist
Jimmy: It can't be too rowdy. I think it's mixtapes. Late Night Tuff Guy, he's got amazing mixtapes. Who else?
Hugo: Breakbot's mixtapes.
Jimmy: Sometimes I even like Nicolas Jaars' Wolf+Lamb stuff. It's a little bit techno, but you can really work to that sh*t.
Hugo: There'd be other people who have notoriously good mixtapes. I think someone should go, "Here's a mixtape from this artist," and that's an hour of that artist's selection, so that's taking the pressure off them.
Jimmy: If too many people in a 10-minute timeframe dis the mixtape, then it's off. There has to be mixtapes, and then rules. So that means no single songs can be deleted and no one really gets offended.
Hugo: The Canyons have really good mixtapes.
Fail-Safe Songs For Getting People Up and Dancing
Hugo: For a standard nightclub night, "Drop the Pressure" would go on that. That never fails. There'd be a Disclosure song, I think "Latch" more than any of them. Kanye as well. There'd be some Calvin Harris. The one song we had a big soft spot for was "I'm Not Alone" by Calvin Harris.
Jimmy: That's when he started to get EDM, it's really good.
Hugo: It's halfway between.
If You Could Only Play 5 Songs For the Rest of Your Life . . .
Hugo: Whoa. Well "Best of My Love" is mine, there's no question about that.
Jimmy: "Josephine" by Chris Rea. "Stayin' Alive" by the Bee Gees, the original 12-inch because the drums on that are my favourite thing in the whole world.
Hugo: I'd have to do a Bee Gees song too, but it's probably "More Than a Woman."
Jimmy: The original "Clair de Lune" by Debussy.
Hugo: Yeah, that's good.
Jimmy: "Slow" by Kylie Minogue.
3 Songs You Never Want to Hear Again
Jimmy: "#Selfie." You know what, I really don't mind "Friday."
Hugo: "Livin' on a Prayer" by Bon Jovi, and that's because I worked in a pub for a year and I never want to f**king hear that song again. A year or two earlier — loved it. One year in a pub will wreck that song forever for you. Every time I hear it come on the radio, I'm like nope.
Jimmy: "Timber" by Kesha.
Hugo: "Tonight's Gonna Be a Good Night" by the Black Eyed Peas. Is that the name of the song? "I Gotta Feeling." Actually that one at least was original. The "Time of My Life" one by them. That wrecked a perfectly good song.
Jimmy: Wasn't that called "Dirty Bit"?
Artists Who Are Exciting You Right Now
Jimmy: Bishop Nehru. Disclosure are just great.
Hugo: There's a guy who's a friend of ours in the industry called Falqo, and he's got a really cool single. We waited two years for him to release it.
Jimmy: I love Chet's [Chet Faker] stuff, Chet's doing great things. We've been saying that we've been working so much on new music that we've kind of been deaf to any other. I can't wait to finish it and just go out and be like, 'What's happening?'