My Kitchen Rules 2012 Contestants Peter and Gary Say the Show Is a Popularity Contest
My Kitchen Rules' Peter and Gary Say the Show Is More About Popularity Than Food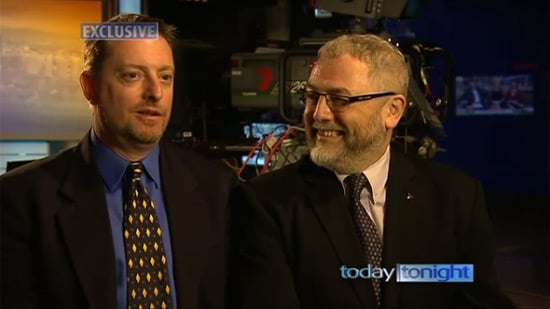 Two nights ago, Queensland team Peter and Gary's instant restaurant episode on My Kitchen Rules aired on TV. Almost 2 million Australians tuned in to see whether they would succeed or bomb after all their criticism of other people's dishes. The overall consensus on their French-inspired menu was that it tasted great, but their competitors took points off for the three-hour wait between entree and main, which saw them waiting for dessert at 1 a.m. Needless to say, Peter and Gary were unimpressed with the scores the other teams gave them, and believed a lot of their lower scores were strategic points.
Peter and Gary appeared on Today Tonight last night to address their haters, and what it's been like to be portrayed as the villains of group 2. "I thought it was great entertainment. It was very Julius Caesar," said lawyer Peter of their instant restaurant episode. In regards to their apparent confidence, he said, "The idea of being up myself — I take offence to that. I don't go into a competition, such as this one, thinking I can lose. If I were to walk into a courtroom thinking, 'I can't win,' I may as well not be there. It's about your mindset."
More from Peter and Gary after the jump.
As for what they thought they were getting themselves into with MKR, the partners of 21 years believed it would all come down to the food after realising it was about much more than that. Peter continued, "We honestly thought MKR was about the food, not some popularity contest, which I think it's fast becoming into. Clearly, I'm not here to win friends — that was evident last night."
Victorian sisters Carly and Emily were the last in their group to cook, and last night managed to score a total of 69, which meant Peter and Gary's total of 63 saw them in the bottom three. They will compete in another instant restaurant round (surprise!) with the rest of the bottom six couples, and things could get very interesting since they'll be in the same group as Victoria representatives from group 1, Thomas and Carla.