My Kitchen Rules 2012 Group 1 Scores, Leader Board and Round-Up
Checking In on My Kitchen Rules: The Group 1 Round-Up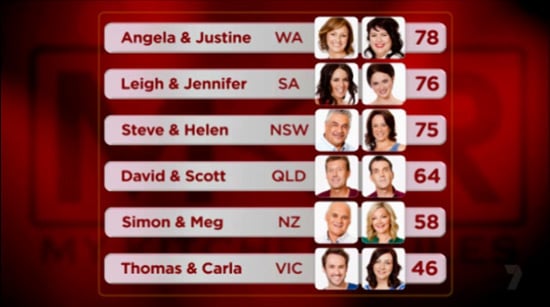 The first six teams on My Kitchen Rules have presented their instant restaurants, with Victoria's Thomas and Carla wrapping up group 1 last night. After dishing out lots of criticism, it turns out the "just friends" team wasn't able to deliver the high expectations everyone had — their wheat beer and mussel soup entree gave them a strong start, but a disappointing lamb kofta and roti main (served 2 hours 30 minutes after the first course) followed by an "inedible" lavender and blueberry cheesecake dessert saw them land at the bottom of the leader board with 46 points. And then came the twist from judges Pete Evans and Manu Feildel: the bottom three teams from group 1 — Thomas and Carla, soldier mates David and Scott, and New Zealand couple Simon and Meg — will all be cooking to keep their place in the competition.
For more on My Kitchen Rules, keep reading.
The show has been a ratings success for Channel Seven so far, winning its 7:30 p.m. timeslot and averaging more than 1.5 million viewers the nights it's on. Tonight kicks off the instant restaurants of group 2, starting with potential in-laws Sam and Jillian from NSW. And according to the promos, Queenslanders Peter and Gary are set to ruffle more feathers than "villain" and "Princess" Jennifer Evans from SA, who didn't hold back with her food criticism and ended comments with her trademark "Yeah." (I still don't think she's deserving of the "villain" tag — you can leave your thoughts in the comments.) Before the show continues tonight, get reacquainted with the contestants from group 2.
My Kitchen Rules airs Monday through Thursday at 7:30 p.m. on Channel Seven.