My Kitchen Rules 2013: Angela and Melina Interview
My Kitchen Rules' Angela and Melina on Ashlee and Sophia, and Missing Their Families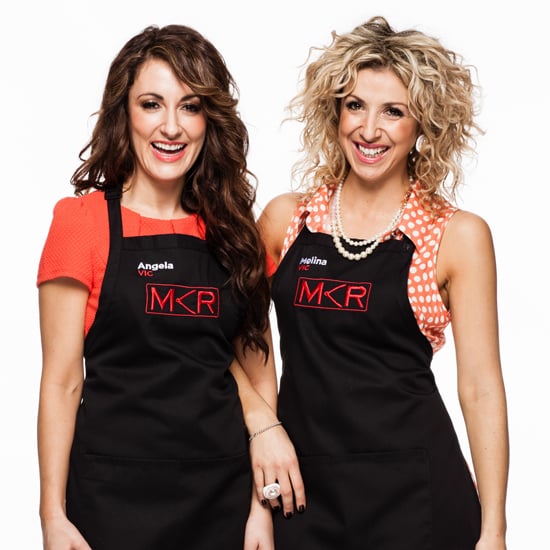 For Melbourne friends and 'Real Housewives' Angela and Melina, their time on My Kitchen Rules came to an end when they were eliminated after a sudden death cook-off against Queensland siblings Jake and Elle. Angela and Melina may have been focused on their challenges but a headline-making TV rivalry between the girls and NSW team Ashlee and Sophia temporarily pushed food out of the spotlight. I spoke to Angela and Melina this morning to get the scoop on what Ashlee and Sophia were really like, how they coped with being away from their husbands and young sons, and whether they touched up their lip gloss during challenges (because it always looked good!).
What was it like to watch and re-live your elimination episode?
Angela: It was really emotional. I'm really proud of us. I think we did really well and put up a really good fight. It was pretty close, I reckon, and I'm proud of it.
Did you feel confident going into the sudden death cook-off because you'd already won one?
Melina: We felt like we'd learnt a lot from our previous sudden death experience. We thought we had a perfect game plan but that went to crap [laughs]. But we did feel confident and we felt really focused, and I think you could see that with the energy we had last night.
How long do you get to decide on your menu?
Angela: We pretty much decide the night before what we're gonna do.
More from Angela and Melina when you keep reading.
Wasn't there any other way you could have made the anglaise for the ice cream to speed up that process?
Angela: Not really, because the night before I practised making the anglaise and I scrambled it three times, so I really wasn't going to move away from it.
Melina: And with an anglaise you really do need to nurture it like a baby, otherwise you won't have one!
It's such a long day and a long challenge — do you get to eat between the dishes?
Angela: Yeah, we do, they feed us. [Laughs]
Melina: They actually cater really well, buffet-style. But you're so stressed. We didn't want to eat.
Over the whole course of this show you have been asked about about Ashlee and Sophia. I know you didn't get along with them on the show, but were you surprised by what they said in the interview packages that were edited in?
Angela: I wouldn't say we were surprised — the negative energy was always there. I think we were surprised to the extent and level they went to, like how low they really stooped, and it was all done behind our back.
Melina: And that anyone would actually sell their soul just for 15 minutes of fame. We were probably more shocked, more than anything else, that you would even do that.
Angela: It doesn't bother us — seriously, it's quite laughable, but how do you live with yourself when you've acted like that on national TV?
It's been interesting to watch it unfold not just on TV, but also in all your interviews. There were rumours that Sophia was an actress but when you read all the articles you realise it's not just turned on for the cameras.
Melina: No, it's not just on camera. But I do think that Sophia is just desperate for so much attention that watching her on camera, I could really see how she was acting it up, like over-acting. I can understand why people might think that she is an actress, but I just think she was just really craving attention, and by over-acting she knew she was going to get it.
Angela: That's a really good point that Mel brings up, because that is exactly right — I never thought of it like that. That is so true. I can see how people would think she was acting because she was playing it up!
What's the most shocking or rude thing you thought they said?
Angela: The stink thing was pretty low.
Melina: For me it was probably when I was emotional about the chicken, and she said, "It's pathetic," and, "What 30-year-old would cry?" And I was just like, "Sorry, are you like the Tin Man from The Wizard of Oz who doesn't have a heart? You have no tears, you can't cry."
Angela: I'm sorry, but when I see a human being cry, even if I don't like them, I feel empathy towards them, if a person is showing their vulnerability. And for them to not respond in any kind of empathetic way towards Melina, it just goes to show that they are shallow people.
Melina: Because you've got a heart, darling, you're normal.
Did they give you a hug goodbye when you left the show?
Melina: Ha-ha. No.
Angela: They didn't come near us.
Melina: They didn't even give us a clap.
Angela: It wasn't just not shown on TV. They definitely didn't congratulate us, they didn't thank us, they didn't shake our hands, they didn't clap — nothing.
Does it worry you that millions of people have seen you kind of roped into a bitchy TV rivalry?
Melina: I don't feel that way at all. I don't feel we were roped into a bitchy rivalry. I do believe Channel Seven probably had characters they wanted to fill — I picture that they had a big CSI board with characters that they knew were going to get along, and whatnot — but I'm proud of Angela and I. We held ourselves well. We didn't buy into the bitchiness. We stood up for what we believe in, and that is good manners and good values. They had a big nasty bitch fight by themselves to a camera, not to our face. We didn't even know we were a part of it, to a degree!
What was the vibe like between contestants when the cameras weren't rolling?
Angela: A lot of other contestants — not a lot, but some — became very good friends with Ashlee and Sophia, and I think Mel would agree, they were poisoned by Ashlee and Sophia's poison. So there was a bit of a negative vibe at other times from other contestants, but since then a lot of them have come out of the woodwork and apologised, and become very friendly towards us, realising now just how bad they really were.
Melina: But I also think, Ange, that a few of them had their own poison. Like you always say — like breeds like.
Angela: Yeah, birds of a feather flock together, and some of them did flock with Ashlee and Sophia. It would be the ones that you would never think would.
Melina: They're also good actors.
Did you get to touch up your hair and makeup during challenges?
Melina: [Laughs] No, we didn't! We didn't have time!
Angela: I'm kind of surprised that we still looked respectable considering how flustered and stressed out we were!
Melina: I'll tell you what, we did feel like what Jessie looked like in her instant restaurant. [Laughs]
Last year lots of the girls had braids and one of them told me there were hairstylists who braided their hair because it looked nice and kept it out of their faces. This year I've noticed there's a lot of lip gloss and lipstick.
Angela: That's just us. That's Mel and I. We wear lipstick every day if we're going out. We love lipstick! Lipstick makes your face happy.
Melina: I actually get anxiety if I don't have any lip gloss on, even if it's paw-paw. Also, I use it like a security blanket — like some people have a nip of wine, I'm like re-applying lip gloss! [Laughs]
I read that you both flew back to see your families every now and then — it must have been great to see your husbands and kids, but did it distract you from the competition?
Angela: If we didn't see our kids, I think we would have died. We wouldn't have survived the competition.
Melina: That's what kept me sane.
Angela: Same. If I didn't see my son, I would have walked out of that competition way earlier. I needed to feel normal, I needed to be mum and wife again, not just a chick from a reality show who's ripping her hair out.
Melina: God that was sh*t though, that was sh*t flying home for 24 hours, seeing them, and then that cab ride back to the airport. Ange and I would rock up to the airport in tears. It was traumatic.
Angela: Our hearts had been torn out. It was really hard. And you can't explain it to them. You try, but they're little boys! They don't understand why mummy's leaving.
Melina: It's just funny — [my son] Jordy was 16 months old when I went, but [Angela's son] Patrick was a little older, so we were both really emotional in our own little bubble of missing our kids. Now that my son's two and he's actually talking and understanding — man, Ange, I don't know how you did it. Paddy talks and understands, whereas Jordy wasn't at that point. He missed me, but I don't know how you did it.
Angela: He would say things to me like, "Mummy, stop working," because I would say, "Mummy's going to work now, but I'll be coming back! I miss you." And he would cry and say, "No, don't go to work, come back!" It broke my heart.
Melina: I'm just glad it's over because it's taken three months for Jordyn to get over separation anxiety.
Did you get what you wanted to get out of the show?
Angela: I think we did.
Melina: Definitely.
Angela: We pushed ourselves further than we ever thought we could. Like we got to the point where there was nothing left. The tank was empty! And we still found more to give. I'm so proud of us.
Melina: Some people were there for the money, and you could tell. I'll be honest — we went there to do our best, but we never really thought we were going to win the $250,000 when we met the other people. And we were really realistic about it. Sure, some people may have said, "Well what are you here for then?" but we were there for our own personal journeys, and what we got out of it was wisdom and experience. You can't buy that.
Who do you think will win? Who do you want to win?
Angela: I want Jenna and Joanna to win.
Melina: They're beautiful girls. That sudden death they were in — you saw it yourself — they won people's choice the next time. They really work well together as a team, and are a really great yin and yang in terms of technique and skills.
Angela: And they're willing to take risks and push themselves. And even though Jenna cries a lot, don't be fooled by that, she's a tough little cookie, and she won't give up.
Melina: She's just emotional! She doesn't even like crying, it really does her head in. But it's just an emotion and she has a lot of feminine energy.
My Kitchen Rules returns on Monday, April 1, at 7:30 p.m. on Channel Seven.