My Kitchen Rules 2013 Dan and Steph Winners Interview
My Kitchen Rules Winners Dan and Steph on the Grand Final, Their 'Sob Story' and New Tattoo Plans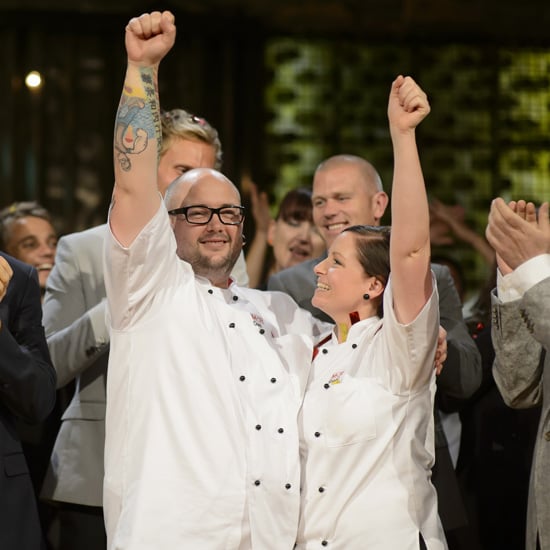 Dan and Steph Mulheron are $250,000 richer and well on their way to achieving their dreams of starting a family and opening a gourmet sausage shop after being crowned the 2013 winners of My Kitchen Rules. In a dramatic and nail-biting grand final that aired last night, the lovable couple from Hervey Bay beat fellow Queensland team, siblings Jake and Elle Harrison, by just two points, with a final score of 54 out of 60. Each team had to prepare 100 plates for a five-course meal.
Not many would have predicted Dan and Steph to be grand finalists after their rocky start on the show, which involved a cherry cola braised pork dish that was slammed by judges Pete Evans and Manu Feildel. (Funnily enough, that dish has ended up in the new MKR cookbook, which Dan can't quite believe.) During our morning chat we also talked about their mindset during the final challenge, their response to comments about their 'sob story' (they wanted the money to help with IVF treatment costs), whether they took home any show souvenirs, and if they'll get new tattoos to mark their win.
How are you? Did you get much sleep?
Steph: About four hours I think we got, so it's not too bad.
How did you celebrate and watch the grand final?
Dan: It was pretty low-key. We just had a few friends and family at the Hotel Urban, where we're staying, at a little bar there. Our wonderful publicist Josie was there as well. It was a great night, pretty low-key but good. Everyone we wanted there was there.
More from Dan and Steph when you keep reading.
What was your favourite part to re-live?
Both: Um . . .
Dan: I'd say seeing friends come through [the door] and watching friends' reactions.
Steph: And seeing all the ex-contestants' reactions when we were plating up.
Dan: When we were going really well, it was great just to see the other teams who got eliminated early to see how far we'd come along.
Was it as stressful as you remembered it to be?
Dan: Nah, it wasn't so stressful, was it?
Steph: We had jobs to do.
Dan: It was more the pressure.
How did you rate your chances against Jake and Elle?
Steph: Well we're two different styles of cooking, and we obviously had to do what we do to the best of our ability. No matter what happened, as long as we were happy with what we plated, we walked away from that with no regrets. We were happy with whatever happened.
Dan: I feel as though we were the underdogs, but I never thought that while we were doing it. I always knew we had it in us to win.
How aware were you of Jake and Elle and what they were doing during the challenges?
Dan: Honestly, we were not bothered by what Jake and Elle were doing. We were just 100 percent [focused] on what we were doing.
Steph: And we never really got to see their food on the day either. They kept it very separate. So it wasn't until last night that we could see what they plated up.
What did you think of their menu?
Steph: It was very them, very Jake and Elle.
Dan: I was actually quite surprised with their dessert. I thought we were going to see the molecular gastronomy come into it, you know, the films and the foams and the emulsions. I was expecting to see that, but we didn't.
How did the timing of the tasting affect the dishes, like the ones in ovens? Was that something you also had to consider, the time-out between dishes?
Dan: Yeah. We were very lucky. We sort of had a set plan going into every dish. Like with the first two hours, for instance, we had so much that we had to get done, and we were lucky to come out of the first two hours well in front of what we planned. In between the breaks, we'd just go back to the drawing board and say, "OK, we've done this, this, this, now we've got to do that, that and that." We had to concentrate fully, the whole time.
You seemed calmer and more organised last night, or at least Jake and Elle came across as more frazzled.
Steph: We definitely had a game plan and stuck to it. We had a checklist in our heads, and as Dan said by the time we served our first entrée, we were ahead of what we thought we were going to be, so that put us ahead for the rest of the cook.
When or how did you learn all the new techniques you demonstrated towards the end of the series?
Dan: I think after the instant restaurants we realised if we want to stay, we've gotta pull our fingers out. We just got into the books, studied on the Internet, flat out, and practise, practise, practise.
Steph: We learnt so much.
Has it changed the way you cook now?
Steph: It totally has.
Dan: For sure. It's a lot simpler now. We don't try and over-complicate stuff. Good produce, you can't go wrong.
You guys are very likeable winners, but how do you feel about comments that you had the better sob story and that people being sympathetic to you could have affected the outcome?
Dan: Not too bothered, to be honest. Yeah, we've got a sob story, but the thing is it's true. It's the truth. I think we've done a brave thing by putting our story out to the public for all of Australia to know about. That's what they wanted, that's what they got — we didn't sugar-coat it and told it exactly how it is.
Steph: We never forgot why we were there, and that's why we entered My Kitchen Rules.
Dan: I don't believe we should have to hide our so-called sob story.
Steph: And I don't think it was a sympathy sob story end result. We cooked better at the end of the day.
Did you get to keep your chef whites or anything from the set?
Steph: Apparently now we can ask for it now it's all over!
Dan: The dressing rooms of all the guest judges have little MKR tags with their names on it, so we were the last people to leave the dressing rooms that day, and I took all the stars with their names on it [laughs].
Steph: We've got quite a few souvenirs! [Laughs]
The chef whites have your instant restaurant name on the back, so of course you'd want to keep it!
Dan: Once they send them I'll never take them off. I'll wear them out everywhere!
Did you sustain any injuries throughout the series? Any serious burns?
Dan: We used to make a point of no burns, no cuts, because as soon as you do, they [producers and medical staff] pull you out of the kitchen, in your time, and the nurse there, she will not let you back into the kitchen if you're still bleeding. So if you cut yourself, you can kiss five minutes of your time goodbye. I actually did burn myself in the grand final but I hid it very, very well.
Steph: That's right, you had no feeling in your fingertips.
I can't remember who it was, but you all had confit things going on and it did look like someone's oil sloshed around during oven movements.
Dan: Yep, that is exactly when I burnt my fingers in the hot oil.
Will you get a new tattoo to commemorate MKR?
Dan: [Laughs] Honestly, I am. I'm going to get the My Kitchen Rules logo — I've got to run it by Seven first, before I use it — but I'm going to get the logo, the big MKR black and red, and I'm going to put 'Winners 2013,' stuff like that. I'm gonna get that put on me thigh above my other leg tattoo. And that's fair dinkum.
Steph: I'm not sure if I'll get it. [Laughs]
What's your overall highlight (apart from winning) and lowlight of the competition?
Dan: Highlight was definitely Melbourne Cup.
A lot of the contestants loved that.
Steph: It was amazing.
Dan: We're race people, we love horse races, so that was big for us.
Steph: The low was definitely our instant restaurant.
With your Dr. Pepper pork?
Dan: Yeah. But you know what? The funniest thing — they absolutely grilled me about that cherry cola braised bacon, and it's actually in the cookbook! I couldn't believe it.
What's next for you in the immediate future?
Steph: We'd love to have a little rest.
Dan: Take it all in.
Steph: We've got a few things that we're going to be at. We're just going to ride the way and see what comes our way. We'll just focus on the sausage stop and start working that out, and figure out where we'll be what we're going to do!
Photo courtesy of Channel Seven