My Kitchen Rules 2013: Jessie and Biswa First Eliminated
Jessie and Biswa Are the First Team Eliminated From My Kitchen Rules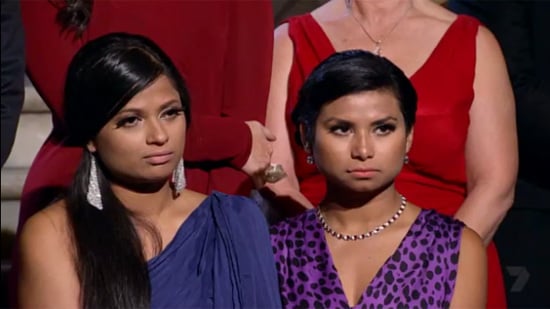 Jessie and Biswa were eliminated from My Kitchen Rules on tonight's episode after scoring the lowest on group one's leader board. The last team to cook in this round were dating couple from SA, Lisa and Stefano, who didn't have a dream run with their instant restaurant but managed to score a total of 52 out of 110 points, putting them ahead of Jessie and Biswa's score of 41. Judges Pete Evans and Manu Feildel announced at the beginning of the series that there would be "no second chances" and that the lowest-scoring team in the instant restaurant round would be knocked out, and that was the case for NSW friends Jessie and Biswa tonight.
For more of tonight's episode and the leader board, keep reading.
Lisa and Stefano anticipated that the other teams would score strategically, but their menu and flavour combinations puzzled the judges from the get-go. Their entree of white bean and eggplant puree with rosemary flatbread was deemed too simple for the competition, while Lisa's decision to choose a piping bag to present the puree was also criticised. The dinner didn't improve much with their main course, duck breast in white wine, cinnamon and sage sauce on polenta with roast potatoes and artichokes, with the table unanimously panning the polenta, and complaints of the duck being too dry. Lisa and Stefano were saved by their dessert, a coconut meringue with passionfruit curd and rum cream, which the judges and contestants said was the highlight of the night.
In the packages interspersed through the episode, most of the contestants predicted that it would be difficult for Jessie and Biswa to stay in the competition with such a low score. WA contestant Josh said, "I'm thinking Jessie and Biswa will go home tonight. And that wouldn't be a bad thing." Victorian contestant Kerrie said, "This will be our last supper with them." When the judges announced the final result, Pete said to the girls, "You have infectious personalities," and Manu added, "You were loud, you were finishing each other's sentences or talking over the top of each other. I think we're going to miss that." For their part, Jessie said, "For the competition we were just open and honest and transparent. And that's who we are."
We'll be speaking to Jessie and Biswa tomorrow morning so stay tuned for our interview.