My Kitchen Rules 2013: Jessie and Biswa Interview
My Kitchen Rules' Biswa on Her and Jessie's Outspoken Nature, and Viewer Backlash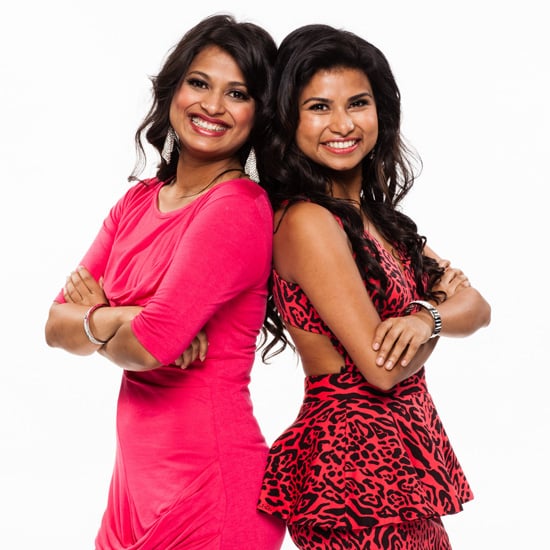 My Kitchen Rules contestants Jessie and Biswa were eliminated from the competition on last night's episode, which concluded the instant restaurant round for group one. With their outspoken natures, the girls, who are former high school friends from NSW, have been at the centre of a social media storm that has seen comments ranging from personal attacks (including death threats) to racist statements. We spoke to Biswa this morning to discuss the Twitter hate, how they never meant to offend, and what the instant restaurants were really like.
What was it like to re-live your elimination on TV last night?
I'll be honest with you: I couldn't watch it yesterday. When I just got some snippets of it I was nearly in tears. Actually I was on Sunrise this morning and they showed little snippets of us getting eliminated, and I couldn't help getting a little emotional and teary.
What has been the most hurtful thing about the feedback you've received from viewers?
I don't mind what people say about us, personally, because we said all those things, that's fine. We came across as rude or mean — that's also fine. We're not those people, but that's completely fine. The only thing that hurts me the most was people coming down to race and saying stuff about the race in general. If you justify us as our race, that's incorrect, because our race is not anywhere near like us. We are outspoken and in-your-face, fun and loud, you know? I don't think it gives anyone the right to say just because these girls are from here, the whole race is just like that. I feel that's a bit over the top. Besides that, everything else, I'm fine with it.
More from Biswa when you keep reading.
There have been people from the Indian community who have been upset with your behaviour on the show because they think it is an unfair reflection on the community as a whole. What do you think about those comments?
To be honest, again, we are not like the other people from our community. In Australia everyone has the right to be their own person, and we're just ourselves. We're not trying to change as anyone else. We're not trying to pretend. It's just the way we are and we've accepted that. We've always had problems with our community for being outspoken and for doing all those things. And from their point of view, I completely understand where they're coming from. People are giving our community a bad name because of us, and I feel the most hurt from that. But people should not generalise the community from us, and look at everybody with hate because of us. It's a reality TV show at the end of the day — they show what they show to get the most ratings. We don't mean anything personal by any of the comments, we just said it in a joking way. We never thought it would go to that stage.
What shocked you most about the way you were portrayed?
We said all those things, don't get us wrong, but when we said things like "Crash and burn!" we just said it in a very funny way. We were just joking. When we're together, we just say stuff like that all the time. We're such good friends we don't even realise when the camera is on, and we never feel uncomfortable by saying anything. Our mouths just get away from us sometimes.
I think people took issue with your choice of words . . .
Sometimes the words were not in the right [context].
But even when you compared food to 'looking like poo' and things like that.
[Laughs] Sometimes we don't even realise we have mics on or the camera on! We just say whatever comes to our head. We said all those things, don't get us wrong, but we did not mean in any way to sound rude to them as a couple or contestants. We just said it about the food. It was just funny — we'd be like, "It looks like poo," and then just crack up laughing. It was never meant to be like, "Oh it looks like poo and I'm not going to eat it." We're not serious people.
Did you watch previous seasons to see what happened to the past 'villains' of the show?
Yeah . . . I watched the last season. Well, I don't really think the 'Dr. Evil' [Peter] is so evil anymore. [Laughs] It's just how much ammunition we give them [producers] to utilise. Some people don't say anything so there's nothing for them to use, but we just blab our mouths. Maybe we should think about what we say before we say things. That's probably our biggest flaw.
You've seen how people have been portrayed and you know what everyone is like in real life. How accurate is the show's depiction of the other contestants?
I can't really say. Everyone was really lovely to us so we can't really say, "Oh, this couple was this," and, "This couple was mean." They've been really lovely to us.
What are the instant restaurants really like? Do you ever run out of things to talk about with the other contestants?
Yeah, it got really boring. We like to entertain ourselves. And you'll see all our facial expressions that they put on. It's because we've been bored sitting there, thinking, "Oh my gosh what do we do now?" And all those random things that come out of our mouths that they utilise? It's all because we're so bored and want to entertain ourselves. Between us as friends, we're never bored. There's never a moment that we shut up. Maybe people don't have the same mentality as us, and they're fine with just sitting around, but it's just not us. When we were sitting at the dinner table, we wanted to not be bored. We want to have some fun. That's our main goal.
At what point did everyone realise that cooking later in the instant restaurant round is a disadvantage because people start getting more strategic?
It does. If we cooked first go, it would have been completely different. They wouldn't have a perception of us in their heads already; they would've seen us for the first time. They wouldn't have known what we were like. The things that we say are never in a hurtful way. Maybe they take it in a different way. So I can't really comment on that bit.
Things didn't go smoothly for you in your instant restaurant. What would you change if you could do it again?
I would've trusted my gut feeling. We tried to do a little bit extra. We tried to put new techniques in there. We tried to do this and that. At the end of the day we should've trusted our gut feeling and gone with the classics.
Whose instant restaurant did you enjoy the most?
Jake and Elle's was awesome because outdoors was beautiful. Mick and Matt's was awesome because it was the nautical theme and we were all having fun with the [shark] teeth on the table. Josh and Andi's, I loved their decor. And Craig and Kerrie's, I loved the '70s theme. Did you see my headband? My mum just looked at it and said, "What are you wearing on your head?" [Laughs]
You finished filming a while ago, so how did you leave things with the other contestants?
Before it went to air, like when we got kicked out, we were all on really good terms. We said, "Don't take anything we said too personally, it's just a reality show." Before, we kept in touch with Lisa and Stefano, but I'm not too sure how they feel about it right now. I completely understand if they never want to speak to us again but I have great respect for them. We stuffed up in our instant restaurant but they got through the pressure and we commend them for it.
My Kitchen Rules airs from Monday to Thursday at 7:30 p.m. on Channel Seven.
Photo courtesy of Channel Seven