My Kitchen Rules 2013: Jessie and Biswa Score 41 Points
Jessie and Biswa Risk Early My Kitchen Rules Elimination With 41 Points For Instant Restaurant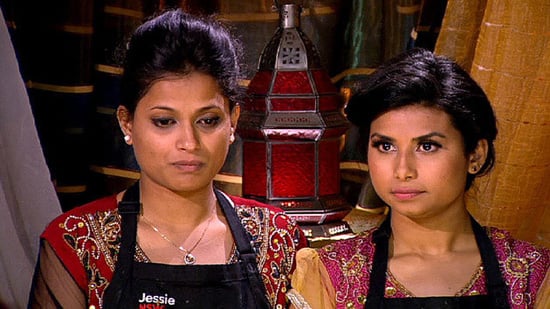 They claimed they would be the first team to score three 10s from judges Pete Evans and Manu Feildel on My Kitchen Rules this year, but NSW friends Jessie and Biswa failed to impress when they scored 41 points (out of a possible 110) for their instant restaurant last night, putting them at the bottom of the leader board. Their Indian cuisine menu had the judges excited in the lead-up to dinner, but their poor timing, disorganisation in the kitchen and execution of the dishes left a bad taste in the judges' and other contestants' mouths — literally.
All of their competitors scored them 3 out of 10, while Pete and Manu were fairer in their assessment of the girls' entree (tasting plate of pani puri, lamb samosa and yoghurt lassi) and main (goat Sindhi biryani), but it was their dessert, a concoction of gulab jamun and baked yoghurt that Pete labelled as basically "inedible," that proved to be their biggest downfall. Manu only gave them 2, while Pete went even lower and scored them 1 — an unfortunate result considering in their interview package Jessie had said, "These are dishes that we cook all the time so we are quite confident that we'll do a good job."
More when you keep reading.
Jessie and Biswa's cooking episode was the most highly-anticipated of the season — 2.2 million Australians tuned in — after they talked themselves up in other people's instant restaurants and unleashed food criticism that saw them call dishes "gross." Yesterday the girls hit the press circuit to defend things they had said, but also asked viewers to understand the nature of TV editing, and how many positive comments they'd given other contestants had been cut out of the show. If the remaining cooks in group one — siblings Jake and Elle, and dating couple Lisa and Stefano — score better than Jessie and Biswa, they will face elimination before the show reaches MKR HQ.
My Kitchen Rules airs on Mondays, Tuesdays, Wednesdays and Thursdays at 7:30 p.m. on Channel Seven.