My Kitchen Rules 2013: Kieran and Nastassia Interview
My Kitchen Rules: Kieran Explains Why His Quail Failed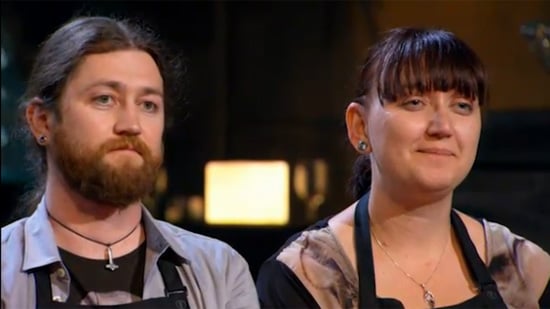 Kieran and Nastassia, friends from WA, were the first casualties of the My Kitchen Rules sudden death cook-off this year. On last night's episode they faced off against Melbourne cousins Sam and Chris, and had to create a three-course menu for main judges Pete Evans and Manu Feildel, and guest judges Karen Martini, Guy Grossi, Liz Egan and newcomer Colin Fassnidge. Their menu had highs and lows — an entrée of scallops, black pudding and pancetta was deemed "lazy" by Colin, the quail in their main was raw and couldn't be eaten, and their berry cakes and strawberry and balsamic ice cream dessert was a hit across the board. We spoke to Kieran this morning to talk about the quail fail, his MKR highlight, and those Star Wars references.
How has your relationship changed from doing the show? There seemed to be lots of tension and heated moments in the kitchen between you and Nastassia.
[Laughs] It actually hasn't changed that much. If anything we've become closer as friends. We've realised we can rely on each other quite a lot, and we can help each other through pretty much anything. It's changed, but for the good. There's been no detrimental fallout from us being on the show together.
There was that part where she said, "We're a team, so if we win we win together, and if we lose we lose together," which made me think she's not blaming you for anything.
No, no, no. Nastassia gets like that. Obviously people saw last night that I can be quite laidback — I try not to get too stressed about things, and I find that when I do get stressed, that's when I start to make mistakes.
I'll bring it up before anyone else does — the whole quail thing, that wasn't a mistake due to a laidback attitude. That was a mistake due to me starting to get stressed, and Manu came in and brought up something [that Kieran should put the quails in the oven] that completely threw me into a tizzy. I was like, "No, I'm not changing what I've always done," because if I change it, what if I overcook the quail? Maybe that would've been better than undercooked [laughs], but there you go.
More from Kieran when you keep reading.
In these shows the judges always seem to have a way of throwing you off when there are about 30 seconds to go.
Yeah, it's the same with anything — when people give advice, it may be in the very best intentions, but it can be detrimental. I don't think it's something they do on purpose, they're just obviously concerned, like, 'Maybe it's something they haven't considered yet, maybe we should just point it out.' You either run with it or you don't, and I didn't, and we all saw what happened.
When and how did you work out the menu for your sudden death cook-off?
There's no set process. We kind of worked backwards. Nastassia wanted to do the berry cake and strawberry and balsamic ice cream, and I thought, 'That's her dish, so I'll do quail.' My quail dish has always been quite popular, but I used to do it with pigeon when I was living in Ireland. I've done it a lot with quail as well so it was just changing one ingredient — it's a dish that's meant to go with game meat. And for the entrée, we kept hearing, 'Simple, simple, simple,' so we decided to do with the scallops and black pudding and pancetta, which was a bit of a nod to my Irish heritage, because black pudding is very much a European/Irish/English sort of thing, so we went from there. And apparently simple was then deemed to be lazy, so there we go.
It didn't seem like the judges were too hard on you for using a pre-bought black pudding, but did you consider the risk with not making your sausage from scratch?
Yes, there was that risk, but we're not all able to make sausage. I've made freeform sausages — that's what the dragon's tail is, a freeform sausage encased in a brioche loaf — so I can do it, but with time constraints we've got an hour-and-a-half to be concentrating on entree and prepping for the other elements. With the hassles that we'd had with time management in our restaurant round, we decided [the pre-bought sausage] was a risk we're gonna have to take. Sometimes it's all about risks.
What is it like cooking at MKR HQ? Did it take long to get used to the equipment?
No, with the equipment we knew what was available to us. The ice cream machine was probably the one thing we may have been concerned about because it was higher-grade than what Nastassia is used to, but it wasn't detrimental and was very easy to use. And also, Nastassia knows her ice cream recipes inside out so we didn't have a worry there. It was more getting used to the mindset of being in Kitchen HQ. It's a daunting place to be, and you sometimes have to zone out and forget where you are and just focus on what you're doing.
Do you get opportunities to practise your cooking?
That's pretty much what we did. We practised anything we thought we were going to throw into the mix. You can't practise everything so you've gotta focus on skill sets that you have, but haven't used for a while. You could be too laidback and not bother, but then you'd have to be the most naturally gifted cook on the planet, and that's not what this is about. It's about real people cooking real food.
In the instant restaurant round there was a big gatecrashers vs. originals vibe. When you all came together as a bigger group, was there still that division between the contestants?
There was, and we didn't really pay much attention to it. It's that mentality of a shared experience anyway — depending on how far along you've come in, you have a varying degree of that experience. So that does make you band together. Even us as gatecrashers, we ended up becoming very good friends with Angela and Melina, but we got on well with Samuel and Ali as well. In general we got along with everyone because that's the kind of people we are — you either like us or love us, and if you don't, then too bad, don't care. But we're not too in your face about that either.
What scoop can you give me on the other contestants?
Not really, because we just hung out and didn't really delve too much into everyone's goings-on. And with the situation you're in, you distract yourself to an extent, like we'd watch movies and TV shows to chill out. But you wouldn't really want to know the ins and outs of everyone. And also, to a degree everyone was cagey as well because it's a competition and they don't want to give too much away and give people a possible advantage over them.
Do you regularly speak with Star Wars references?
Uh, yeah. If you asked anyone that I work with at JB Hi-Fi, yeah. It's pretty much every day. Star Wars has been part of my life since I was about five, so it's just second nature to me.
What was your favourite part of the show: instant restaurant, block party challenge or Kitchen HQ?
It's difficult because there were highs and lows for every part of the journey we were on. I think, to me, the block party, despite how it turned out for us, what Pete said about the kangaroo, considering how much I'd stressed about it and was not happy with what was going on the plate . . . I was happy in the end that it got done, but I didn't think it was good enough to how I'd normally cook my kangaroo. But then to hear Pete say the kangaroo was cooked perfectly across the board, I thought that was the biggest plus I was going to take out of this. And the whole experience was great.
Who do you think will win? Who do you want to win?
Maybe Mick and Matt, or Ellie and Jake. Elle and Jake, being so young, I think they're kind of getting underestimated, and with them being fairly well-off, people kind of expect that they're not going to be able to do anything with having people do it for them. So I think it would be between those two for me. Who do I want to win? It would be good to see a gatecrasher team to come out on top, so I'd say Angela and Melina, if I was to live in a perfect world.
My Kitchen Rules airs Monday to Thursday at 7:30 p.m. on Channel Seven.