My Kitchen Rules 2013 Luke and Scott Elimination Interview
My Kitchen Rules' Luke and Scott on Staying Fit in the Competition and Addressing Their Critics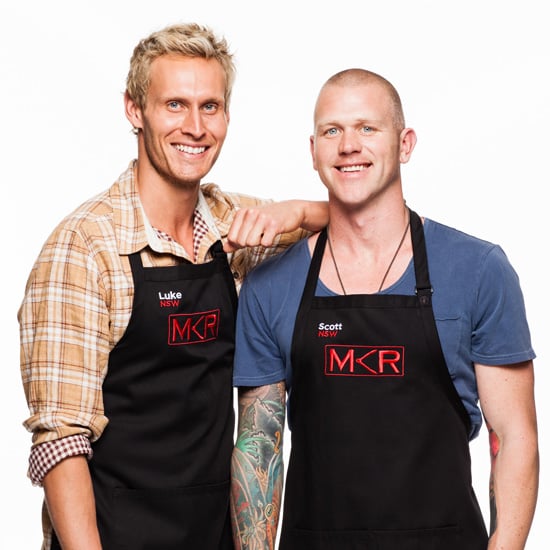 The first of the two My Kitchen Rules semi-finals aired last night, pitting Bondi personal trainers Luke and Scott against their good friends, married couple Dan and Steph. The teams were tasked with creating a three-course menu for the judges to blind taste, and in the end it was Dan and Steph who triumphed with a score of 46 out of 60, beating Luke and Scott's 41 to make them the first team through to the MKR grand final.
From the beginning, the Bondi boys have been known for their healthy, clean eating ethos, and they made no secret of how they wanted to spread the word of how nutritional food can be tasty. They struggled with a few challenges in terms of getting flavour into their dishes, and have even faced criticism about whether they deserved to make the top four. Luke and Scott addressed the criticism in our chat this morning, and spilled on how they managed to fit exercise into their days during the shoot, Luke's reputation as a gossip, and why they didn't mind losing to their friends.
How's your morning been?
Luke: Yeah pretty good! We've just had a swim down at [Bondi] Icebergs, actually.
Luke, we see you pop up on Instagram — you guys seem to be very into social media.
Luke: Yeah, I mean we both think that's a really important aspect of this process. We've got amazing people reaching out to us both about health, fitness, and just loving the show, and I feel if we're in a position to reply to them, 'like' them and all of that, it's pretty cool because it's us being accessible to people who love the program.
Does your competitive mindset change when you're cooking against your good friends in the competition?
Scott: No, not at all. It was nice to go up against Dan and Steph because when we were beaten by them we were happy and proud of them. But as soon as we headed into the kitchen it was all about doing the best we could.
More from Luke and Scott when you keep reading.
I saw that you are helping Dan and Steph with their health and fitness — how's that going?
Luke: It's really, really cool. We love Dan and Steph — they're a phenomenal team and I think you would have seen our friendship last night on the show. We love them, they've lost kilos and kilos combined already, and it's just a great position to be in, to be able to reach out and help them — we love them and hope they get to their goal.
They really are the Cinderella story of the series, from their Dr. Pepper and pork to where they are now.
Scott: They've come leaps and bounds. They had a bit of a rocky start and now they're flying. They did really well last night.
Which challenges really tested your healthy, organic food ethos?
Luke: [Laughs] I think Scott and I are both going to agree here, that the chocolate challenge was our biggest hurdle, and we triumphed unbelievably. We both looked at each other when we were thrown into the showdown and told we had to make a decadent chocolate dessert, and we just banded together and stuck by each other's side and made it happen.
And last night it was your rich chocolate dessert that the judges loved.
Scott: Yeah, we came up trumps with the chocolate again. I think it was all down to Luke's dedication and hard work behind the scenes.
How did you feel about eating the other contestants' food? Was there anything you were wary of eating?
Scott: I think the worst experience was probably Dan and Steph's Dr. Pepper. That was the most controversial for us, I think. And a few other instant restaurant rounds where we had to scoff loads of high sugary stuff. Apart from that it wasn't too bad.
Were you still able to exercise a lot during filming, or was it so exhausting you were too tired?
Luke: [Laughs] We were pretty dedicated. Scott and I were probably the only two who maintained a fitness pattern throughout the show. Even if it was us both hitting the gym at 11:30 at night. We literally did — we once were in the gym until midnight, and other teams were like, 'Are you crazy?' But the thing is, if you don't have a healthy mind and a healthy body, you're not going to be able to think clearly the next day regardless of how tired you are.
Did other contestants put on weight? I know that can happen with cooking shows . . .
Scott: Yeah, I think with the schedule, people weren't going to the gym and eating properly. There was lots of catering that wasn't that amazing. People were out of their normal routines, so I think everyone gained a few kilos.
I know there's good catering even if it's not super-healthy, but did you guys still cook for yourselves or were you over it by the time you were off-set?
Scott: We never got over it. We maintained all the way through, cooking for ourselves. But you have to be pretty prepared to take your own stuff onto set, otherwise you had to consume the pretty awful catering.
Luke: You know what? In a normal person's eyes, the catering was actually quite normal, and they did an amazing effort, but I think because Scott and I are particular in what we eat, we maybe over-analysed it just a bit and went, "Oh, hang on, what's that cooked in? Does that need pastry?"
Are you critical about everything you eat?
Luke: I'm critical about people, their fashion, what they look like — nah I'm kidding! [Laughs] No, absolutely not. It's actually opened our eyes. It's given us a real eye-opener into how a wide variety of people from all over Australia view food, treat food and understand food, and therefore it's opened us to a different window. We were in our little Bondi bubble, and it's easy to go, "Let's cook quinoa and kale," but that's not accessible to everybody. And having a broad spectrum of teams from all over Australia meant we learnt how other people feel about food. And that's awesome.
I only discovered quinoa this year and didn't realise how bland it is, and how you need to add all this stuff to it.
Luke: We're going to have to end this call. [Laughs]
Scott: On its own it's painfully bland.
What do you have to say to criticism that you guys probably shouldn't have made it as far as you did?
Scott: First of all, who said that?
Luke: Who said that!
I have to read a lot, and scour through comments and magazines . . .
Scott: I know Mick said a few things. We fell down on a few challenges — we were going for nutrition and probably didn't hit the taste factor or the wow factor, but we stuck to our guns and I think we knocked out some pretty amazing dishes. We learnt the hard way.
Luke: And I've got a few things to say to the haters out there. Firstly, haters gonna hate. You can't help that. Secondly, jealousy is the biggest form of flatterism — is 'flatterism' a word? I don't know. I find jealousy flattering. Thirdly, the people who speak out in the media, whether they're a contestant or people in the public, let's have a look at who looks the worst when you're the ones who speak out, as opposed to the ones who play fair and think about the food.
Did you like doing all the publicity in between, like photo shoots and interview?
Luke: I — we're publicity whores. I've always loved a camera, as you can tell from my [Instagram], but I'll tell you what: not having to take my own selfies — dream come true.
Is it weird that you're on a cooking show but fans also know things about your personal lives?
Scott: Ooh, I think I know where you're going! It's pretty alien. You go on the show and you kind of get used to being on TV, which is pretty strange to begin with, but you get used to it. But now, seeing your mug in magazines, being misquoted or having accusations thrown at you and rumours bandied around . . .
Luke: Yeah, I'm just tired of being accused of being with Pete [Evans]! Haven't people seen Pete's gorgeous girlfriend? I mean I'm nothing on her!
I've got that magazine in front of me now actually, and in the same issue, Luke, Jake and Elle said you wanted to get on everyone's good side to get the gossip, so what can you tell me?
Luke: I was a little bit disappointed to read that, actually. I always had a fantastic relationship with Jake and Elle, so to see that written in a mag, it was quite a shock. I've tried to understand it since it was printed, and I think the only thing that it could have come from was that I literally do like making friends, and I don't discriminate against who was in the competition. I mean I was friends with Jessie and Biswa. I was friends with Ashlee and Sophia. I was friends with Mick and Matt. A lot of people just kept to their social circles, like Jake and Elle hung out with Kerrie and Craig, and that's fine, but I was literally happy to be friends with anyone, because for me, it was a cooking competition not a popularity contest. So I was willing and open to chat to anyone, so it's a bit of a shame that they've interpreted it like that, and to the best of my knowledge, Jake and Elle and I have had a fantastic friendship all the way.
Yep, I saw Jake pop up on your Instagram.
Luke: Oh yeah, we caught up with them at the photo shoots and it was absolutely fantastic to see them. At the end of the day, regardless of what people say in the media, I always know that interviews are interviews, and it's what we all know that counts, to be honest.
How are you planning to watch and celebrate the grand finale?
Luke: Well, we love Dan and Steph, so knowing they've made it through to the grand final we'll definitely be in touch or try to communicate with them to find out the result.
My Kitchen Rules airs tonight at 7:30 p.m. on Channel Seven. The Grand Final airs 6:30 p.m. on Sunday night.
Photo courtesy of Channel Seven