My Kitchen Rules 2013: Luke and Scott Perfect Scores
NSW Trainers Luke and Scott Make My Kitchen Rules History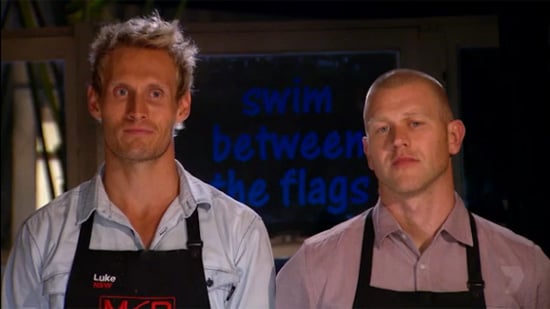 NSW personal training buddies Luke and Scott have cemented themselves as the ones to beat on My Kitchen Rules — so far. The friends from Bondi, who want to raise awareness about nutritious food, served up a healthy but delicious three-course meal on last night's episode, consisting of zesty prawn salad entrée, twice-cooked spatchcock with coconut kale salad and roasted cherry tomatoes for main, and a spelt, berry and macaroon tart for dessert. Their fellow contestants gave them a combined group total of 41 out of 50 — this group seems to be much more generous with their scores than group one — before judges Pete Evans and Manu Feildel each gave them perfect scores for their entrée and dessert. It means Luke and Scott have received the most 10's from the judges out of any My Kitchen Rules series. It was only their overcooked main meal that let them down.
More when you keep reading.
As a result, Luke and Scott's final score was 90 out of 110, putting them way ahead of the others in their group. It isn't the highest instant restaurant score in the show's history, though, with last year's Nic and Rocco receiving 95 for their impressive instant restaurant menu. The boys from SA proceeded to go all the way to the grand final but lost the title to fellow South Australians Leigh and Jennifer. If Luke and Scott's instant restaurant is a teaser of what else they can do, they have a shot of being the first all-male team to win My Kitchen Rules.
In other MKR news, Channel Seven has finally given viewers a taste of the 'gatecrashers' who have been teased since before the show started. The two girls featured in the promos, who make their debut on Monday, look set to ruffle feathers, which has led to ratings success for the cooking show.
My Kitchen Rules airs Monday to Thursday at 7:30 p.m. on Channel Seven.