My Kitchen Rules 2013 Sam and Chris Elimination Interview
My Kitchen Rules Cousins Sam and Chris on Cooking Stress and Show Twists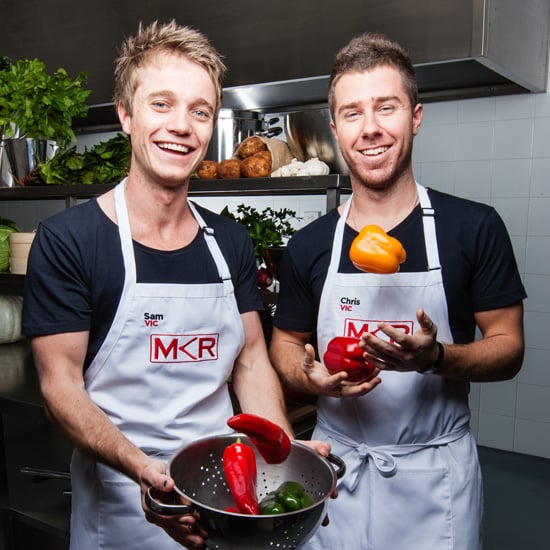 Melbourne cousins (Smiley) Sam and Chris just missed out on a place in the My Kitchen Rules semi finals when they were knocked out of the competition by returning contestants Mick and Matt on last night's episode. The top four teams were shocked when Mick and Matt walked through the Kitchen HQ doors as the Comeback Kitchen victors, and after an amuse bouche challenge it was Jake and Elle, Dan and Steph, and Luke and Scott who sailed through to the semis, leaving Sam and Chris to cook off against the Tasmanian father and son team in a 90-minute signature dish sudden death cook-off.
If Sam and Chris seemed a little off their game during last night's challenge, there was a reason for that, as they told me during our chat this morning. They also talked about the show's twists, their real signature dish, and what it was like to live in the MKR bubble.
How did you really feel about Mick and Matt returning to Kitchen HQ, and the whole Comeback Kitchen series?
Chris: It was disappointing to go out at that stage, but we're happy for Mick and Matt to come back. They're great guys. It was a bit of a shock when it happened, but Sam and I, we're pretty happy with where we ended up, so you can't complain.
They had to work quite hard during the restaurant services but do you think it's comparable to the normal challenges you guys had to do?
Sam: Yeah, I think what they went through sort of equals to what we had to go through — we went to Broome and Margaret River. They got well-trained by Colin [Fassnidge] but we got to experience the better half of Australia, and see what we wouldn't have seen before.
More from Sam and Chris when you keep reading.
What happened during the sudden death cook-off? You were moving slowly, unfocused, stressing out all the other contestants . . .
Sam: [Laughs] Well the thing is, we were waiting — there wasn't a lot we could do, because we had the beef in the cooker, so that was a time thing; we had the pasta dough made and that had to rest for 30 minutes, and the vegies were in the oven. We couldn't do anything, and they were like, "Move faster!" and we were like, "Guys, everything's waiting to be cooked!" [Laughs] It's not like we're walking around doing nothing.
I think Luke or Scott said during the amuse bouche challenge, when they had a few minutes spare, that they felt really weird not stressing over something in that kitchen.
Sam: Yes, definitely.
Chris: Even when you're not cooking you just start to get stressed as soon as you walk in that kitchen. It certainly raises the heart rate a bit.
There were so many twists this season — did you just start to think, 'They're going to throw anything at us, nothing can really shock us anymore'?
Sam: We never thought they would bring someone back in. It was a slight rumour amongst the people who had left, but when they actually went through it and brought someone back in it was a big shock.
You had to cook a couple of signature dishes, so what is your real signature dish i.e. you on a plate?
Chris: Sammy, we'd combine pasta and some kind of dessert in the one dish, I think.
Sam: Chocolate pasta! [Laughs] Actually can we copyright that dish? We're actually going to do that one, I think.
What's it like to live in the MKR bubble?
Sam: It's pretty awesome — you're never really going to get thrown this opportunity again, and for us to actually get onto the show and go through it, I'm forever grateful that they actually chose to go with Chris and I.
Chris: It's funny, I just ran into someone from MasterChef earlier this morning, and they were saying how hard it was being in that bubble where you actually can't talk to anyone. We were lucky that we still got to make phone calls to home and communicate with people. Whilst it was a bubble, you weren't completely shut off, so it wasn't too bad.
What did you want to get out of the show, and did you get it?
Sam: I'm hoping to continue in the media. I even threw a little plug on Sunrise, saying I wanted to be their weatherman [laughs]. So here's hoping that goes through! So that's what I aspire to be and do.
Chris: I think I'd like to do some kind of catering, or something in the food world — maybe a dessert bar or something along those lines.
Were you fans of the show before?
Sam: Loved it. Loved last season.
Being fans, what surprised you most about doing the show?
Sam: The stress! [Laughs] You're always watching, going, "How could you stuff that up? That's so easy!" And then when you're in there and all the cameras are in your face and a producer yapping at you, it's another story.
Chris: Without going into too much detail, I think the thing that surprised me the most was the whole set up of the show, and how it's actually put together.
Have the expectations of your guests changed when you host dinner parties and gatherings now?
Chris: They definitely have. Everyone expects a lot more from you. Especially just being at home, everyone's like, "So when are you cooking next?" and we're like, "Ugh, just go away!"
Sam: You can't just do the old packet pasta now. You've got to always make it fresh, and make a great sauce — it's not like it used to be!
I was asking Kerrie last week if she carried on any cooking habits from the show, like explaining everything she's doing — has that happened to you?
Chris: Not so much for me. Sam, is it for you, mate?
Sam: Nah! If anyone talks to me when I'm in the kitchen at home I just tell them to shut up [laughs]. It felt a bit abnormal sometimes, talking, like, "Oh Chris! I'm just gonna put this pasta in the water now! What are you doing there?"
Chris: "Why are you doing that, Sam?" [Laughs]
What was your highlight?
Sam: When Pete said our dish was dish of the day at Margaret River, because that was the most stressful challenge we faced throughout the whole competition.
Chris: Cooking-wise, that would be it, and I think just the whole experience — it was amazing to see Australia and meet some awesome people. And do a bit of cooking on the way!
Who do you want to win? Who do you think will win?
Sam: I'm gonna root for Mick and Matt. But I think Jake and Elle will take it out.
Chris: I think Mick and Matt deserve to win, but on skill alone Jake and Elle are probably the most skilful cooks. It's hard to go past them.
Chris is also taking part in Live Below the Line this year and has said of his involvement, "Having travelled through a few countries in Asia and a few remote areas in Australia, I have seen first hand, the effects of extreme poverty. In a world that is developing so fast, the gap that still exists between the rich and poor is very alarming. By participating in the Live Below the Line challenge, I hope to raise some much needed awareness and funds for poverty. I would also like to stay involved with the organisation in some capacity as it is an issue that affects so many people and something that really needs to be eradicated."
Participants can sign up to take the challenge from 6-10 May at www.livebelowtheline.com.au.
My Kitchen Rules continues tonight and tomorrow at 7:30 p.m. on Channel Seven. The Grand Final will air on Sunday at 6:30 p.m.
Photo courtesy of Channel Seven