My Kitchen Rules 2014 Elimination Interview: Deb and Rick
Deb From My Kitchen Rules Is Definitely Not a Chloe and Kelly Fan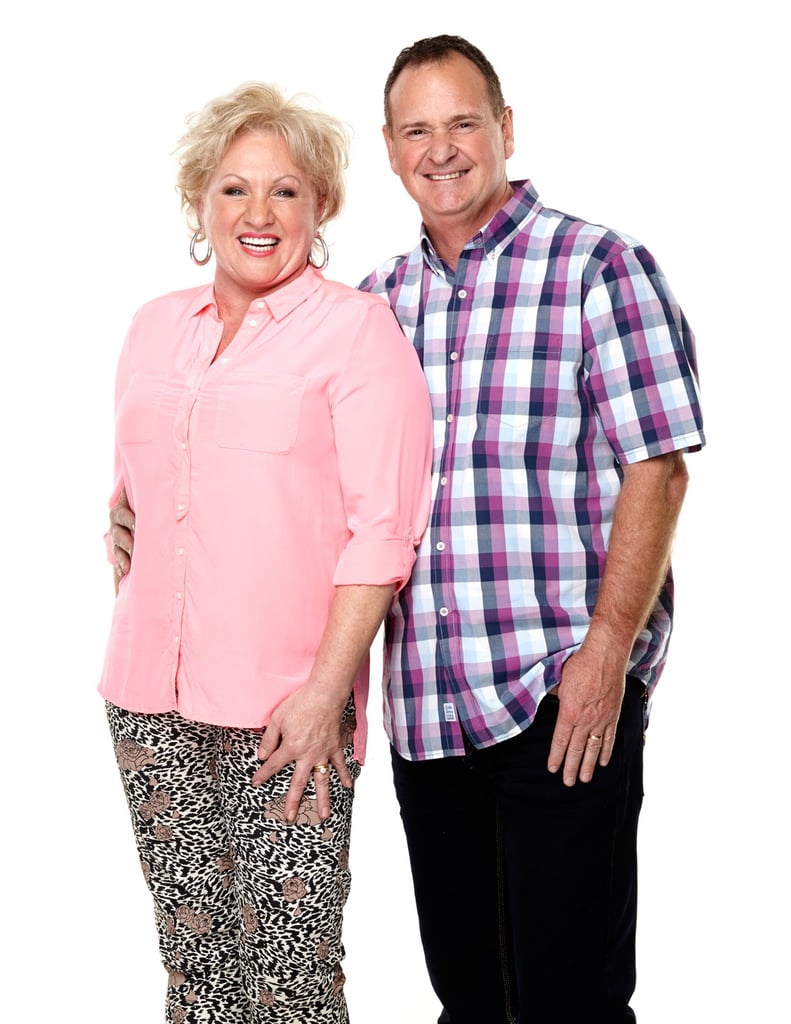 Source: Channel Seven
My Kitchen Rules aired its first sudden death cook-off in MKR HQ last night, and it was married couple Deb and Rick from South Australia who were eliminated from the show, after losing to NSW young newlyweds Uel and Shannelle. Despite being this year's eldest team, Deb and Rick won fans with their cheeky, young-at-heart personalities (particularly Deb, nicknamed "Naughty Nanna"), which is probably what earned them their place on the show after we learned how Deb applied for the show! During our chat this morning, Deb also told POPSUGAR Australia that show 'villains' Chloe and Kelly from WA don't come across on TV as "nasty" as they are in real life! Read on for more.
POPSUGAR Australia: How are you?
Deb: I'm good! A little sad. But Shannelle and Uel are beautiful people, so if we had to lose to anyone, it was nice to lose to those guys.
PS: What you said to them at the end was so lovely. What was it like watching that episode back last night?
Deb: It's easy to look in hindsight and say, "Maybe I shouldn't have used the bread like we do at home," but in saying that, that's how our children like it, and how we've done it. You can't ever go back. You've got to move forward.
PS: How were your stress levels during the sudden death cook-off?
Deb: I think our stress levels were very high. Especially Rick — he's done an amazing job because hasn't been cooking for a very long time, and I was very proud of him. You can't explain the pressure. It's easy for people to sit and judge, especially my son, who's a chef and said, "Mum, I can't believe that you plated that up as a competition dish." But that's easy for him to say, because he's not there with the clock ticking.
PS: You managed to do all the different stages of the show — the instant restaurants, the Central challenge, the food truck and MKR HQ. Which one was your favourite?
Deb: I think my favourite has to be the MKR truck. That was very, very different, and enjoyable. I really enjoyed myself on the truck.
PS: Was being on the show what you expected it to be like?
Deb: Yes and no. Being on the show, I thought it would be stressful, but I didn't think it would be as stressful as it was. It was a lot harder than I expected. I think I expected to be wined and dined, and just enjoy meals at other people's houses [laughs]. I didn't think it was going to be 18-hour days.
PS: Obviously you and Rick are very young at heart, but did you find that age was ever an issue with the more physical stuff, and because the days were so long?
Deb: I would normally have said no, but given that I was having a little bit of a battle with cancer at the time, and our home had been broken into two days before our instant restaurant — we had no idea of what was in the house to cook with, and the hot plates went in the day before — there were other things on our mind. I think that dragged us down a little, and let us down a bit.
PS: Is everything OK now?
Deb: Yeah. I've got another lot of surgery on the 20th this month, but it's not cancerous, so that's all good.
PS: I can't imagine the pressure that would have added to your mindset.
Deb: Yes, but it was something I'd wanted to do since the first episode I watched. I'm one of these people who believes you can't change what's going to happen, so let's just accept it and do what we have to do, and keep moving on.
PS: Are you happy with how you came across on TV?
Deb: I'm really happy because that's me. They didn't portray me as something we're not. Rick and I are young at heart, we are very much in love, and we do joke around a lot. I am a naughty Nan — I flirt around a lot, I've got a silly sense of humour. I don't think before I open my mouth, and I don't think I'll ever change [laughs]! I'm really sorry for the people who don't like me, and have tweeted and Facebooked. It's a little sad that some people are disappointed in my behaviour, but I am what I am, and I can honestly say that I've given myself exactly how I am. Not everyone is going to love you and like you.
PS: Did Rick take much convincing to go on the show with you?
Deb: It's quite funny. We were on a cruise and we met Melina from the year before, and I said to her, "I'm thinking [of entering]." She said, "You should," and that was it. I got home, and I think it was half an hour before close-off time. I went online and I applied, and I said that there were lots of different nationalities in our family. I signed it, 'Hope we hear from you, thanks, Tom Cruise and Marilyn Monroe." I told Rick and he went, "You won't hear anything, you're kidding yourself." And then the next morning the phone rang and he said, "What have you gotten us into?" [Laughs]
PS: That would have caught their attention! That's a good tip for people who want to stand out in the new applications.
Deb: That's right. You've got to show a part of your personality in your application.
PS: How did you feel when the judges said that you didn't show enough personality in your dishes last night?
Deb: I think they were probably right. I think I was playing it safe with dishes that Rick was comfortable with. Being really honest, they hadn't seen me on a plate, and if they did it would have been a little more vibrant and playful. But I'm still happy, because without Rick I couldn't have done it, and he felt comfortable doing those dishes. That was the main thing.
PS: Do you have any funny stories that you can share that we maybe didn't see on TV?
Deb: No, not really. I suppose everyone was a little serious on the show, and you didn't see too much going on behind the scenes. I would have liked to say that something bad happened to Chloe and Kelly and they had to leave the show, but that didn't happen!
PS: So you're not a fan of Chloe and Kelly.
Deb: Ah, no.
PS: I know there are some people who have come off not in the best light, but interesting to hear you say that, since you knew them better than viewers.
Deb: Look, what you see with Chloe and Kelly is not even half of how nasty they are. They are just terrible girls! Their mothers would be embarrassed of them. It was shocking.
PS: Who would you like to win?
Deb: I would really like the dads from Queensland to win, leaving their families and things. If not the dads, I would go with the twins, because they've given it all as well. But in saying that, I take my hat off to the Adelaide mums, because they give 110 percent, and they can cook. I think they're a team to watch. Without being friends with anybody, and just looking at the cooking side, I believe the SA mums should be our winners, because we have a soft spot for Helena and Vikki, and the same with the boys. But take that soft spot away I think it's the SA mums. I went a cook-off with them way back then, before I'd met any other contestants, and I said to Rick, "This is the team to watch. I don't think we're as good as they are. I think they could win this show." And this was very early days.
My Kitchen Rules airs Sundays at 6:30 p.m. and Mondays to Wednesdays at 7:30 p.m. on Channel Seven.