My Kitchen Rules 2014 High Score For Twins Vikki and Helena
Twins Helena and Vikki Make the My Kitchen Rules History Books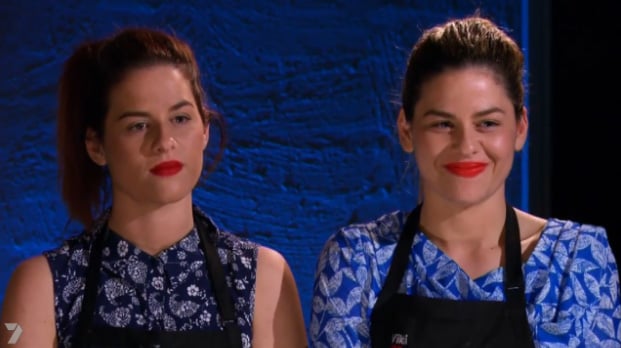 Melbourne twins Helena and Vikki have cemented themselves as real contenders on this year's series of My Kitchen Rules after scoring 95 out of 110 in their instant restaurant round, equalling the best score ever received by series three's Nic and Rocco. Helena and Vikki were inspired by their Greek heritage for their restaurant Didima (it means 'twins' in Greek) and served up a three-course menu based on dishes they've cooked for years, with a modern twist. Keep reading.
In previous episodes, the sisters had talked up their cooking skills and emphasised how their twin instincts gave them another advantage, and they delivered with their menu: entrée of squid wraps with tomato salad, main of Hapuku fish with olive sauce, veggie chips and roasted tomatoes, and a clementine and clove semolina cake with spiced mascarpone for dessert (they had to substitute clementines with oranges). At times the table was so quiet because people were enjoying their food so much, and even the girls' "rivals," WA best friend Chloe and Kelly, had to admit that the twins did well.
Helena and Vikki received a combined score of 41 out of 50 from their fellow competitors, and judges Manu Feildel and Pete Evans were also generous with their scores. The entrée received a 10 from both judges; the main scored nine with Pete but only six from Manu (his piece of fish was overcooked and dry); and Pete issued another 10 for the dessert while Manu gave the semolina cake nine. The combined score and praise made Vikki a little emotional as she said, "I just wanna say, I'm really proud of Helena and I. To get the highest, that's a big deal." The last two teams left to cook in this group are SA couple Deb and Rick, and Chloe and Kelly.
As the girls said throughout their episode: twinning!