My Kitchen Rules 2014 Interview: Carly and Tresne
Carly and Tresne Talk Us Through Their Big My Kitchen Rules Experience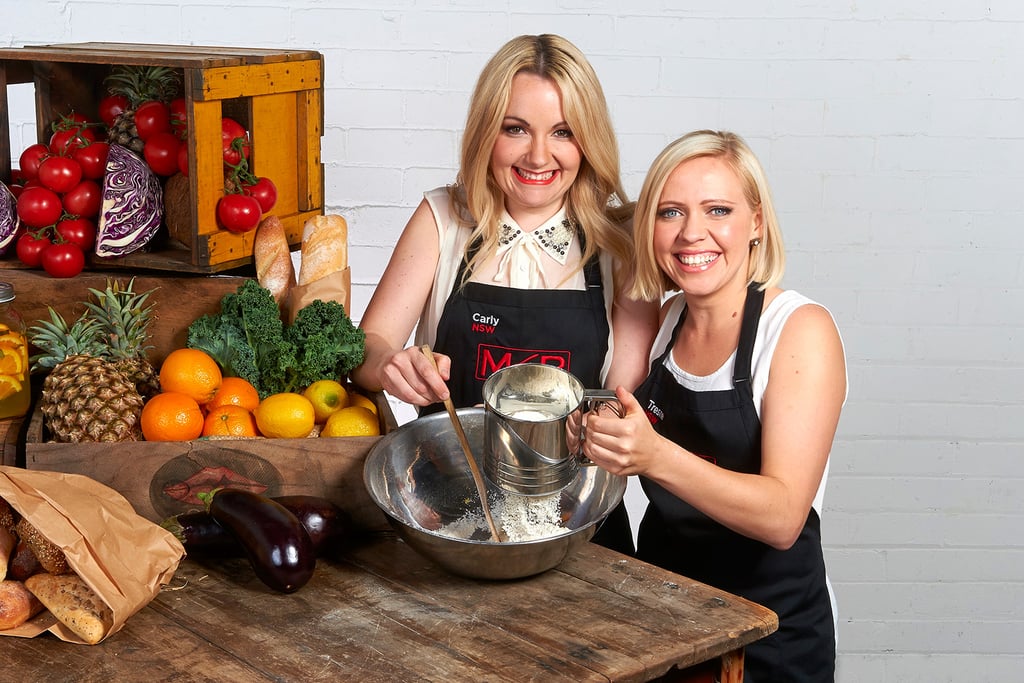 Source: Channel Seven
It's all been happening for My Kitchen Rules contestants Carly and Tresne over the past fortnight! The bubbly blondes entered the show as Gatecrashers earlier this season, and quickly earned fans with their sweet and positive natures, and quirky ways. Then last week their personal lives made headlines when it was revealed that the girls are a long-time couple, despite being promoted as best friends on the high-rating reality show. They explained that they originally kept their relationship status a secret because they wanted their personalities and food to shine.
Carly and Tresne were eliminated from the show on Monday night's episode in a sudden death cook-off against South Australian mums Bree and Jessica, losing by just one point. We spoke to Carly this morning (Tresne was also on the line but couldn't speak because she's lost her voice) about the stress in the kitchen, dealing with all the attention about their relationship, and why they're so passionate about the power of positive thinking.
POPSUGAR Australia: It's been a big two weeks for you and Tresne. How have you handled it all?
Carly: We've spent a lot of time with people we love. Josh and Danielle came to visit us on the weekend, which was beautiful. We've just been spending time with positive people, and trying to stay positive!
PS: Last night's sudden death was the most stressful we've seen you. What happened?
Carly: Yeah. Well our time got away from us. We had quite a bit to do, and we really didn't want to be throwing things on the plate. But our time did get away from us. We were in frantic mode. And because there are such high stakes in sudden death, it's always more stressful.
PS: I remember seeing you snap at Tresne while you plated up your mains, and we'd never seen you like that before!
Carly: You're lucky you don't live with us [laughs].
PS: I wondered if you were deterred at all by the wagyu beef thing after Harry and Christo had issues with theirs a couple of weeks ago.
Carly: If we had've really been thinking about it. . . We were on Helena and Vikki's side, so we had no idea that the wagyu was such a nightmare. Because we ate it, and we were like, "I don't see what the problem is!" It was pretty delicious. So we didn't really think about it, and we didn't know it was such a big drama, until we saw it on the series. We were like, "Oh gosh, what were we thinking?" Because it is a diva meat, and quite difficult to cook, quite different to regular steak.
PS: When you watched the episode back, were you relieved at all to know that Bree and Jessica also had a bit of trouble in the kitchen? Did you chat about it in the back room while the tasting was going on?
Carly: When we went through sudden death with Jason and Annie, because we were so close to them, we were really honest with each other. We were like, "This went wrong, this went wrong." But with Bree and Jess, they've got a real poker face thing happening, so we didn't discuss it. We were both sitting there, going, "Uhh. . . That was amazing! It went amazing!" [Laughs] In the past it was a lot different.
PS: I've been hearing that a lot about Bree and Jessica in my interviews, that they're taking it very seriously.
Carly: They've got their goal, they've got their eye set on the goal, and they're not going to stray from it. Which is fine, that's fine. We weren't really there to win the money; we were there to win an amazing experience. We were just on different pages to them.
PS: Did you expect such a big reaction to your news last week?
Carly: No! We had no idea. It's so funny, actually, because we thought it would just be this little story in New Idea, no big deal, and then it was advertised on TV and our phones just went berserk. People were calling us, going, "What's going on? I didn't think you were going to do this!" So we were like, "Oh my goodness." It's just been very interesting for people. And interesting for us! Because we actually thought everyone was onto us! So many people were asking us if we were a couple, and had picked up on it; it came up three or four times during the series. When it came up, with other media sources and things, we'd always said, "It's not something we want to talk about." And then eventually we realised that it wasn't going to go away, so it was in best interest to do the story — that way we could have a little bit of control over the content. But we weren't aware it was going to become this big thing! Someone told us on the radio today that it's even made it overseas, the UK are talking about it! We were like, "What!"
PS: I remember reading the article in the paper a few weeks ago, where Ros Reines said you were a couple, but then I found it interesting that she asked you in that interview if you were a couple, and you didn't want to talk about it. But she still wrote that you were a couple.
Carly: She did it in a really clever way, though. It was kind of like you could have read it however you wanted to. It sort of left the question, "Are they or aren't they?" She'd written something like, "They've been together," which could mean anything, really. When we read it, it was so flattering, the article, just beautiful what she wrote about us, that we thought, 'Oh, look, it'll just fly under the radar and no one will think about it.' But it wasn't that simple [laughs].
PS: It must be so interesting for you guys to go on a show for your cooking and personalities, like you said, but have all the viewers be so curious about your personal lives.
Carly: Yeah, we were not prepared for that. There's nothing that really could prepare you, I don't think. When we meet people on the street, people are so lovely, supportive, caring and street. And as a whole, most people have been really amazing to us. But it's a massive mind shift, and it's life-changing, because you can no longer just walk down the street and not be approached by people. It's lovely, it's so amazing, but with that kind of popularity you're going to find there will be a flipside to that coin.
PS: It's always in comments online, where people are faceless and can say whatever they want. They would never say it to your face.
Carly: It is always online! We've had nothing negative happen to us in real life, just walking around, which is so good. My students are getting in big online battles with people, defending me, and I keep saying to them, "Guys, you don't need to do that. I'm OK. It's not a real thing, it's just words on a computer screen." I think the trolls love it; they love to get a reaction. And then they do, it seems to make it worse. It's just best to ignore it.
PS: Have you girls always been positive people, or was there a moment that changed your perspectives and way of thinking?
Carly: We both have grown up being really bubbly personalities, but with the positivity we use it for a lot of different things. We use it as a coping mechanism, and things like that. We did a hypnotherapy course about a year ago, and it opened our minds to. . . We learned a lot about things like neuroplasticity, and thinking positive and how that actually changes your mind; like it can physically change the way you think. If you're stuck in a traffic jam, instead of going to the default, "Oh my god, I'm stuck in traffic!" you think of something else positive. It's a coping mechanism, but at the same time it has changed our world. We can't support it enough, and that's what we'd like to do after MKR; we'd like to go into motivational speaking, and promote that message. Because it really can make a difference in people's worlds.
We went into the sudden death with Bree and Jess, and they're front-runners in the competition. We kind of knew we were the underdogs, but we weren't going to give up. And I think that's the main message about it.
PS: One thing I read just before coming into this interview was an article where you said you would only recommend the show to your enemies.
Carly: [Laughs] That's not exactly what I said! They said, "Would you recommend it to your friends?" and I said, "It depends how close we were." You know? It's very different to what we thought it was going to be. The good far outweighs the bad, but it's a massive life shift, so you have to be in a really strong headspace if you want to go on the show.
PS: And make sure your relationship can handle anything.
Carly: Yeah. Well that's what you saw with some of the earlier contestants like Emelia and Andrew — they'd only been together for three months. Could you imagine doing that? I mean Tres and I have been together for 10 years and it was hard!
PS: How has the show changed the way you cook or think about food?
Carly: We definitely taste more when we're cooking, and we season more, and we think more about flavour combinations, so we try to balance our flavours as best we can. We love to do desserts, but we have realised our desserts are too sweet a lot of the time, so we've changed that a lot. Originally our dream going into the show was that we could open a dessert and wine bar, but now I don't know that food's on our agenda in the next couple of months [laughs]. What we've noticed is that a lot of people who supported us on MKR were supporting us because of who we are rather than how we cook. I think we're going to go down that motivational, inspirational path.
If we could do anything out of this show, like if nothing was an obstacle, we would love to do a travel-based, charity cooking show. That would be our dream. We dream big! [Laughs]
PS: Would you have to stop teaching?
Carly: No, I'm really open to seeing what the universe has to throw at us. It would have to be a fantastic opportunity for me to give up teaching, because teaching is my whole world — I absolutely love it. And a lot of the things we want to do, we could do part-time.
PS: Who do you want to win?
Carly: We would absolutely love Josh and Danielle to win. Or Thalia and Bianca. If those two are in the grand final, that would be amazing.
PS: It's been a good year for Gatecrashers, too!
Carly: Yep. Anna and Cathy, and Josh and Danielle, are really strong cooks. Josh is kind of like the go-to guy all the other contestants go to, like, "Hey, Josh, what do you think of this? Do you think you could put this with that?" He's got a massive food knowledge, which doesn't always come across like that. But he's very, very clever.
Read the rest of our My Kitchen Rules elimination interviews here.
My Kitchen Rules airs Sundays at 6:30 p.m. and Mondays to Wednesdays at 7:30 p.m. on Channel Seven.