My Kitchen Rules 2014 Interview: Cathy and Anna
Anna From My Kitchen Rules Says There Were Times She Wanted to Give Up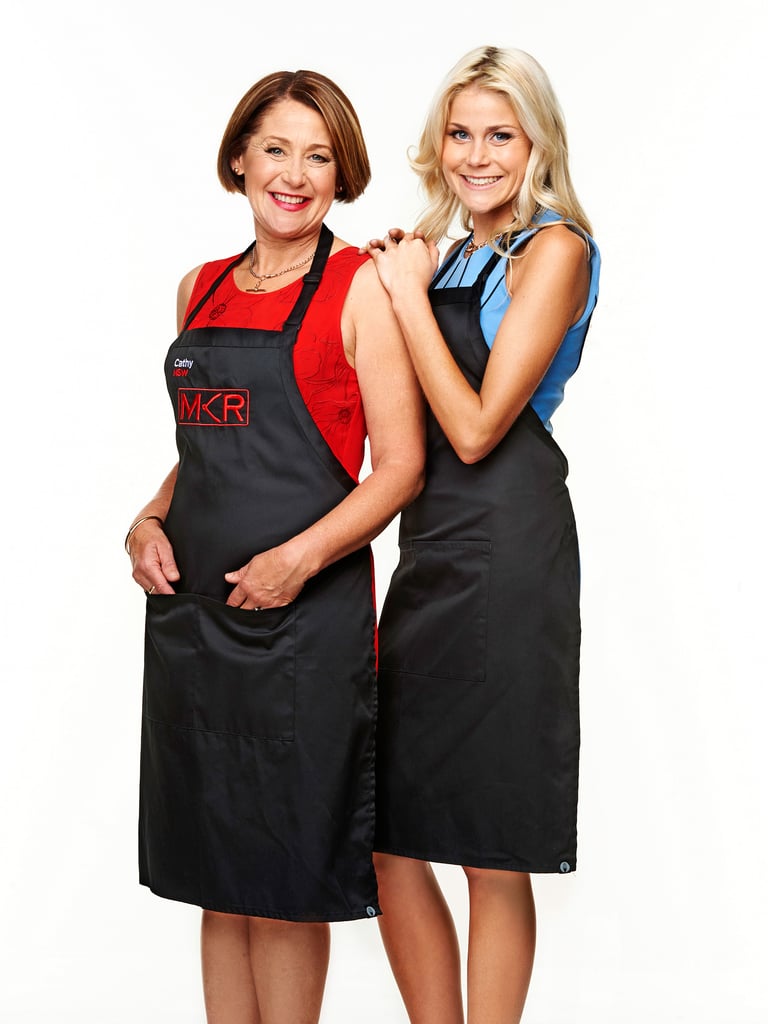 Source: Channel Seven
Cathy and Anna are the last Gatecrasher team to leave My Kitchen Rules after they were eliminated on Monday night's episode. The mother and daughter team from NSW were the victims of another non-typical sudden death cook-off, which saw them up against Bree and Jessica in the final round of cooking a signature dish. It was one of the highest-scoring and closest eliminations, with Bree and Jessica's butter chicken scoring 51 out of 60 from the judges, just one point ahead of Cathy and Anna's quail with baby carrot and quinoa salad (the judges were obsessed with Anna's salad).
Even though there were times throughout the competition when Anna may have seemed a bit impatient with her mum, it was actually her mother who got her through the show. Anna, the editor of a restaurant website, told POPSUGAR Australia this morning that there were many times when she wanted to give up, but it was Cathy who was the reason for why she persevered through the "exhausting" times. Anna also discussed how contestants learnt so much about food, and what her favourite restaurant is — you may be surprised with her top pick!
POPSUGAR Australia: Are you disappointed you didn't get to cook a proper three-course menu like in the normal sudden death cook-offs?
Anna: Yeah, absolutely. When we actually left, I think that was really hard for us, to be judged on just one dish. I know Josh and Danielle really struggled with that as well. It's pretty tough to put together one plate that is meant to represent you, and your time in the competition is based on that. It was pretty hard because everyone else had an opportunity where they could cook entrée, main and dessert, and it was almost like three opportunities to show themselves. That was really hard.
PS: And I suppose you wouldn't have been used to cooking in that kind of pressure in Kitchen HQ because you hadn't been in a sudden death cook-off before.
Anna: Exactly. Cooking under that pressure, knowing it could be the last time, was pretty intense, and I think you could see that I didn't handle it very well. I was an emotional mess.
PS: In terms of emotion, there were times when you'd get really good feedback, and your mum was excited, but it seemed like you weren't so much. Was that your game face?
Anna: [Laughs] No, not at all. Everyone's said that I looked really emotionless and all that, but to be honest I never believed that we really were that good. I was always waiting for the "but," because that often did come. I don't know whether watching it they say something nice, and then they say "but," so I was always, to be honest, kind of cringing, going, 'What is coming next?' As soon as they finished I was like, "Phew." At the same time, I'm actually a very emotional person, but on camera it's kind of different, I'm a bit of a closed shop. Mum and I have a different relationship onscreen to what we have at home. It's just different! I think people don't realise there are cameras sticking in your face, and it's a different scenario.
PS: Would you say it took you a while to adjust to the cameras? Or did you put on a front when they were there?
Anna: Yeah, absolutely. We were always ourselves, and the great thing for us is we made so many good friends. And I think if anyone watches the behind-the-scenes shots, we had such a good time. It's kind of funny watching that compared to the actual episodes because it doesn't match up! It's so weird. I guess people respond to stress in a different way. I get so anxious, and whenever I'm stressed I'm in a quiet zone, and all I'm thinking about is what we have to do.
PS: What was your game plan going into the show, and did you stick to it?
Anna: We never had a game plan. The one thing we said was that our relationship was more important than the show, first and foremost. And secondly, we would cook food that we liked to eat, that we would never. . . You know, I think a lot of people tried to please the judges, or cook food that was fine dining. I think we stayed true to ourselves to the end, and cooked food that we'd eat at home. It wasn't particularly showy, it wasn't particularly glamorous. We didn't cook the lobster because we don't eat lobster at home, you know?
PS: Your mum said at the end that you learnt a lot on the show, but how do you get the chance to learn new things? Other contestants have said you don't have time to practise anything because the show takes up so much time, and aside from the food truck episodes it didn't seem like you got much advice from the judges.
Anna: I think you just live and breathe the recipe books. For me, it was heaven, six months of it. Like I would go to bed not with a book but with a recipe book, reading, front to back — it sounds really loserish! [Laughs] I was in heaven. The whole time I was reading notes, reading blogs, reading styling tips. You just immerse yourself. It's completely self-taught. It's the most incredible thing. I think about our knowledge of food at the start of the competition, to the end — oh my gosh. It's pretty cool.
PS: So it's just being in that whole My Kitchen Rules bubble.
Anna: Yeah, completely. And because we became so tight with people, we would go up to Paul and Blair's apartment and bounce ideas off them. We'd talk. It wasn't competitive! Everybody would help each other out, and we'd talk and discuss what worked, what didn't work. We were a really tight-knit group.
PS: What have you been doing since the show finished filming? Did you go back to editing Best Restaurants?
Anna: I've been back at full-time work with the website.
PS: Is that something you want to continue doing, or do you want to move more into kitchens?
Anna: I would actually like to do more cooking, because I love restaurants, but my heart is definitely in the kitchen. At the moment I'm trying to work out how to balance all that. I'm hoping something will come up.
PS: What's your favourite restaurant you've been to?
Anna: Ooh! It's really funny — I don't particularly love fine dining. I like value for money. There's this little Japanese place on Stanley Street [in Sydney], and it does this bento box for like $12, and it's the freshest sashimi and sushi. And they've got the best miso soup — honestly, I love that. My fiancé and I go there a couple of times a week. It's so good. It's delicious! So that is probably my favourite restaurant. Or on a Friday night, if I haven't got anything on, I drive out to Marrickville for a big bowl of pho for like $8. That is good food. That's what I enjoy doing.
PS: You postponed your wedding for the show, right?
Anna: [Laughs] Yeah, it was meant to be around now, but we pushed it back to October. It's actually good, it's a godsend because I need more time. I'm so useless [laughs].
PS: Out of the other contestants' dishes that you got to eat, which was your favourite?
Anna: Ooh, that's a good question. OK, I really, really loved Josh and Danielle's mint ice cream that they did with the dry ice. That was phenomenal. Also, Paul and Blair's seafood pasta that they did for the romantic dish challenge — that was really, really yummy! Carly and Trense's beef. . . I could go on forever! I loved all the food — that was the best thing, eating their dishes.
PS: What surprised you most about being on the show?
Anna: I think what surprised me was the friends we made. I didn't realise we would meet such amazing people. We didn't win it, but we have made some lifelong friends.
PS: Has the competition changed how people expect you to cook if you and your mum get together and invite people over?
Anna: [Laughs] There are a couple of friends who have been like, "Nup, we're not cooking for you anymore!" Actually a lot of my friends are foodies, and I get really intimidated when they come over for dinner. I'm actually even more nervous. I'm quite self-conscious about my cooking, and that's why, like you said before, I'm quite stoic when I receive feedback. Because I'm sh*t scared about my food! And because I take it so personally. If there's one thing they're not totally happy about, I'm like, "Oh my god!" I get so upset. So my friends are quite critical!
PS: Has anyone been portrayed very differently to how you knew them in real life?
Anna: Australia sees a snapshot of the contestants' relationships. I think people don't realise that it is literally a snapshot. People are very quick to judge, they say, "They should do this!" or, "They're a bad person because of that!" You see us working in an environment where a quarter of a million dollars is up for grabs, you've got 30 minutes, you've got to get 10 dishes — people react differently. And it's not always happy days. It is stressful; it's intense.
PS: A lot of contestants, like yourself, go onto the show because you love cooking, but was there ever a point where you didn't like it because it was too stressful?
Anna: I think it really was exhausting, and it wasn't all fun and games at all. The cooking bit, I really did love. I really loved being under the time limit, all of that, I got such an adrenaline rush out of it. But the pressure we were put under, and how exhausted we were, and how much work we had to do because we were pushed to the extremes — there were moments where I thought, 'Life is not about this.' I just wanted to go home, and I wanted to hang out with my fiancé and eat spag bol out of a packet, lie on the couch in my trackies, and not wear makeup. There were many moments when I really, really wanted out.
PS: In those moments, how did you convince yourself to pick up your spirit again?
Anna: Mum. Mum really helped me. Mum was really supportive. We were a team, we were in it together. I think Mum got so much out of it for her, personally, like her confidence has grown so much from the show. It sort of turned around because it ended up being Mum's dream, more than anything. And as soon as you start doing something for someone else, I think you go, 'This is OK. I can do it.' I guess it started as Mum doing it for me, but in the end I wanted to do it for Mum. I think that's how it was in the end.
PS: Who do you want to win?
Anna: No hesitations — Paul and Blair. I love those boys to bits, and they've been such a support to Mum and I. They're such good friends of ours. They epitomise everything that is great about My Kitchen Rules: humble home cooks who are put to the test, and far out, they have shown Australia how amazing they are.
PS: They are very popular with other contestants as well, and I think they'll be favourites if they win.
Anna: They deserve to win, but we've got to remember, it is a television show. So, who knows what will happen?
Read the rest of our My Kitchen Rules elimination interviews here.
My Kitchen Rules airs Sundays at 6:30 p.m. and Mondays to Wednesdays at 7:30 p.m. on Channel Seven.