My Kitchen Rules 2014 Interview: Helena And Vikki
My Kitchen Rules' Vikki: "We're Actually Friends With Chloe and Kelly"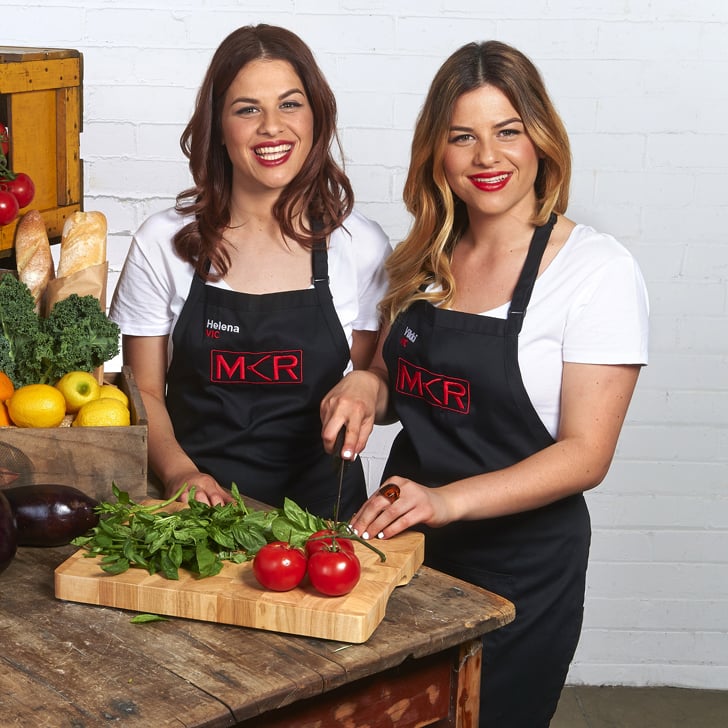 Source: Channel Seven
Last night's much-maligned My Kitchen Rules semi-final was always going to be a controversial one, with two female teams battling it out to get to the top spot. Unfortunately for popular Greek twins Helena and Vikki, their time was up — they bowed out to Bree and Jessica with a final score of 42 out of 60 (compared to Bree and Jessica's 52), just missing out on a grand final showdown against arch-rivals Chloe and Kelly.
Throughout the season, Helena and Vikki maintained their genuinely sweet personalities, and managed to come out as firm fan favourites after equally popular surfer dads Paul and Blair were eliminated. We spoke to Vikki this morning, and the bubbly 25-year-old let us in on some exciting career developments (already!), the truth about their relationship with Chloe and Kelly and — quite importantly — the exact lipstick shades they wear.
POPSUGAR Australia: Congratulations on how far you guys got in the competition — how do you feel after watching the show back last night?

Vikki: Thank you so much! Last night was pretty interesting. . . We didn't expect Chloe and Kelly to make such harsh comments but, yeah, it was a good show. Helena and I are so, so happy with how far we got, and unfortunately we missed out on the grand final but we're still really proud of ourselves and how far we got in the competition.
PS: How did you guys rate your chances against Bree and Jessica at the start of the challenge?
Vikki: Bree and Jessica have been really strong cooks since day one and since the start of the competition we said those girls will get to the grand final and they have worked super hard. We all have but, yeah, the girls deserve it, they cook beautiful food and at the end of the day it's all about the food. Last night we didn't produce food as good and Bree and Jessica's.
PS: You had a couple of issues with your meals last night. Which affected you the most?
Vikki: I was so embarrassed about our dessert — a three-year-old could make that. Unfortunately it just didn't go to plan, we had the dessert all planned out, we thought it was a great idea — beautiful Greek coffee, biscuit, ice-cream — and yeah, it didn't work out! We were a little disappointed about the dessert because we do love to make them and we are good at them.
PS: It's meant to be blind tasting, but do you think the judges knew which was yours because it was Greek?
Vikki: It's not rocket science to figure out that Helena and Vikki are cooking Greek food, so. . . I don't know, we've never actually asked that question! Who knows [laughs].
PS: You guys didn't seem as stressed last night as you have been in previous episodes.
Vikki: Yeah! We didn't want to put too much pressure on ourselves. Helena and I are very chilled out people and on the show we were pretty frantic and crazy, but I think last night we just wanted to stay at a level where we were happy and grateful with how far we'd gone. We didn't want to put all that pressure on ourselves saying, "OK, if we don't get to the grand final, it's game over," you know? We were just like, look, we've gone this far and no matter what happens at this point we're still very happy. So we just walked in with a clear mind thinking, "If we go home, it's OK." We're pretty emotional and very sensitive — we didn't want to put that pressure on ourselves because we would have been pretty stressed out.
PS: So your mentality was different because it was the semi final and you were just proud to be there?
Vikki: Yeah, I feel like we put the pressure on. Knowing that Chloe and Kelly were in the grand final and having that pressure on us. . . Going, OK, Australia's going to want this rivalry in the grand final. Yeah, it was too much, and we just thought it's not worth the stress.
PS: On that topic, what was your relationship with Chloe and Kelly really like? Exactly what we saw on TV?
Vikki: What you see on TV was exactly how the friendship was with the girls; it was a love/hate relationship. On the show we didn't get along and there was a lot of tension and there were a couple of awkward silent moments where you're looking around the room and thinking, "OK, who's gonna speak first. . ." But the show was a few months ago so now we're actually friends with Chloe and Kelly. On the show, we weren't friends and we couldn't stand them but it's all finished now and we've gotten to know the girls. They've changed a lot. All the negative feedback [on social media] has put them in their place. Helena and I are so lucky that we have such a great fan base — everyone's been really supportive and positive and really loving towards who we are and enjoying our personalities on the show. I would definitely hate to be Chloe and Kelly.
PS: What's it been like watching the show back and seeing what they've said behind your backs?
Vikki: Oh yeah, there were just a lot of harsh comments. . . But at the end of the day, they've said what they said and that's their problem.
Helena [in background]: They called us the losers.
Vikki: Helena and I walked out of the competition and we came out really well. People love who we are — we're positive, we're bubbly, we're genuine people. I feel like, at the end of the day, we've already won.
PS: I think everyone's quite fond of you guys, even my mum texted me with a sadface emoji.
Vikki: Oh no! [Laughs] That's so cute. We've actually just signed a book deal with Hachette Australia so that's all very exciting. You don't need to win to be successful and get far. We've got a book deal now and the book will be out in March. I think out of all the teams, we're probably going to be the only team that gets offered a book deal. It's called Taking You Home so it's all going to be based on simple Greek food; we're just taking it back to the roots of where all our inspiration came from.
PS: So you're happy with how you guys were portrayed on TV?
Vikki: Definitely. Yep, what you see is what you get. That's Helena and Vikki! I think that's the secret to being on a reality show, you just have to be yourself or you just will not get far outside of the competition itself.
PS: Now, who's the dreamiest judge?
Vikki: Oh my god, we definitely have — you don't understand, we have THE biggest crush on Colin. He'd walk in the room and we'd just stare. The producers would be like, "Can you stop staring at the judges?" and we'd be like ". . . Sorry." We love him. He's a great guy and he's very successful. He's done so well for himself, he cooks amazing food and he's so good at what he does.
PS: Is he intimidating in real life?
Vikki: Oh, no way! He's the friendliest guy you'll ever meet. He's got a very good heart. He's lovely, we absolutely love him.
PS: What was your best moment on the show?
Vikki: It would have to be when we go the highest score in MKR history [they scored 95 out of 100 in their first instant restaurant round]. That was a fantastic night, we cooked beautiful food and we just cooked from the heart and the judges loved it. It was a positive outcome so we're very lucky.
PS: Worst moment?
Vikki: Probably when we lost the Italian festival, when we cooked the polenta balls and went to sudden death with Harry and Christo. That was probably the worst moment I had, there were a lot of tears when we found out.
PS: Who do you think will win?
Vikki: You know what, I couldn't even pick it but we are team SA all the way tonight because we're originally from South Australia. So definitely barracking for our home state so Bree and Jessica all the way, crossing our fingers.
PS: What's next for you guys, aside from the book?
Vikki: We're hoping to try and pitch a TV show linking to the cookbook, so that's our plan as well — to go to Greece and do a bit of filming. We have a lot of plans on their way, we just have to make sure we make them happen.
PS: Last question, exactly what lipsticks do you wear?
Vikki: I wear Lady Danger by Mac Cosmetics, and Helena wears Ruby Woo, also by Mac Cosmetics. I need to put that up somewhere because that is the most common question we get asked!
PS: Thanks for the chat, and good luck with everything!
Vikki: Thank you so much, we appreciate it.