My Kitchen Rules 2014 Interview: Josh and Danielle
Josh and Danielle Reveal the Cooking Technique They Couldn't Use on MKR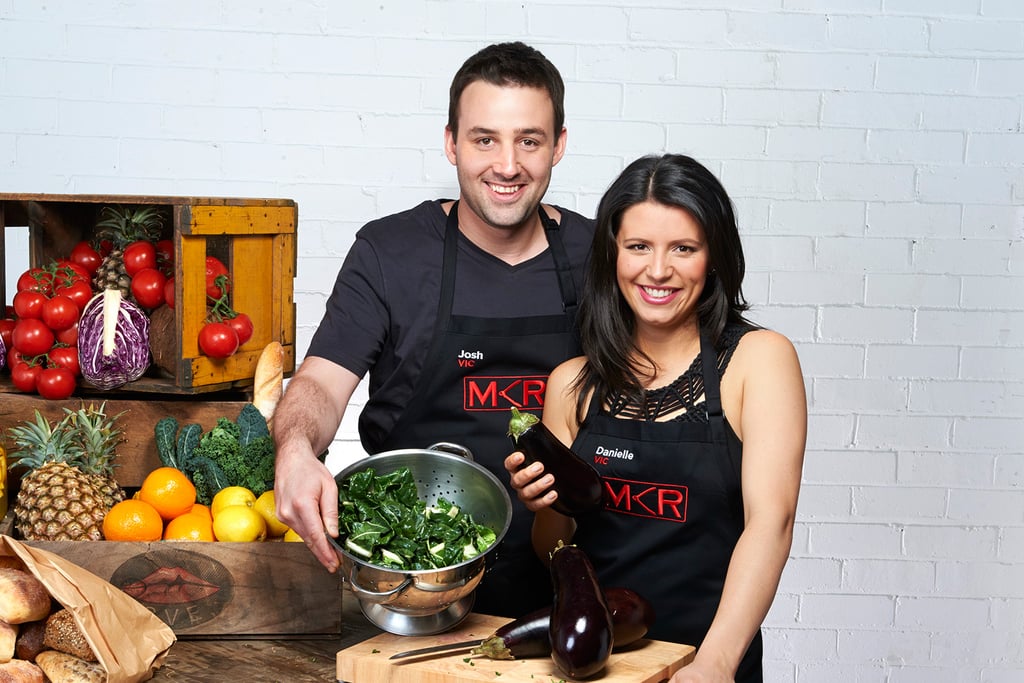 Source: Channel Seven
Josh and Danielle brought something new to My Kitchen Rules this year when they showed off techniques and elements that hadn't been seen on the Channel Seven show before. But the competition ended for the experimental foodies, who were introduced as Gatecrashers, on Wednesday night's episode, when they were eliminated after three challenges against Helena and Vikki, and Chloe and Kelly. It was a slightly controversial way to go because in the third and final challenge, when remaining teams Helena, Vikki, Josh and Danielle were tasked with cooking their signature dishes in 90 minutes, the two final dishes were very different: Josh and Danielle's Mexican spiced beef versus Helena and Vikki's Greek walnut cake.
Time got the better of Josh and Danielle, and they weren't able to present their original plan to the judges for tasting. The twins' cake scored 39 out of 60 compared to Josh and Danielle's 35. We caught up with the molecular gastronomy lovers this morning to talk about whether the result was fair, their excitement over Heston Blumenthal's move to Melbourne, and why they weren't allowed to use the sous vide method of cooking.
POPSUGAR Australia: Why did you attempt meat that usually takes you days to cook in 90 minutes?
Josh: Yeah, it's a tough one. Beef cheeks you can do quickly in the pressure cooker; the pressure cooker speeds it up [the cooking time] three to four times. Also, the thing that takes a couple of days is the consommé; we were going to do a consommé but we changed it to a broth. But the beef cheeks just didn't cook in time, unfortunately.
PS: Was your headspace different in that elimination round compared to the normal sudden death cook-off, because the format was quite different and you'd never done it before?
Danielle: Yeah, it was very different. I didn't feel like it was a great way to go out, because it was one thing thrown at you after the other, and it was all very unexpected. Whereas I think if we at least had the chance to do a proper sudden death, and we had the chance to do the three courses and got judged on that overall, it would have seemed a bit better and fairer in my mind. Whereas with this all of the judges came in at the end and judged us on that. I think it threw us off a bit, and we just weren't having a good day.
PS: The judges said it was hard scoring a main course against a dessert, and even Colin said the girls should have cooked a main. How do you feel about being eliminated against a dessert?
Josh: It's always tough, a main versus a dessert.
Danielle: It is a hard comparison. I think it's hard when you hear that most of our feedback was pretty positive, and the contestants on the sidelines seemed to enjoy it as well. It was quite a surprise watching it all back last night.
PS: And you would have seen that the girls had enough time to make a second batch of cake batter, whereas you ran out of time.
Josh: We certainly utilised the whole 90 minutes and were pushed to the limit. It would have been good if we had time to do things a second time around.
PS: What was it like watching yourselves back on TV, particularly the episodes where Josh, you snapped at Danielle quite a bit?
Josh: It's tough to watch it back. We bicker a lot in the kitchen at home, and we never thought anything of it, but when it's on national TV and you watch it back, you do think, 'We bicker quite a bit.' That's just us. When I told Danielle to shut up, it probably wasn't ideal to do it on TV, or ever, for that matter.
PS: Josh, Carly said you were the most knowledgeable about food, but that it probably didn't come across much on TV.
Josh: That's nice, that's very nice. I didn't get to show a lot of what we do know and what we do like to cook. And not just food, but personality didn't come across, either.
PS: You came into the competition with a strong point of difference. Did you realistically think you'd be able to be as creative as you wanted to be within the challenges?
Danielle: We came in, we wanted to be creative, but the hard thing about doing our style of food is the fact that it takes so long to do. It's hard to get the opportunities to get that extra time to showcase what we like to do.
PS: Was it frustrating you weren't able to show as much? You came on so strong with your instant restaurant, but then after that you had to fit your dishes within the format of the show. It must be restricting.
Danielle: I think it was hard as well because initially we did some stuff that was quite out-there, and the judges told us to scale it back a bit, and go back to basics. When we did basic, simple things, they'd tell us that we did it really well, and then tell us to ramp it up again. And then we'd ramp it up again, and they'd go, "No, no, you need to pull it back again." We just felt like they wanted us to be experimental and do some crazy stuff, and then we did it, and then they wanted us to go back to simple. It was just confusing.
PS: It seems like it messes with your mind a lot.
Josh: [Laughs] It does. "Do more of this, but less of that, but more of this."
PS: Did Kitchen HQ have all the equipment you needed for your molecular gastronomy?
Josh: They had certain ingredients there that we could use, but we unfortunately weren't allowed to use the sous vide machine, which is why a lot of the time I had to stand there with a thermometer and a pot of water.
PS: That's interesting. Do you know why you couldn't use it?
Josh: No, I'm not sure. I think the reason is because it's sort of seen as more of a restaurant machine, but you can go down to any Harvey Norman and buy one, so I didn't really agree with it.
PS: And you guys must have heard that Heston Blumenthal is relocating to Melbourne temporarily.
Josh: Absolutely. I'm pumped!
PS: What are your plans for while he's here? Are you going to try and do anything with him?
Josh: As soon as reservations open we will definitely be on the phone until we get one. And I think he's opening a permanent restaurant after those six months, so I'd love to get a job there.
PS: Danielle, you've said that you don't think wardrobe dressed you in flattering clothes. I thought everyone wore their own clothes?
Danielle: In the instant restaurants we're mostly given dresses to wear, and when we do all the cooking, most of the time it's your own jeans but they'll give you a top or whatever to wear. And they'll tell you what they want you to mix and match. Sometimes it's hard because it might not be your exact style, but you know, you've got to follow suit.
PS: How did you maintain things like your lipstick during cooking challenges?
Danielle: [Laughs] The lipstick has been a big thing for me! Everyone's asking what it's called and all that stuff. It's a range of things, because I use two different lip liners and lipsticks and glosses in one, so it's definitely been a point of discussion. We do our own makeup, but they do have some makeup girls there who just powdered us up, and at times we'd get quick cooking breaks where they'd powder us up and top up the lipstick. Other times, no, and I'd see my reflection in the oven and be like, 'Oh my god, what's happened to my face?'
PS: Do you think some contestants have coasted into finals week? The same contestants seem to be doing sudden death cook-offs, and some have never done it.
Josh: It's a hard one, because we didn't taste everyone's food. Certainly, some contestants have had an easier ride than others. Everyone has different taste I suppose, so while I might not like something, Pete and Manu might like it.
PS: How has being on the show changed how you cook now?
Josh: We certainly learned a lot on the show. The way we plate up has improved, and Manu taught us a lot about that. And when you're thinking about a dish, thinking about texture, colour, having something small, large, round — there are all these different things that are going to add a point of difference.
PS: Who do you want to win?
Danielle: I think we want the boys, Paul and Blair, to win. Firstly because they're the only blokes left [laughs], and secondly because they're great guys and they can cook. They've been quite consistent throughout the whole competition. I think they'd be quite deserving.
PS: Did you guys see the other day that you were semi-involved in an April Fools' Day prank that Manu played at a radio station?
Danielle: [Laughs] We actually loved it because we felt like we'd won for about five seconds! It's just a shame the cheque's not coming our way.
Read the rest of our My Kitchen Rules elimination interviews here.
My Kitchen Rules airs Sundays at 6:30 p.m. and Mondays to Wednesdays at 7:30 p.m. on Channel Seven.