My Kitchen Rules 2014 Interview: Paul and Blair
My Kitchen Rules' Paul Hated the Ultimate Instant Restaurant Round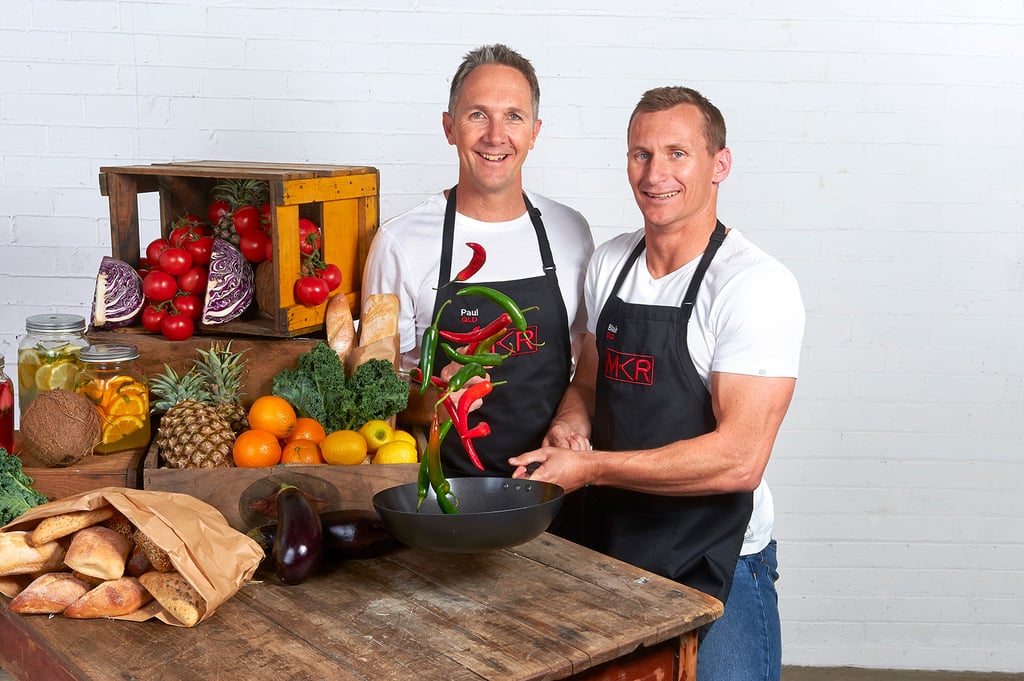 Source: Channel Seven
My Kitchen Rules favourites Paul and Blair were sent home from the competition on Sunday night's semi-final round after gourmet travellers Chloe and Kelly beat them by one point in the sudden death cook-off — the first one the surfer dads had competed in. Paul and Blair's tasty dishes and laidback personalities made them favourites to win with eliminated contestants and fans, but unfortunately it was not to be, and the result has infuriated some viewers who believe the show has been rigged to set up a Chloe and Kelly vs. Helena and Vikki grand final (depending on who goes through tonight's semi-final).
We spoke to Paul this morning to talk about why they cooked a polarising main course (kangaroo with chocolate ganache on the side), how challenging the ultimate instant restaurant round really was, how they avoided getting caught up in the show's drama, and whether they'd consider switching from teaching PE to food tech.
POPSUGAR Australia: Everyone wanted you to win! I was going to do a post about why you guys should win, according to the other contestants.
Paul: [Laughs] Well you can still do it! It just doesn't have the same impact.
PS: Going into the semi-final, how did you rate your chances against Chloe and Kelly?
Paul: To be honest, we thought we were a very good chance, because they've been pretty inconsistent; they've been horrendous on some days, and outstanding on the others. So in terms of probability, we've been pretty consistent, and we knew we'd do OK, and if we got them on a good day, we'd be in trouble, and if we got them on a bad day, then we'd be straight through. I guess it was an each-way bet, but we figured we were half a chance.
PS: It must be so annoying to come so far, and to have gotten through quite smoothly, to lose by one point.
Paul: It is and it isn't. Blair and I, from the very outset, we were very clueless, and we said a number of times that we just wanted to make it through the instant restaurant rounds. Even when we made it to the top five, we were blown away. We honestly had no expectations of getting anywhere near where people are starting to tell us we're favourites, and getting into the semi-final. The whole thing blew us away, I'll be perfectly honest.
PS: I was going to ask if you guys went in with a game plan, so does that mean you didn't have one?
Paul: We had a plan; we're both very competitive, so we knew we were probably the underdogs at the start, and our plan was simply about being organised. We were really nerdy; we'd go home, we'd study recipes, we'd cook so much stuff in our little unit there in Waterloo. Most of our spare time was either studying recipes, or cooking and eating. We both put on a bit of weight as a result.
PS: With your main in last night's challenge, the kangaroo with the chocolate ganache, I feel you guys knew it was a potentially polarising dish. Did you ever think it was too polarising or risky for semi-finals?
Paul: Yeah, I guess it is, but at the same time, so was Chloe and Kelly cooking the fish with the bone in it, because that could have gone either way for them. Some risks pay off, and some don't, and that's the reason why you take them. That's the saying: big risks can bring big gains. But it didn't happen for us that time. It was one thing Blair and I were very mindful of: that judging table, so often, were in total disagreement. You've got some very different taste buds up there and they're all experts in their own field. At the same time, they can have polarised opinions. We could try to cook for one of them, but at the end of the day you can't please everyone all the time. So the risk didn't pay off, but it's no good crying over spilt milk.
PS: Are a viewer, it almost seems like we didn't see you guys cook as much because you got through challenges quite easily. Did it feel like that to you?
Paul: It does when you watch the show back — at the time, we were so overjoyed, missing all the stuff, but when you watch the show I said to Blair, "Jeez, mate, we're hardly ever on the bloody TV!" A lot of our mates gave us stick saying, "You guys are never on the TV! You don't even cook!" So yeah, at the time it certainly didn't feel like it; each one of those scenes we went into, they were both physically and emotionally draining.
PS: You had so many good dishes, but when you have good dishes you have your moment of glory, and then there's a lot of screen time for the poor dishes and contestants because they have to cook again.
Paul: Just look at Helena and Vikki. They spent so much time cooking and they are always in your face. They were obviously one of the show's favourites and were promoted quite heavily, but they did cook a lot more than us, so you do see a lot more of people like that.
PS: What was it like being the only guys left towards the end, especially at those ultimate instant restaurants?
Paul: [Laughs] It was a bloody nightmare having to listen to some of the garbage and dribble that was going around the table! There were valiant attempts at decent dude discussion that were made, but they were attempts and attempts only, so when Pete and Manu weren't 'round the table, it was difficult.
PS: At least you had your best friend there to help you get through!
Paul: [Laughs] Yeah, I think if it was just one of us we would definitely have started looking at our oestrogen levels going right off the Richter scale.
PS: I only watched your ultimate instant restaurant episode over the weekend to catch up, and I thought your ladies' night references were funny.
Paul: We copped a bit of stick on social media over that! Not that I look at it, but there were a couple of comments I saw that were bagging us, and it was only a couple, saying it was sexist, like, 'Ladies' night, how can you say that?' Probably just as well that some of our dad jokes didn't come through, because that's what you look at in the final edit: you say so much and the raw footage is so expansive; what actually makes the final cut is fascinating, and they were pretty kind to us in the long run. Blair and I came out of it looking OK based on what the final edit was. They were good to us.
PS: There has been a lot of competitiveness between some of the girls in this series. What was your approach to that? Did you just avoid it? And did anyone's comments surprise you when you watched it back on TV?
Paul: Oh look, you know, absolutely, there's no question we were surprised. But to answer your initial question, as two middle-aged blokes, I think the last thing the viewer wants to see is us engaging in that sort of rubbish. We would normally not engage in it anyway, so it wasn't necessarily a conscious decision in this context, it's just the way we are. There was no way I was sticking my hand up to get involved in that garbage.
To answer your question about comments, yeah, when you look at those interview snippets, and I guess it's like the social media situations, there was a level of anonymity attached to it, and they probably felt a little more comfortable. Whether it's clever producing on the part of the people interviewing them, or not, some of the things they said, Blair and I went, 'Oh really? Did you not think that would come back to haunt you?' And I've said a couple of times in interviews, you've got to be mindful of the filter between your mouth and your head. If you don't engage them, that's when you come unstuck. A lot of the criticism that they're getting, be it any of the teams, they still said it. You can't get criticised if you don't say it. Just think before you speak is a good rule of thumb, I think.
PS: I've said to a lot of my friends that I think I could get the bad edit if I went on a reality show, because I can be quite sarcastic, and I say lots of things and then, "Just kidding!" but I know the "Just kidding!" would be edited out.
Paul: And even your facial expressions. I'll be honest, I've seen a couple of those ones the girls have pulled, and you look and go, 'Well they've just cut and paste that out of a different context.' There's a level of integrity attached to the whole process, but at the same time, editing is editing.
PS: What did you guys find to be the hardest challenge?
Paul: Oh, that ultimate instant restaurant round was plain bloody putrid. I don't think they truly paid it justice on the show, because it was just a long, horrible hard day. Given it's the first time the producers have come up with that concept, I don't know whether they'll run with it again. I think it was meant to be a celebration of all the cooking skills we'd picked up over the course of the show, but what it turned out to be was a crisis for most of us, and it really put you under the pump, so I don't know that it made good viewing — I haven't seen the ratings and comments. But as far as being a competitor in that situation, it was just bloody awful. It was hard work and very stressful.
PS: I think I read that Manu thought it pushed you too hard.
Paul: Well you look at poor old Bianca and Thalia, how they ended up there at the end. No one wants to see that. That was just gut-wrenching. You see the tears from a lot of the other contestants. It was really, really hard, and I don't know that it was a great idea.
PS: Well I think the ratings were actually very good for those episodes.
Paul: So therefore they'll probably do it again!
PS: They know it's a very popular part of the show, and it's what sets the show apart from others.
Paul: Yeah, I think it's what people want to see, I just don't know the double menu was the way to do it. Again, it was a repeat and see how far people have gone.
PS: How has your cooking changed now? And is it weird being able to cook without having to explain everything you're doing?
Paul: [Laughs] Well it's nice not having a producer in there asking me, "So how do you feel? What could go wrong?" I've got my wife sitting there with a glass of wine looking over my shoulder, but she's a lot more supportive.
Our cooking has changed; we really did learn so much. Blair and I are no doubt better cooks than we were when we started. We did learn some new skills, so it's lovely to come home and cook for our family and friends again.
PS: When you went back home after being eliminated, was there a time where you were like, 'I just can't cook for two weeks, or a month'?
Paul: Nope, I went straight back into it. I love it; I find it very therapeutic. For me, coming home after work, I love getting into the kitchen, get a glass of wine out, and start chopping and dicing. I love it.
PS: What's the reaction from your students been like?
Paul: They have been amazing in terms of support. I was very mindful, because kids can be kids, and they like to stick the knife into their teachers, but it was the opposite. They've been super-supportive; they want to know all about the show. They weren't star-struck by any means. They were looking at it in terms of supporting us. They want recipes, they want the ins and outs of all the personalities. They were fascinated. It's been really nice.
PS: Would you consider moving into food tech?
Paul: [Laughs] We were both offered the opportunity but we both said, "Thank you, but no thank you. We'll stick to running around and catching balls and throwing things." It's a lot easier.
PS: Who would you like to win out of the three remaining teams?
Paul: We'd definitely love to see the twins go through and win. At their early stage in life, I just think that sort of money for them — they have a definitive food dream, I think it would really help them on their path. We were quite fond of the girls so I'd like to see those girls come through.
Read the rest of our My Kitchen Rules elimination interviews here.
The second My Kitchen Rules semi-final airs tonight at 7:30 p.m. on Channel Seven. The My Kitchen Rules Grand Final airs on Tuesday night at 7:30 p.m. on Channel Seven.