My Kitchen Rules 2014 Winners Interview: Bree and Jessica
My Kitchen Rules Winners Bree and Jessica Can't Believe They Won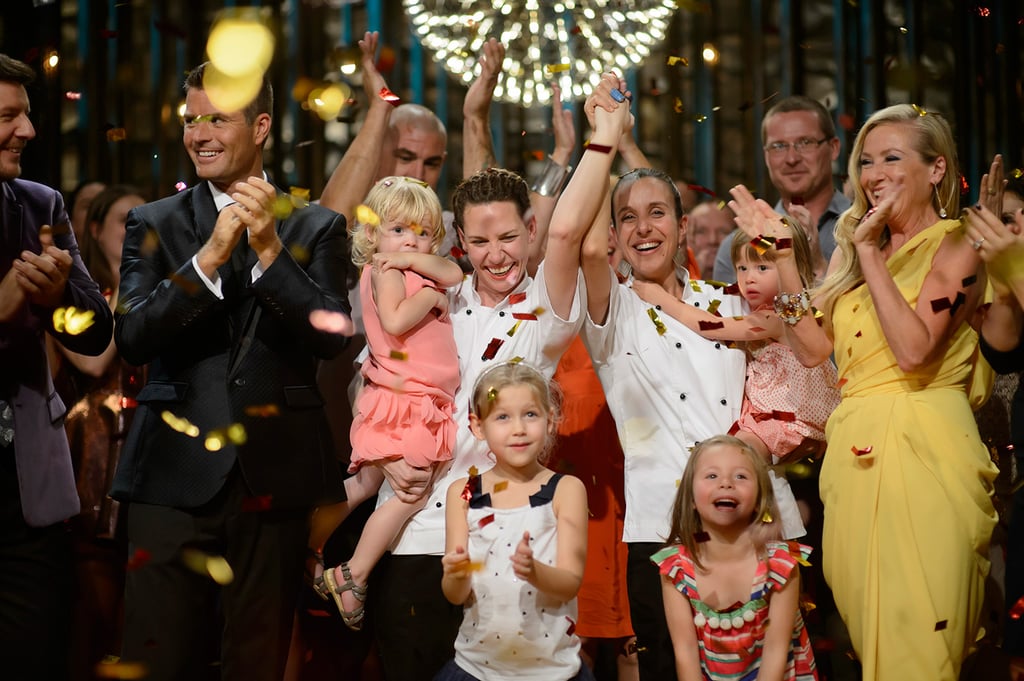 Source: Channel Seven
An average of 3.4 million Australians tuned in to watch Bree and Jessica win My Kitchen Rules on Tuesday night. The South Australian mums beat their rivals, Chloe and Kelly from Western Australia, to the $250,000 cash prize, which they're going to use for their families and to further their food dreams.
As with previous years, two results were filmed, so Bree and Jessica didn't find out they were the winners until they saw it unfold on TV last night. We caught up with the ecstatic friends — yes, they're still friends, despite reports their relationship had crumbled after the show — to talk about the most stressful parts of the grand final challenge, who their closest friends in the competition were, what their families ate during their absence, and what souvenirs they were allowed to take from the show.
POPSUGAR Australia: Congratulations! How did you watch and celebrate the final last night?
Bree: We watched it together with our families, with our loved ones.
Jessica: We were at Seven's studios here in Adelaide watching it.
Bree: We celebrated with lots of bubbly and lots of screaming [laughs].
PS: At what point did you realise you would be announced as the winners?
Jessica: Once Pete gave us his 9, we realised.
Bree: Until you hear those words, you just can't believe it. It's our wildest dreams coming true.
PS: What have the past few months of not knowing the result been like?
Jessica: Sickening! [Laughs]
Bree: Daunting.
Jessica: Lots of anxiety. Stressful, but also exciting.
Bree: This is the one episode where we genuinely didn't know the outcome. That's one to look forward to. We got to share it with our families and loved ones. It's pretty amazing, really.
PS: Do you think you preferred not knowing? If you knew, you would have had to hold this secret for a really long time.
Jessica: Yep. The way that it's done is exactly as it should be.
PS: Grand final — talk me through the most stressful bits. Plating up looked like a nightmare.
Jessica: I actually quite enjoyed the plating up part!
Bree: I think the whole experience of the grand final is stressful, as a whole, because you know that if there's one mistake on the plate, that's actually going to use you $250,000, and the title. There's a lot of pressure, and everything you've been through in the competition. . . I mean even to make it to the grand final is such an amazing achievement. But you need to put up perfection. It's a lot! It was very daunting. But we felt we prepared as much as we could and went in there with the attitude that hopefully it would be good enough.
Jessica: We're going to do our very best, we're just going to pull all our cards out of our deck, and give it our best shot.
PS: What did you think of Chloe and Kelly's menu? I assume last night was the first time you saw anything they did.
Bree: Yeah, it was. I thought it was beautiful and very much them. They stayed true to what they loved, and what they liked to cook, and so did we — I think that's what you should do in a grand final.
Jessica: Exactly, and think outside the square.
Bree: It should be a reflection of who you are, and they definitely stayed true to themselves, and their food was beautiful. They should be so proud of themselves.
PS: As two mums with young daughters, how did you find the time to teach yourself so many techniques, even before going on the show?
Jessica: We'd been cooking for many years, prior to having kids. I started cooking when I was four.
Bree: I've been cooking since I was a very small child as well. But I'll tell you what: when I had children, my husband got me the Food Channel, and when I was breastfeeding in the middle of the night, I used to sit there at 3 o'clock in the morning watching cooking channels [laughs]. And the passion has been there for a very long time.
Jessica: When you love something as much as we love food and cooking, it's actually really easy to learn. You take on board everything you read and hear; we'll happily sit there reading cookbooks for hours. It's a passion, and any passion you have in your life, if you want to learn, you will become better at it.
PS: You were very focused on the prize and other contestants have said you didn't mingle much. Who were you closest to?
Jessica: Paul and Blair, and the twins.
Bree: Yeah, they're definitely our closest friends. We love those guys. Like the twinnies, they're just the most amazing women. We hope awesome things happen for them. Same with the boys, they're just beautiful, lovely, genuine people.
Jessica: Honestly, we got along with most people! And we got to know people as much as we could.
Bree: It wasn't so much we had our eye on the prize; we just went there with a sole focus, which was to work. We knew that as far as we could get would help us be able to fulfil our dreams. We never thought in our wildest dreams that we would actually win it.
Jessica: No, never.
Bree: So the fact that we did is just the most amazing thing in the universe.
PS: How often could you see your families? What did they eat without you around?
Jessica: Oh my god, I found tins of spaghetti in my cupboard when I got home!
Bree: I came home and was looking at my pantry going, "Oh, no!" We were both horrified [laughs]. Our husbands, they are the most amazing men, and I thought, 'I don't really care if you get pizza twice a week,' because if that's what he's got to do to survive, then just do it. We're very fortunate we've got such amazing husbands.
PS: Jess, you mentioned you hated cooking with the pressure and time limits. What was the hardest challenge for you guys, or your least favourite?
Jessica: I guess for me it was the truck challenge, where I had the big breakdown. That was a real tough challenge.
PS: A lot of people said the food trucks were full-on, but in recent interviews we've been told the 'ultimate instant restaurant round' was really painful.
Jessica: That was hardcore as well. That was actually quite emotional for Bree and I, because we hadn't seen our families in quite some time, and then we came back and we couldn't see them, really. We had to cook in the home that my children lived in, and my husband lived in, but they weren't there, you know what I mean? That was a tough challenge, too.
Bree: Honestly, every challenge is tougher than the last. But that's the nature of this competition.
Jessica: It tests your limits.
Bree: Our limits were totally tested, but we prevailed, oh my god! [Laughs]
PS: When you watched the series back, what were some of the hardest things to watch, aside from emotional things? Were they little mistakes, like pouring stock down the sink?
Jessica: The stock down the sink probably wasn't one of my finest moments!
Bree: The thing that I find hardest to watch, because I was truly appalled by it, was the trout dish.
Jessica: You did that all on your own.
Bree: I found it hard to watch because that dish in its entirety is actually quite beautiful, but trying to pull it off, that was a very big learning curve for us.
Jessica: That was a big day because it was the day that we did the fondant as well.
Bree: We stepped back from that challenge and thought, 'We've actually been saved, so what can we learn from this experience?' We had to be adaptable all the time, and constantly have Plan A, Plan B, Plan C, Plan D. . . The trout, the fondant — we had a lot of lows.
Jessica: But we had heaps of highs, too!
Bree: It was definitely a rollercoaster.
PS: What kind of souvenirs did you get to keep from the show? Knife sets? Chef whites? Aprons?
Bree: We've got our knives and they're very cherished.
Jessica: They come out on special occasions.
Bree: I'm not sure what else they'll let us keep. Hopefully we can keep our chef whites, that would be pretty awesome. A DVD set of the series, maybe?
PS: It's amazing you can go through this kind of experience and have it all taped to re-live.
Jessica: That would be nice. A leather-bound box set!
Bree: Even the photo shoots we've done, I think, 'God I wish I could get an album with all these photos!' When you've had your hair and makeup done, and they've made you look like this other version of yourself that you don't ordinarily look like, we don't get the opportunity to have those kinds of photos taken! So it's pretty amazing. The whole experience is just amazing.
PS: What is the food dream for you two?
Bree: Jess wants to get into. . . Well, you say yours!
Jessica: I want to get into the farmers markets and showcase South Australian produce, because it's so beautiful. I'd like to start, on a small-scale level, some food manufacturing. Just baked goods and stuff like that that really showcases South Australian produce.
Bree: For me, I really want to get into the writing side of things, and I would love to publish cookbooks — plural! So that's something I'm focusing on as well. And together—
Jessica: We've both got tourism backgrounds, so linking food with tourism would be awesome. We'd love to get involved in any opportunities that are presented to us that way.
PS: Is that how you two met?
Both: No.
Bree: We actually met through our ex-boyfriends, years and years ago! [Laughs]
Jessica: We met about 16 years ago?
Bree: Yeah, probably, how old was I — 17? I'm 34 now, so someone else do the maths, because I'm terrible with numbers! [Laughs]
PS: What's next for the immediate future?
Bree: For the immediate future we're going to relish in our win with our husbands and children, because we can't honestly believe it [laughs]. We're just looking so forward to the future. We can't wait to see what happens next for us. But also, for the immediate future, honestly, I've got to take my kids to school, and so does Jess [laughs].
Read the rest of our My Kitchen Rules interviews here.