My Kitchen Rules' Carly and Tresne Explain Relationship
Carly and Tresne Explain Why They're Only Revealing Their Relationship Now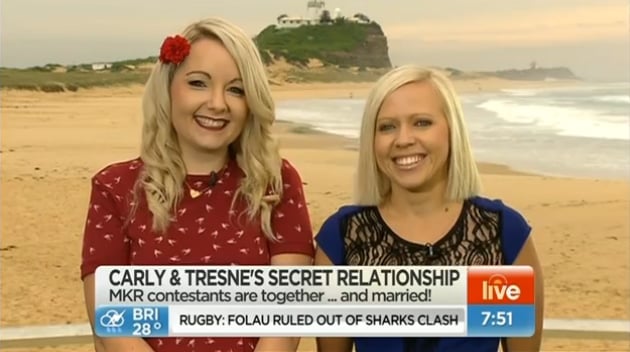 On Monday morning, the biggest news to come out of My Kitchen Rules was that Carly and Tresne, a team from NSW who had been promoted as best friends who lived together, are actually a couple of eight years, and had a commitment ceremony two years ago. Photos from their commitment ceremony were shared in the latest issue of New Idea magazine, and this morning the girls appeared on Sunrise to talk about why they were coming out with the truth of their relationship now.
Carly, a school teacher, told Samantha Armytage and David "Kochie" Koch, "We just feel like we can't believe the amount of support we've received from everybody, our fan page — it's amazing. The timing just felt really right for us. It wasn't something that we planned to do, but it just happened really organically. We want to be a role model for people in the same situation." Real estate agent Tresne explained, again, "We wanted people to judge us on our personalities and our characters, not who we love."
They were asked if they thought Australia may have treated them differently if their relationship was common knowledge, and Carly replied, "Unfortunately yes, we do feel like we may have been treated differently. Not by everyone — Australia is a very open-minded country, but we just felt like we wanted our cooking to have a chance to shine before people knew that private part of our lives."
The girls are a hit with viewers (and the other contestants) because of their sweet and friendly natures, and have added positive vibes to the show with their inspirational quotes and practices. But their decision to only come out as a couple now has confused some — is it for an extra publicity boost? Will the portrayal of their on-air relationship change now this information is out? We're wondering: has Carly and Tresne's revelation changed how you feel about them on the show? And we don't mean that they're in a relationship. We're talking about their decision to keep it hush-hush until now.