Natalie Bassingthwaighte and Cameron McGlinchey Are Married!
Natalie Bassingthwaighte Marries Cameron McGlinchey!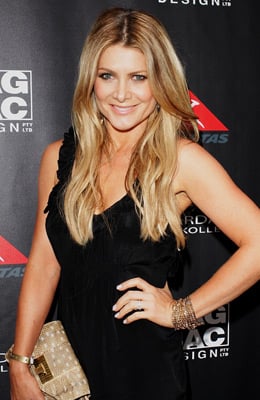 Natalie Bassingthwaighte is a married woman! The multi-talented star wed her long-time partner Cameron McGlinchey yesterday at the Stokehouse restaurant in St Kilda, Melbourne. She was dressed in an embellished one-shouldered J'Aton gown with a short veil, and arrived at the ceremony with the couple's adorable 16-month-old daughter Harper, who was wearing blue for the occasion. Nat said on the way in, "I am feeling kind of nervous, but in a really joyous way [I] am very emotional." Among the guests were some of Natalie's former Neighbours co-stars, as well as members from Rogue Traders, which is how Natalie and Cameron met when they were both part of the band. The wedding tops off a big year for Natalie, who joined the judging panel of The X Factor and released new solo music. Congrats to Natalie and Cameron on their big day!