Natalie Bassingthwaighte Pregnant With Second Child
Natalie Bassingthwaighte Is Pregnant!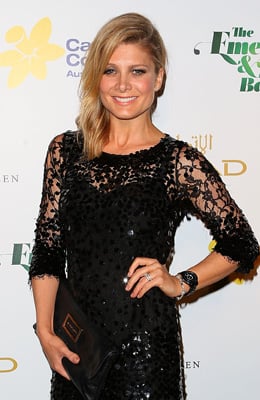 Natalie Bassingthwaighte has confirmed that she is pregnant with her second child! The X Factor judge and mentor shared her news with this week's New Idea and revealed that she's 12-and-a-half weeks pregnant. She already has two-year-old daughter Harper with husband Cameron McGlinchey, who she married almost a year ago.
Natalie told the magazine, "I love it, I love being pregnant," and said she had to keep it a secret from her fellow judges on the hit show, which wrapped last week. Two Fridays ago she attended Ronan Keating's Emerald and Ivy Ball and only sipped water, which prompted baby buzz. But she added that they're all thrilled for her, particularly Mel B, who "sent a text saying that I can be the fat one now." Congrats to Natalie and Cameron on their growing family!