Natalie Holmberg The Bachelor Elimination 2017 Interview
Nat's Take on Jen and Leah: "They're Very Good at Making You Feel Really Crap About Yourself"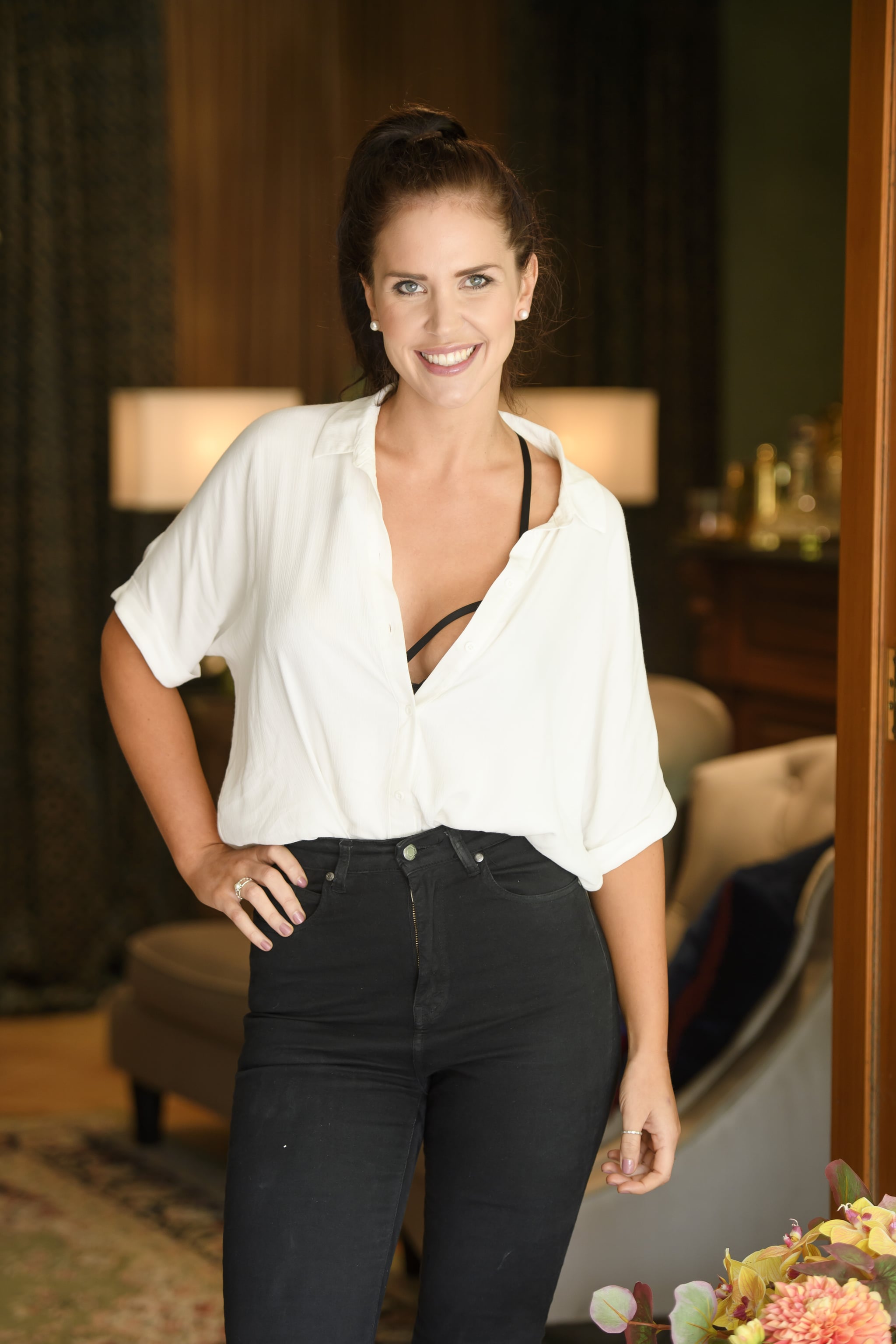 Natalie Holmberg's journey on The Bachelor came to an end on Thursday night, when the 26-year-old missed out on a rose from Bachelor Matty Johnson.
While her time in the house was relatively short-lived, Nat's loud, funny and sometimes wacky antics have ensured she won't be forgotten by any of us any time soon. Scroll to read what she had to say about her elimination tonight.
POPSUGAR Australia: Tell us from your point of view what happened the night you were eliminated.

Nat: Basically, we go on a skydiving date, which was a really cool experience and in the end, Simone got the one-on-one time [with Matty]. At that point, I'm thinking, "Ah, crap." I haven't got any one-on-one time. I'm thinking it's probably . . . it could be between me and Sharlene and Steph. I don't know if they showed it but I did have a pretty long conversation with him that night. I thought it went really well, but that might just mean that we got along more as friends. He thought I was quite funny, maybe a little inappropriate at times, but really, in the end, he didn't feel like I was the girl that he wanted to continue the journey with. Then he just let me go.
PS: Did he tell you that in as many words?

Nat: No, I think all he said was like, "Thanks for the laughs, even if sometimes you can be a little inappropriate," and we had a laugh and I just said, "Thanks for having me," and yeah, that was it! Like, they don't give you a list of things you can improve [laughs].
PS: Thank God.

Nat: Yeah, you know, it just depends on who he feels a connection with and obviously from whatever interactions he had with me during the process, he wasn't feeling like he wanted to spend any more time with me. I think that's absolutely fine, because everyone's entitled to their opinion.
PS: Did you like him? Did you feel like there was an attraction and a spark there?

Nat: Yeah, look! Have you seen the guy?! And he's funny too, he says classic things. He's funny, he's good-looking . . . Was I obsessed? No, I didn't know him that well. But of course I wanted to get to know him a little bit more, but there was me and 21 other girls so I think I was quite realistic about that going in.
PS: It would be pretty amazing to go on the show and actually find love. The odds are small.

Nat: Yeah, exactly. And I don't know what happens in the end, but I really, really hope that he has found someone that he actually really, really loves. It's be great to see another Anna [Heinrich] and Tim [Robards] story, it'd be great to see another Sam [Wood] and Snez [Markoski] story. I wish him well and the girl that wins, I wish her well as well. I'm actually looking forward to watching it without me in it. Before each episode my heart starts to race . . . and also I want to have that sense of, "what happens next?"
PS: Who did you get along with in the house and who didn't you get along with?

Nat: My best friends in the house were Tara, Steph, Sian, Cobie, and then Elise and Lisa. And Flo! I love Flo too, actually. The girls I didn't really click with were more Leah and Jan.
PS: Yeah. That seems to be a thing.

Nat: I know it's a popular [opinion] at the moment but it is actually true. Don't get me wrong, they have nice sides as well. Nothing's all black and white. I think Leah has a very good heart as well, but they're very good at putting you down. They're very good at making you feel really crap about yourself.
PS: They both seem to be playing the game very well right now.

Nat: Well yeah, they are playing a very interesting game! It makes for great television. Was it great to live with? Not so much. People ask me, "Are they really saying that, or is it production? I'm like, "It's them." You might even be seeing a censored version! They can't show everything. At the end of the day, we're the ones saying what we're saying. They never put the lines in our mouths. Whatever comes out there now is completely true.
PS: You're a classic. I'm sad you've left!

Nat: I'm sad he didn't want to go on a freaking date with me! Like, just one date! Take me on a date! You know?
PS: Do you get offended in there when your name's not called out for a date?

Nat: Oh, don't get me wrong — I laughed it off but it is . . . it's like "Aw." It's a little bit of a blow but in retrospect, you go, "It is what it is." I didn't have the highest self esteem and of course I was feeling a bit of "Aww." But, you know, it is what it is.
PS: Do you have a frontrunner at this point?

Nat: When I was in there, I guess I thought Lisa was . . . Lisa's a bloody good chick, she's a good egg. But I probably shouldn't say too much more because I think I know too much. But I don't know who's won! Which is amazing really, considering. I would've thought there'd be Chinese whispers that'd filter down, but I actually don't know. It's crazy! And kind of good because I'm like, at least I don't have to lie to people when they ask. I'm like, "I actually frigging don't know." I hate lying, I am the worst liar in the world.
PS: Did you enjoy the experience overall? Would you do it again?

Nat: Yeah. I don't know if I would do that exact same experience all over again but I don't regret it. It's such a unique experience, there are highs the lows, and some of us cried and some were put on the spot and then you feel bad because you said things that you might not have otherwise . . . It's just such a different environment. Having said that, you get to have a lot of good times with friends, make good relationships and we got a lot of food in there!
PS: How are you feeling now? Relieved to be out or upset that you're not ending up with Matty J?

Nat: Look, I'm kind of relieved that I can just sit back and watch now. As much as I would have loved a single date and as much as I would have loved to get to know him better, it is nice taking the back seat now and not having everyone spray their opinions at me.
PS: What are your final thoughts on Matty J?

Nat: I think he's really cool, I think he's really funny. I think we do have a similar sense of humour and humour for me is really important. I had a laugh with him, I think he's a good guy and I hope that he finds someone that he may have a good long-lasting relationship with.
PS: And are you seeing anyone at the moment? Or has it been a bit hard?

Nat: I wish [laughs]. I'm very single. Very, very single.
PS: We'll put the word out there, I'm sure it won't last very long.

Nat: Yeah! Could you?