Natalie Portman Quotes About Whitewashing in Annihilation
Natalie Portman Responds to Annihilation's Whitewashing Controversy: "It's Problematic"
Image Source: Everett Collection
Alex Garland's upcoming Annihilation, the film adaptation of the first novel in Jeff VanderMeer's Southern Reach trilogy, features a core cast made up almost entirely of women: Natalie Portman, Gina Rodriguez, Jennifer Jason Leigh, Tuva Novotny, and Tessa Thompson. On top of that, the cast includes women of colour, and also has them playing a team of badass scientists who journey into a dangerous, unknown territory for an expedition that could change the course of society as a whole. Naturally the internet was abuzz with excitement for the film, given its steps toward representation for both women and people of colour onscreen, but now the sci-fi film is making headlines for a different, all too familiar Hollywood problem: whitewashing.
Portman's character, Lena, is the biologist leading the all-female expedition, and is also plagued with guilt over her relationship with her husband and fellow scientist, Kane (Oscar Isaac). Leigh plays another member of her team, a tough government psychologist named Dr. Ventress. In VanderMeer's second installment in the trilogy, Authority, it's revealed that Lena is of Asian descent, and that Ventress is half-Native American, half-Caucasian.
Neither Portman or Leigh matches their characters' physical descriptions — which aren't included in the first book, which doesn't mention their race — so it's sparking an important conversation about diversity in the film industry. While sitting down with Yahoo! Entertainment to discuss the film, Portman was informed of the whitewashing controversy for the first time.
"That does sound problematic, but I'm hearing it here first," she said. "We need more representation of Asians on film, of Hispanics on film, of blacks on film, women — and particularly women of colour — Native Americans . . . I mean, we just don't have enough representation. And also these categories like 'white' and 'non-white' — they're imagined classifications but have real-life consequences. I hope that begins to change, because I think everyone is becoming more conscious of it, which hopefully will make change."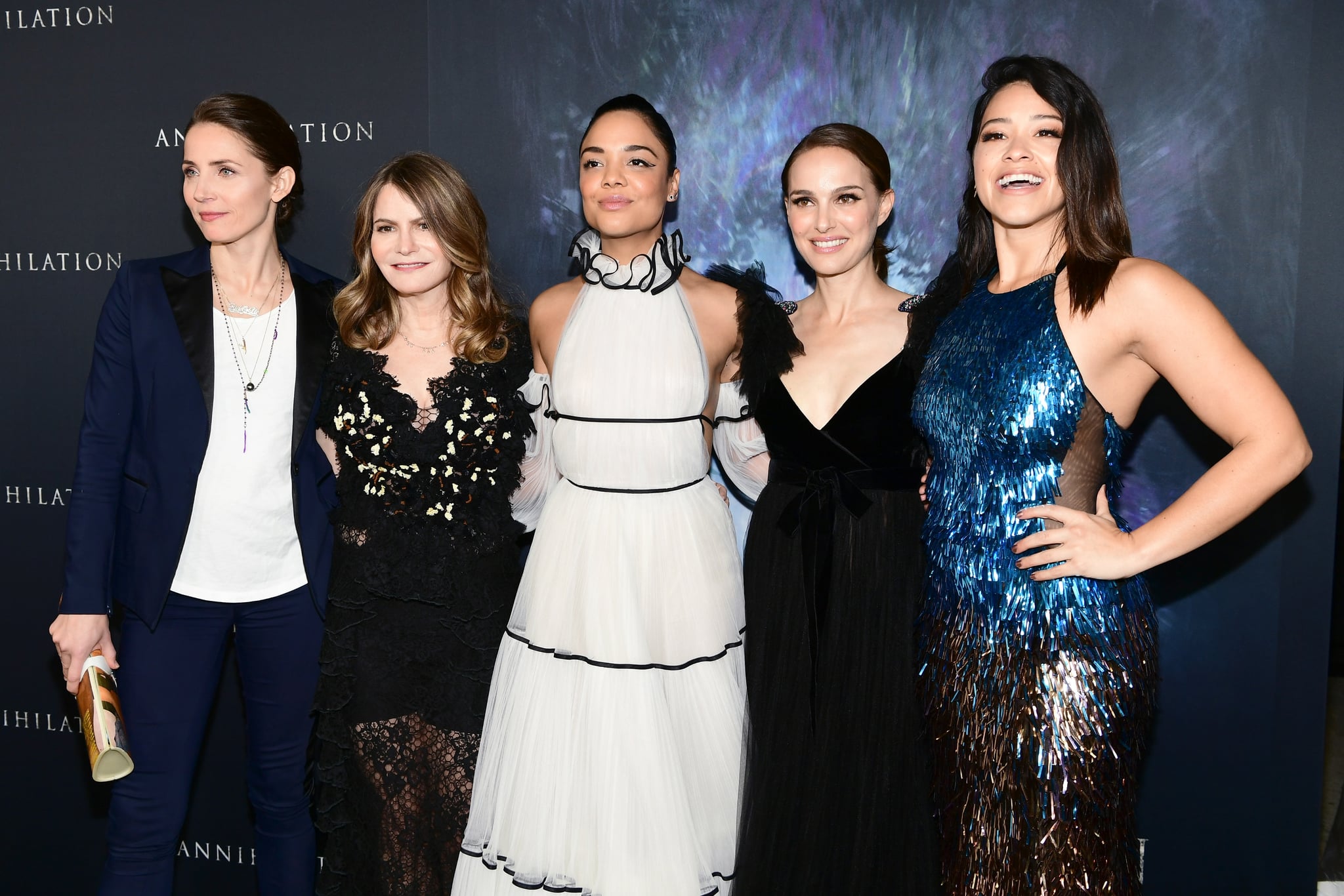 The cast at Annihilation's LA premiere. Image Source: Getty / Emma McIntyre
Garland, who directed and adapted the film, also addressed the issue in a statement to Deadline.
"This is an awkward problem for me, because I think whitewashing is a serious and real issue, and I fully support the groups drawing attention to it," he said. "But the characters in the novel I read and adapted were not given names or ethnicities. I cast the film reacting only to the actors I met in the casting process, or actors I had worked with before. There was no studio pressure to cast white. The casting choices were entirely mine. As a middle-aged white man, I can believe I might at times be guilty of unconscious racism, in the way that potentially we all are. But there was nothing cynical or conspiratorial about the way I cast this movie."
Portman wasn't the only member of the cast to speak out. Leigh, Tessa Thompson, and Gina Rodriguez opened up to Variety about it during a recent interview.
"It's not in the first novel at all, which I think is the book that Alex read and that he based it on," Leigh said of her character's race. "I think had he known about those things, it might be a different cast, but we're lucky to have a movie with all women."
Thompson agreed, noting that behind the scenes, Annihilation was a joy to work on since she was surrounded by women. "When you're one of two women on set or the only woman on set, sometimes what happens is that you're other-ised," she explained. "No one means you harm; it's just the way that it is. In this case there was no other."
For Rodriguez, who is Puerto Rican and stars on The CW's Jane the Virgin, the fact that she was able to be a part of the film at all was something to be celebrated, and pointed out that people of colour "want to be able to do anything and play in any different world and have opportunities like anyone else." She added: "How often do brown girls get to play in sci-fi? I think it would be wonderful if we got to a space where people felt that they were conscious of their attempts at creating good characters, not characters specified by race."