Nina Rolleston Bachelor in Paradise Elimination Interview
Poor Nina Was "Blindsided" By Eden and We're Not Crying, You're Crying
Well, Wednesday saw a dramatic rose ceremony on Bachelor in Paradise, if there ever was one. Not only did Michael pull a move out of nowhere and give Lisa his rose (Luke? Are you OK?), but one of the most secure couples so far on the show — Nina and Eden — were split after Eden chose Elora instead. Guess their little chat about Nina's decision to withhold affection had more of an impact than we thought.
The worst part? Everyone thought they were a pretty sure thing, as far as relationships went in Fiji. "From very early on, I knew that there could've been something real," Nina told us over the phone off the back of her exit from Paradise. Here's what she had to say about her relationship with Eden, decision not to be intimate, and heartbreak.
POPSUGAR Australia: Can you tell us what it was like actually being in that rose ceremony?
Nina: Look, that rose ceremony, I don't think anyone knew what was going on. The girls receiving the roses, we had no idea, and every time someone walked up and picked up a rose, we just thought, bloody hell, what are they going to say now? It was just this domino effect of bombs getting dropped left, right and centre. I know for us, we were all very anxious and there was a lot of tension and tears — it was really full on.
PS: Were you surprised by Eden's decision?
Nina: I was 100 percent blindsided, I was pretty shattered.
PS: Talk to me about Eden — how did you actually feel about him?
Nina: I thought, and still think, he's such a beautiful, amazing man. He pulled me aside after being in Paradise for literally 15 minutes, and from that initial conversation until that night, we pretty much didn't leave each others' side. He would come in every morning and give me a kiss good morning before I even woke up, he would walk me to my bungalow every single night, tuck me into bed and wish me good night. It was the most beautiful experience that I thought him and I had together. I really thought there was something that was going to continue outside of Paradise between us.
PS: From your point of view, what do you think made him pick Elora? Was it your decision to withhold affection?
Nina: I guess I don't really know the answer to that, but for me, it felt like he was getting really caught up in what everyone else was doing and because everyone else was getting serious, I don't know if he felt like we were lagging behind because we weren't at that stage. Maybe he felt like we had to be at that stage for it to something true, and I just felt like he kept comparing us to other people instead of just concentrating on what we had and what was right for us. When I had initially spoken to him about the fact that I didn't want to be intimate with someone until the very end and have it be a really special thing with that person, he seemed to really respect that and I felt that he was really proud of me for that. And then all of a sudden, I've been given an ultimatum and it's like, hang on, where is this coming from?
Obviously he wanted some affection and of course I wanted it, too — I'm human — but I just really wanted to be so sure that him and I were going to continue outside of Paradise. If that was the case, I would've jumped in head first. So it was a really confusing time for me, because he did seemed to really respect it, and then I was given an ultimatum next.
PS: So that chat came as a complete surprise for you?
Nina: 100 percent. Every single rose ceremony he walked into, I had always reassured him that he would be receiving a rose. I just never thought for one second that after a day of this woman being in Paradise, that she could break that up. I just had no doubts, and then all of a sudden, I'm getting called aside, given ultimatums, being called selfish because I wouldn't break my values. It was just a really devastating, heartbreaking moment, to be honest.
PS: I really admire your decision not to jump the gun and kiss or be intimate with anyone. How did that come about?
Nina: I'm not someone who . . . I've never had a one-night-stand, I've never had a drunken pash in a nightclub, and for me, intimacy is really important. I think that's something really special that I share with somebody because I genuinely want to be with that person and invest in that person, and I think in Paradise, it's very easy to get caught up in moments. You've got this beautiful setting, a couple of cocktails in your hand, you're in the arms of a gorgeous man, it's really easy to get caught up in it. For me, I made that decision before going in that I did want it to be something quite special, and if standing at the end meant I had a person beside me that I could see with being with outside, then that would be the person that got my first kiss.
PS: Eden said you were self-centred in your decision. What are your thoughts on that?
Nina: It floored me. Being selfish and self-centred over your values and your body, I think is just the most disgusting thing you can say to someone. One of the first questions he asked me when he pulled me aside when we first got to Paradise was, are you going to break your Guinness World Record? So literally from the first three minutes of knowing each other, I had told him my values and where I stood. And that was his choice whether to invest in me or not, and for him to invest in our relationship, for him to pull Daniel away and give him that man-to-man chat, I felt like that was a man who really respected me. But for you to tell me you have to give me intimacy or you're selfish, it's just the most disgusting thing you can say to somebody. I just felt like if all I was worth to him was intimacy, then he wasn't the person I thought he was. I think that's what hurt the most — that I genuinely had feelings for this man, who really didn't respect my values. That's just heartbreaking.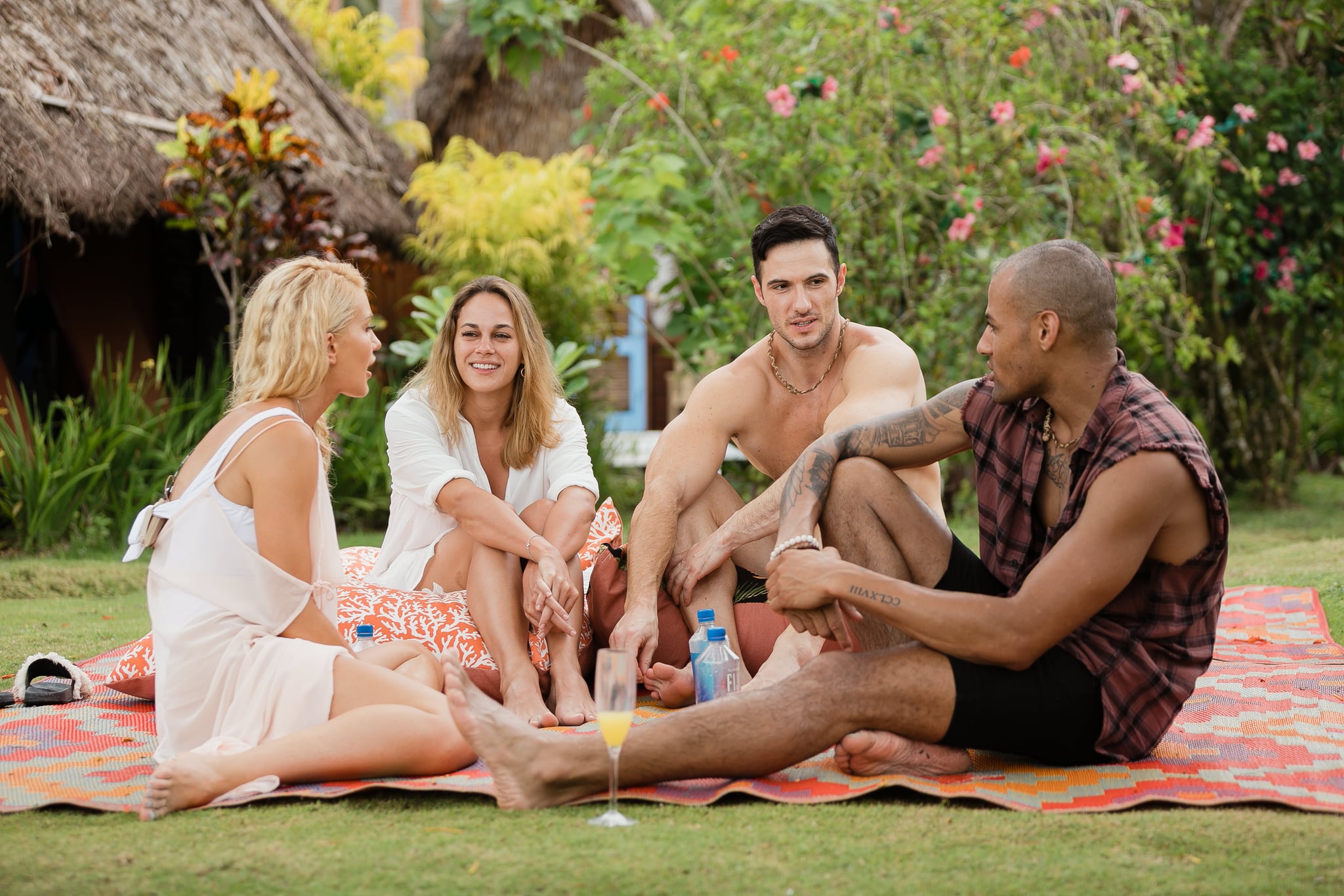 PS: How do you feel about him now?
Nina: It's really hard because I thought I had gotten over it. You start questioning yourself, and you think oh, maybe he wasn't as interested in me as I thought he was, maybe the connection wasn't as real. But now I sit back every night and watch it, I see the way he speaks about me and looks and me, I get these beautiful photos sent to us of the two of us together, and I just think, it was real, there were real feelings and now you've done this. So it's really hard to watch — there've been many tears shed watching the show.
PS: I'm so sorry, it's still quite raw. I was thinking the other day, what's harder, The Bachelor, or Bachelor in Paradise?
Nina: Bachelor in Paradise is certainly a better experience, and I think it's a much more genuine one. When I date someone, it's really important to see how he interacts with my friends, how he interacts the staff — the crew, the bartender, the chefs — it's important to know whether theyre a morning or night person, whether they snore . . . And you don't get exposed to that side of things on The Bachelor. Whereas [with Paradise], I know how he takes his coffee, I know he hates paddleboarding and I know he has his naps every afternoon . . . You see these sides of people that you would genuinely see dating in the real world, which makes it a much more realistic experience. So I think falling in love in Paradise is much easier. A proposal at the end of it is much more achievable than it is on The Bachelor or Bachelorette.
PS: But the stakes are a lot higher!
Nina: Yeah! There was a lot more true emotions and feelings in Paradise, so there are a lot more broken hearts at the end.
PS: What was your relationship with Daniel like?
Nina: Daniel and I had a really amazing relationship, to be honest. There were many tears shed over watching the episode with him, just seeing his interactions with other women, but we had the most amazing single date that sort of came across quite creepy, but it so wasn't. The situation with us trying to get up to the hot springs actually turned into quite a serious evacuation, and there was a lot of off-camera time spent with Daniel. In that time, I got the real Daniel, not the show-pony version. He's such a deep, beautiful person, and we just spoke about things that I know he would never discuss on camera. So it was really difficult to know one side of him and another on camera. I really feel like a bit of a fool for falling for him, but I do know a completely different side to him. Apart from him, there wasn't anybody else who caught my eye. But Eden was the one I could've seen that long-term future with.
PS: How would you describe your experience overall? Would you do anything differently?
Nina: Amazing, and no, it was the most incredible experience. I can't even describe it, it was a beautiful location, all the cast members were amazing. There weren't villains, any bitchiness, competition — even though there may have been two women going after the same man — there was a lot of respect and just a much better environment compared to the mansion.
PS: Where are you at with finding love now?
Nina: Unfortunately I'm still single! [Laughs] I'm very much looking forward to a weekend out this weekend, Tara's coming to take me out for my first official "single weekend". So yeah, I'm looking forward to going out for a dance with such a beautiful girl, meet people and hopefully find someone that does respect my values and does see me for more than just that.