Official Pictures of Robbie Williams' Wedding With Ayda Field Plus Quotes From Hello
Official Pictures: Robbie & Ayda's Wedding in Hello!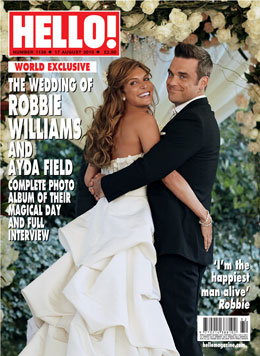 Robbie Williams married Ayda Field in LA on Saturday and now we've got the official pictures from their ceremony! Rob and Ayda shared their special day with Hello! and chatted with the magazine about the bridesmaids, cake and Ayda's Monique Lhuillier gown. Here are the highlights:
Robbie on whether it's a traditional ceremony: "The only thing that's traditional about the wedding is the vows. No hen party, no bachelor party, no wedding showers."
Ayda on their bridesmaids: "Our doggies are taking the bridesmaid roles! I was originally thinking little bow ties for them, but instead they're going to each have flower collars."
Robbie on his bride: "Ayda looked like the most beautiful girl in the world. The setting was so magical, and to be surrounded by family and close friends and then see Ayda appear looking so radiant was almost too much for me to take…I'm the happiest man alive."
Ayda on the cake: "The cake's got three layers. The first is red velvet, Rob's favourite, the second is carrot cake, and the third is vanilla and coconut."
Robbie on the cake: "I'm going to have a cake headache. People will be wobbling home. We want them to leave us as Weebles."
Robbie on why Ayda is the perfect woman for him: "She makes me want to be a better person. And in the process I have become a better person."
The couple also chatted about the rest of banquet at the reception, which included sushi, steak and a traditional English breakfast. They revealed the details of Robbie's Christmas Day proposal and their first date, and said they're not in a rush to have a baby. Photo: You're Not Famous via Getty Images