Olly Murs Interview on Troublemaker and One Direction Tour
5 Minutes With Olly Murs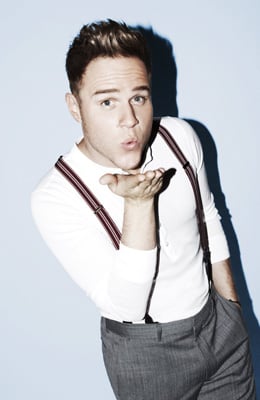 If you listened to the radio over the Summer there's a good chance you heard Olly Murs' hit "Troublemaker," which features a recognisable rap from Flo Rida. The ubiquitous and catchy song is the first collaboration between the 2009 UK X Factor runner-up and Flo Rida, who still hadn't met each other when I spoke to Olly last Monday as he landed in the US. After gushing about Beyoncé's Super Bowl performance (which we'd both just watched), we got down to the important stuff, including Olly's success, touring with One Direction and why he's excited to come back to Australia later this year.
Congratulations on the success of "Troublemaker," which is such a catchy song. What's the secret to writing and recording a catchy song?
It's hard, really, you just go with the flow. You write some amazing songs. You sit there in the studio and jam. It's hard to . . . it just happens. There's no real rhyme or reason behind it. There's not an ingredient. It's not like you can do it every time you walk into the studio. It either happens or it doesn't happen. It just depends on the moment.
I heard you haven't met Flo Rida yet — is that still the case?
Yeah I still haven't met him! I'm hoping to meet him soon. He's a great guy and obviously he's working around the world and doing his own stuff, so it's hard [to meet].
What's it like to collaborate on a song with someone you've never met?
It's hard because you don't know what he's gonna do and you don't know what he's gonna say. It's difficult to do a song and not know what you're gonna do. But I knew Flo Rida was going to do something amazing, and he did. I have to say it's been brilliant.
More from Olly when you keep reading.
What was it about Flo Rida that made you want him to feature on your track?
Oh, he's just so good! Everyone knows how talented he is. I obviously wanted the best rapper on the song. That's what he brings — he brings quality, style, slick lyrics. It just fitted really well with the song.
Have you had many "Troublemaker" experiences in real life? I heard the inspiration is girls you know aren't good for you but can't keep away from.
Yeah, definitely! Every guy's had a girl in their life who's been like that, or a guy who's a bit of a troublemaker and someone that you really fancy, you want to get with, but they just don't seem to like you. That's what I think everyone has experienced at some point in their life, and it's the same with me.
What else inspires your songwriting?
I watch lots of TV. I speak to my friends, my family . . . we just kind of go with it and pick up different subjects. Obviously I've had a troublemaker in my life before so that was an easy song to write, because we just started chatting about girls in our lives and wanted to be really clever with it. And there are certain subjects that are more heartfelt. And sometimes when you want to write a song you just think of a really great concept, or something that you've heard, or watched, or something that's inspired you to write about it. Some of it can be very fictional. Some of it can be something you've never experienced, but you've seen something and it just makes you feel like you want to be a part of it.
What was it like to support One Direction in the US last year?
Oh, it was great! One Direction are great guys; they're top lads and I get on with them. I've known them for about two years. They're huge across the world and are top guys.
Do you have any funny stories from that tour?
Well, not really. We had loads of great times. Obviously what goes on tour stays on tour — I can't really say or reveal what happened on it. It was fun, the guys were great. It was busy — you've got to remember on tour that there are things that are funny and we have great times, but most of the time we're just working and singing and performing.
When are you planning to come back to Australia, and will you tour?
I'm looking to come back sometime this year! At the moment the diary's a bit crazy, but I'm looking to come back about May-June-July time. If not, a little bit later in the year, we'll see what happens. I'm looking forward to coming back and seeing all the Australian fans again. I know "Troublemaker" has really kicked off and I've had a couple of really good singles that have done well over there, like "Heart Skips a Beat," and "Please Don't Let Me Go" was a big hit as well.
What's your favourite thing about Australia?
I think it's just the people! And the atmosphere, the weather, the people seem so chilled and relaxed. There are some great beaches — it's just a really nice place to come. It's definitely a place in the world that I love and I'd 100 percent stay there for a long, long time if I get the opportunity. It's a lovely country.
Who is the most exciting person you've met since getting into the industry?
Michael Bublé was someone I was a big fan of and he was someone I was really excited about meeting, and when I did meet him it was incredible. I was really in awe of his abilities and what he's achieved. And Robbie Williams was one of them. They're really big people I'm a massive fan of.
Who else would you like to collaborate with?
There's so many. To be honest it all depends on the song. I never would've guessed I would do a song with Flo Rida and I have. At the moment I haven't really got any names. Hopefully in the future I'll get to do more collaborations.
When you entered The X Factor UK in 2009, what kind of expectations did you have?
I didn't have any, really. I just wanted to do well — I just wanted to do a little bit of singing, and hopefully get a bit of belief, and for people to like what I do. I've exceeded my expectations massively — I never would've expected to have done what I've done and achieved now.
Your third album is called Right Place Right Time — are you superstitious or do you believe in fate?
Yeah, I suppose I am a little superstitious! It's a tricky one. I believe everything happens for a reason. Everything happened for me and kicked off on The X Factor and my life's changed. I generally don't have that many superstitions. The past three-and-a-half years have been quite incredible and I hope the next three-and-a-half years are just as good!
I know you were involved with The X Factor UK in terms of presenting, after you were on the show. Is that something you'd like to do more of, more TV work?
Yeah, definitely! TV is something that I love and I had an amazing time doing The Xtra Factor. I'm hoping in the future we'll get to do more stuff together, but at the moment music is my priority and what I'm trying to achieve. We'll see what happens. I might still do TV in the future, I might still do The Xtra Factor this year. At the moment I'm just working really hard on my music, and it's doing really well and taking me across the world. Of course, when that happens you have to go to different countries. I can't just stick in the UK. I have to go to Australia, I have to go to America, I have to go to Asia. It's hard for me to knuckle down any TV jobs because it's just so hard.
Do you pay much attention to what music critics say?
No, I think you write an album that you think your fans are gonna love and is gonna make other people change their minds about you. I think if anything my first two albums were brilliant, and they sold a lot — my fans really loved them. And I think this new album has done the same, in the UK especially — I'm already double-platinum, which is great. The album itself is the best I've ever done, and that's what people have said.