One Direction Australian TV Interview on Today
One Direction Give out Hugs to a Fan and Karl Stefanovic on Today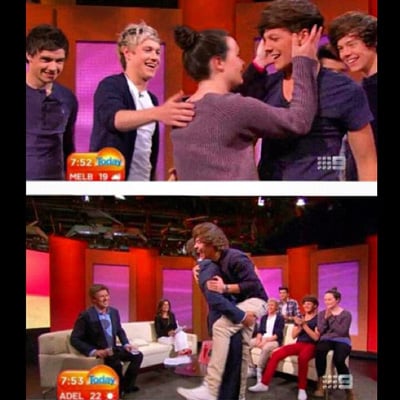 One Direction are in Sydney and this morning their first stop was at Channel Nine's Today studios. It was their first televised Australian interview and kicked off a busy day of press commitments for the boys. Hosts Karl Stefanovic and Lisa Wilkinson, along with entertainment reporter Richard Wilkins, interviewed Liam Payne, Zayn Malik, Niall Horan, Louis Tomlinson and Harry Styles in front of an excited studio audience, quizzing them on how they cope with their success and what it was like to swim in Sydney Harbour yesterday. They also announced that they'll be returning to Australia and New Zealand in 2013 for a proper national tour. Liam said, "Yes we will be coming back with our full arena show to Australia and New Zealand next year. We can't thank the fans enough for their support. We'll be announcing it all very soon so stay tuned for more details!"
To watch footage of the boys on Today, keep reading.
The boys then took questions from the audience, and dedicated "Directioner" Hannah was given the surprise of her life when Louis asked if she wanted to give them a "cuddle." (Hannah was at the airport waiting for them yesterday morning and has been following them around Sydney.) The excited fan jumped into their arms and sat next to Louis for the rest of their chat. Not one to hide his "man crush," Karl also got in on the action and got a huge hug from Harry.
Watch the whole interview below — the hugging starts around the 10-minute mark.