Osher Gunsberg Interview For The Bachelor Australia
The Bachelor Host Osher Günsberg on Whether He'd Go on a Show to Find Love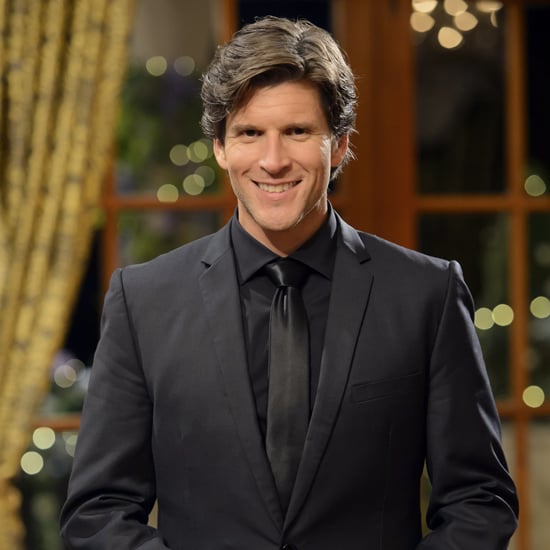 "We're basically following one man's journey on a path to falling in love." This is how Osher Günsberg, the host of the first Australian version of The Bachelor, describes the kind of ride we're in for when the show premieres on Sunday night. Osher is no stranger to Aussie TV, having held long-time gigs at Channel [V] and Network Ten in the past, and most people may know him from when he hosted Australian Idol (he has personally and professionally changed his name from Andrew G to Osher). After years of living and working in the US, he's back with the Network Ten family doing what he loves, and he's excited to be involved with the local version of the format. We spoke to Osher for a rundown on how the show works, why Tim Robards makes the perfect Bachelor, and whether he'd ever go on a show to find love.
Did you catch much of The Bachelor when you were in the US? They're obsessed!
It's hard to avoid it. They have done 17 seasons of The Bachelor in the US, which is colossal. When it comes to the success of a television format, that is like owning the Bledisloe Cup and never having to play for it again. It's just enormous, that kind of success. And there's a reason why it is so successful — it's a really great format and I am so stoked that we are doing on in Australia and I am so stoked to be involved with it.
The way I try and describe what a format is: think that you're a cover band. You are going to play "Are You Gonna Be My Girl" by Jet. It's got rock 'n' roll, it's got a riff, and people are gonna dance to it, they're gonna sing along to the chorus. Even if you're not Jet, even if you do a slightly different version of it, you've still got to play the same chords, the same riff and you've got to sing the same words. You can do it faster or slower than Jet, you can do it on cellos if you want, but as long as it's the same song, it's going to work to a degree. And it's the same thing with a format. When you make it your own, that's fine, we don't change too much of it, because it works! Every different country it's in has its own local flavour. I'm really excited about the Australian version because I think we're doing something different to the American and British versions. We're approaching it in a very elegant and classy way.
More from Osher when you keep reading.
How did the hosting gig come to you?
As of December last year I was unemployed for the first time in my life. Like since I was 19. That was a bit intense for me. I tried not to panic, I had some savings so I tried to live off my savings for a little a while. But then six-seven weeks rolled by and I thought, 'I better do something. What am I good at?' I'm good at television. So I went down to the Staples, like a big Officeworks, in LA and I bought myself a big white board and I started sketching out some ideas I had for a couple of TV shows. I put together about three pitches, one of those I did by myself and two with two other friends of mine. I started pitching around LA and then I came down to Australia for my cousin's wedding, and while I was down here I pitched one of my ideas. Basically I was creating the next job I'm going to do, and rather than waiting to be asked to dance I was like, 'OK, I'm going to out and be the band — let's go.'
And so I was pitching to all the networks, I pitched to everyone, and when I was in there at Channel 10 saying, "Hey, I've got this show, I want to come back and work for a few months down in Australia hosting this kind of TV show," and they said, "Yeah thanks very much." And then about five or six weeks later they said, "You know what? It was good to see you the other day. We're doing The Bachelor — do you want to do it? And so I think I screen tested maybe like a week later and then I was on a plane five days later and we were shooting the next day.
I was unemployed, I had no income so I created something and it was through that that I got the offer. I got back in front of their faces saying, "Here is what I am doing, I'm back at it, I'm making things, I'm creating stuff." And the plus side is they are also quite interested in one of the shows I pitched so that's also quite nice.
For people who aren't familiar with The Bachelor, what happens week to week?
We're basically following one man's journey on a path to falling in love. There are 25 women that live in this incredible mansion — Tim lives in another house — and each week he will invite maybe two, maybe six women, or anywhere between that number, on a group date, and they'll go and do something exciting. And then he'll also take one single girl out on a date that week. At the end of the week there will be a big cocktail party — everyone dresses up really lovely, it's black-tie and gorgeous — and during that party Tim will have a bit of a chat with the other women he didn't spend time with, see where the connections are, and at the end of the party we have a thing called the rose ceremony.
We give him less roses than there are women. Any women he wants to keep getting to know, he gives a rose. Unfortunately each week some women don't get a rose, and they leave. But it's a metaphor for what happens in actual dating. People go, "This guy's interesting. Oh, but this guy's also kind of interesting. And then this other guy . . ." You hang out with them and after a while you start committing to one guy. We're just putting it on television.
What makes Tim the perfect Bachelor?
Oh god. He is easily the most eligible bachelor in Australia, quite easily, and this is from someone who was once considered that. [Osher was Cleo Bachelor of the Year in 2004.] He's like 6'2", he's carved out of anchor rope, he's a really gifted piano player, he can do things with a slow cooker and some lamb that will make anyone weak at the knees. He's a chiropractor, so he's good with his hands, he's a part-owner of his own practice. He's got his shit together. He employs his sister, he looks after his family, he's got a really good relationship with his mother. He's also a really lovely man! So, why not? And it just transpires that he's had a few long-term relationships and they didn't quite work out, so when this show came up he thought, 'Why not? I've tried other things. Maybe I'll meet someone.'
And that's what the women are doing as well. They're smart, educated, funny, career-minded and driven, and they also happen to be really hot. The common theme they had during the casting was, 'I've tried everything else, I'll give this a go.'
Do you believe genuine love can be found on TV, which can be such an unnatural environment? People often put on a front on dates anyway, but this is even more extreme.
People find love in all kinds of places. People find love when they're at work with strict no dating policies. People find love on a bus, people find love playing golf, people find love in a mosh pit, people find love on a dance floor. It happens everywhere. Sure, the camera thing isn't everyone's everyday life, but you'd be surprised how quickly everyone involved adapts to it. Because our crew are the best at what they do, our camera guys, so they know when to keep distance and when to get in. As much as they can, they allow everything to play out without invading anyone's space. Long lenses are very handy.
How does your role work in the show? Are you doing narration, do you come in and out?
I guess I'm more of a facilitator, the way I make it work. I'm there as a confidante for Tim — he and I often have quite in-depth discussions before the rose ceremony when he's deciding who's gonna get a rose, and he does struggle with that quite a lot, so I'm really grateful I can be there for him. I'm someone who fell in love and knew I was going to marry a woman the first time I saw her, and I did. That didn't work out, which is quite sad, but I've had that experience, so I'm able to share that experience with him. I'm really grateful that I can be there for him.
I'm also there to make sure the rose ceremonies go off well. It's very emotional. I just want to be sure everyone's OK. I'm not that involved — the show's all about Tim.
After experiencing this from the host's point of view, would you ever go on a show to find love?
I don't know if I could do it in this country and have people believe me that I was there for the right reasons, because I have a profile. If I didn't have a job in television already . . . But you know what — screw that! Maybe. If I get to the point where nothing else is working, and a producer comes to me and says, "Hey, we're thinking of doing this," maybe I would! Here's the thing: I don't really go out, I don't really meet a lot of new people. I'd be like, "Hang on a second, you want to organise a whole bunch of women you think would be a really good idea for me to go out with? Yes! You want to film it? Ah, OK, sure!" I can handle myself. Sure, why not? I've seen the quality of women who have put their hand up [for The Bachelor], and it really gives me confidence now I'm a single man. These women exist — I just have to find them!
The Bachelor Australia premieres on Sunday at 7:30 p.m. on Network Ten.