Pantsuit Nation Backlash
Was Pantsuit Nation Too Good to Be True?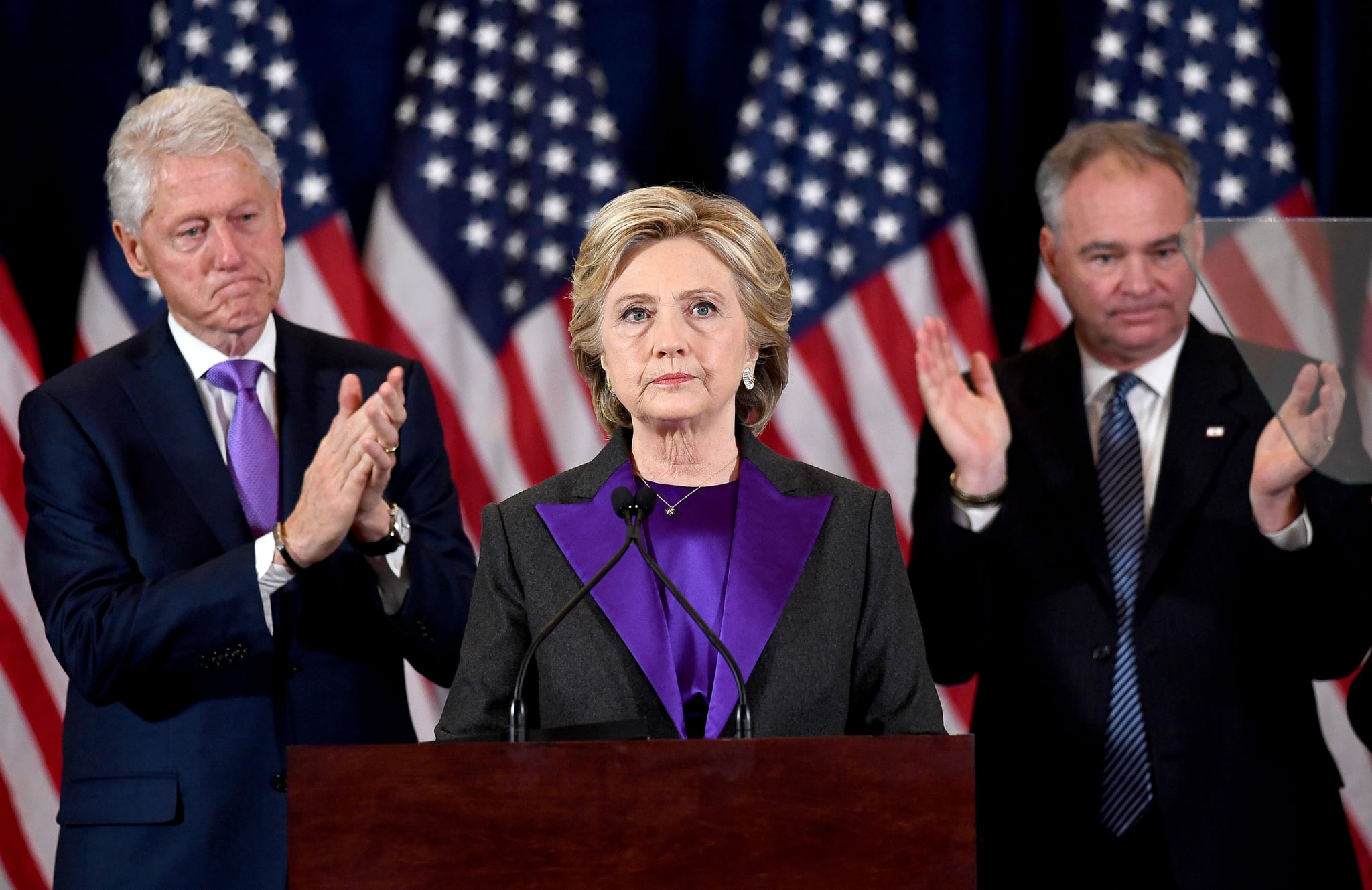 This week, the 3-million strong Facebook group Pantsuit Nation devolved into infighting when its creator, Libby Chamberlain, announced that she was compiling a book spotlighting the stories its members had shared there. Immediately, an influx of reactions began to pop up in my Facebook feed, expressing a sense of betrayal at the news that the group's leader was "cashing in" and "selling out" by publishing these private posts. A Huffington Post article went so far as to refer to the page as "a sham." As I watched these messages stream forth, I felt sad, too — but likely for a different reason than the writers of those missives.
If anything, I was surprised and disheartened that so many people I saw come together to support each other and share of themselves reacted with cynicism, instead of cautious optimism and hope, to the book news. Those reactions partly came in the form of those who jumped to Chamberlain's defense — many of them white women — with condescending or dismissive replies to the valid concerns of people of colour or those from marginalised groups. It felt like I was watching Pantsuit Nation embrace the very knee-jerk, reactive, assume-the-worst thinking it stood so strongly against. Instead of gathering information, holding Chamberlain to account, and giving her an opportunity to address concerns and provide more details, people jumped to conclusions. They turned on a woman who had devoted hundreds of hours of her time to maintaining the page that has given millions of women and allies a vital platform, forged camaraderie, and sparked real-world activism, like the nationwide Strike Out and Protest rallies that took place earlier this month. They turned against each other.
To those who argue that Pantsuit Nation was always meant to be private: at 3 million strong, and after widespread media coverage of our efforts, we are no longer a secret society. Chamberlain has also been clear in her two Facebook posts about the book that she will be reaching out for permission to share stories submitted by members. I absolutely respect the need for safe spaces, but it's also important that we ensure our reaction to having Pantsuit Nation stories immortalised in a public document is not being borne out of a sense of exclusion or elitism. The wrenching, uplifting, joyful, devastating stories that made up — and continue to make up — Pantsuit Nation inspired people. They moved them to action. They moved them to self-searching. Why would we deny that of an even larger audience of readers?
As a writer, one of the most disturbing arguments I saw spring up in the comments was that Pantsuit Nation should turn its attention to real-world activism and not words on a page or a "coffee table book." As though activism and action are mutually exclusive of deep thinking and community building. They are not. They never can or should be. I was brought to tears and stirred to action — donating money, volunteering, or simply offering a kind word to a neighbour — by myriad Pantsuit Nation posts during the election. To see people who I assume shared similar experiences denigrate the vitality and dignity of other peoples' testimonials, and the sheer power and force of words and stories, is deeply offensive to me. Not to mention that I think we can and should be proud at the prospect that this historic moment in time and this historic group will be immortalised in print. Books are historic documents. This compilation is a chance for Pantsuit Nation to have a home in public libraries, in schools, in the hands of our daughters and granddaughters and great-granddaughters. Books prove we were here.
I may change my mind about this. Chamberlain may prove me wrong. Maybe she really did start the group with the intent of someday cashing in and blowing hundreds of thousands of dollars on her own wardrobe of expertly tailored Valentino pantsuits, though I greatly doubt it. She absolutely owes the members a transparent and clear accounting of how the book's proceeds will be allocated, which she has already begun to outline. Yes, she must do more, but if the book deal did happen quickly, as Chamberlain and common sense both suggest, why wouldn't we give our fellow Pantsuit Nation member (and fellow woman) the benefit of the doubt in the interim? For now, I'm retaining the same hope that Pantsuit Nation gave me — and I'm certain so many of you — during one of the most challenging times of our lives.
Image Source: Getty / Jewel Samad