Photos of Anna Kendrick, Emily Blunt, Kristen Bella, Anna Paquin at Costume Designers Guild Awards in LA
Engaged Emily, Kristen and Anna Join Another Anna at Costume Designers Guild Awards!
A few of Hollywood's award season beauties came out for the Costume Designers Guild Awards in LA Thursday night. Anna Kendrick has a big job on her hands picking her Oscars gown as a first time nominee and she stood out in pretty white Elie Saab gown yesterday evening. Newly 27-year-old Emily Blunt slipped into something dark and stormy while Kristen Bell made her metallic choice a lot more golden. Blunt took home one of the night's prizes, the Swarovski Award while her The Young Victoria won for excellence in period film. Both engaged girls have some wedding planning in the works, as does another of the night's attendee's Anna Paquin.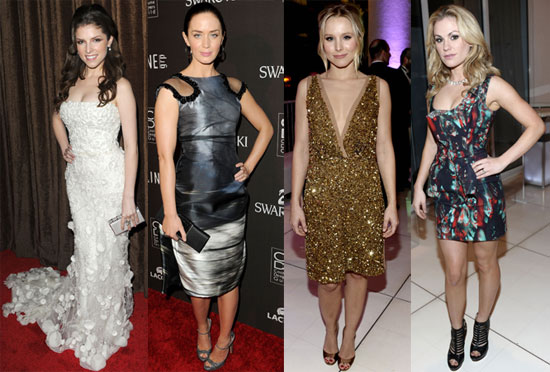 Keep reading . . .