Photos of Ashley Greene on Interview Magazine
Ashley Greene Goes Black and White For Interview
Ashley Greene is all about sexing things up these days — the Twilight star recently stripped down to nothing but body paint for Sports Illustrated, and she's decked out in black leather and a see-through bodysuit for the February issue of US mag Interview. One of the photos is perhaps NSFW, but there's more Ashley hotness with a behind-the-scenes video on the magazine's website. Ashley responded to questions asked by her costar in the series Michael Sheen about scoring her vampire role, being a role model and her upcoming movie The Apparition. Here's more: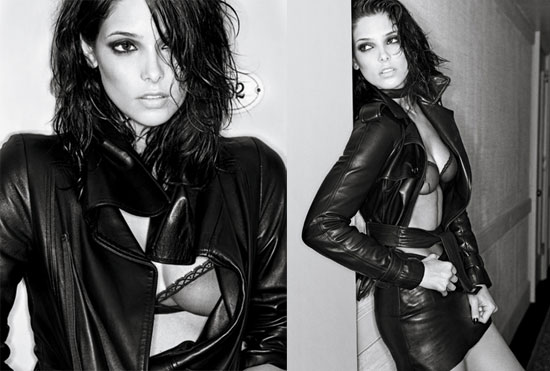 On getting the role of Alice Cullen: "It was just another audition. My managers were like, 'You're going into a great casting office. They cast great projects. They're sticklers. If you suck, they won't call you back in.' So I was like, OK, I'll pay extra attention. Then I figured out there wasn't a script or a breakdown, but there was a book. So I got the series and fell in love with it. Then that determination kicked in and I was like, OK, I'm going to book this part is what's going to happen. I worked my butt off for it."
On what it's like being at the epicenter of the Twilight craze: "It's a really hard thing to wrap your head around. I was working at a restaurant, I booked the role in Twilight, put in my two weeks' notice, got fitted, flew to Portland, filmed, and then it started getting hype. That helped me get my foot into certain doors before the movie even came out. I did four independent films during the break between Twilight and New Moon. I haven't even really had time to sit back and process it all. But when you do finally sit back and think about it, it's incredible."
To see what Ashley has to say about her upcoming film projects and her interest in fashion, keep reading.
On the Apparition: "The great thing about this film is that it's really serious. It's more of a thriller. And, for once, I got cast first. They consulted me on the lead male, and we're talking back and forth about this character, so it's sort of a new stepping stone in my career."
On fashion: "There was a moment in time where I was kind of having this mini-breakdown because it was all very new, and it was all being thrown at me really quickly, and I was going, 'Why are people reporting on this? Why do people care what I'm wearing or what I'm eating, and why are people looking down on me because I'm not wearing high heels?' That's the downside to being in the public eye. When girls come up and say, "You're my role model," it's really flattering, but it's also really scary because I'm not perfect and I'm going to make mistakes. I've just decided that I have to continue to live my life and do what I do. Hopefully, people love me because of who I am, not who I pretend to be."