Photos of Channing Tatum in Details
Channing Tatum Goes Public About His Privates in Details
Channing Tatum struck a few sexy poses for US mag Details' February issue. Apparently, no topic was off limits for the Dear John star, as Channing touched on his stripper past, his weight and an unfortunate incident that involved boiling hot water and his private parts while on the freezing Scottish set of The Eagle of the Ninth. Here's more: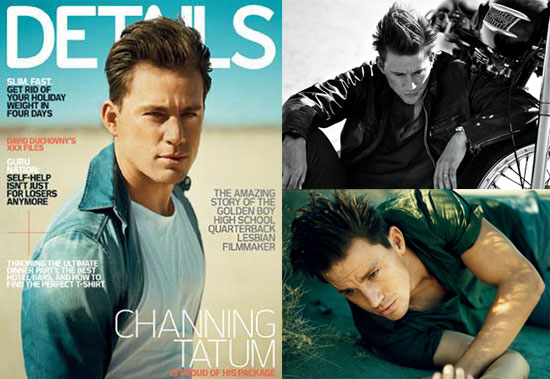 On his injury: "It was the most painful thing I have ever experienced in my life. I've been to the hospital, gotten stitches, had broken fingers and toes. But this was a suffocating kind of pain. Now my penis is fantastic! One hundred percent recovered. Put me back in the game, Coach."

Keep readng

On working as an exotic dancer: "I've been wanting to talk about this forever! You have publicists and managers saying no, and I'm like, 'Mmm-mmm, it's gonna come out. I never wanted to hide it. . . . I'm happy I did it. I'm not proud, because it's not something to be proud of, but I had an experience that only one out of a thousand — a million — people can say they've ever had. I've been through this crazy sort of life, and I came out the other side fairly unscathed."
On his weight: "There's this YouTube thing called 'Channing Tatum Got Fat' that has the whole spectrum of me, from model-skinny to my actor weight. I'm around 200 pounds. I either have to gain 30 pounds or lose 30 pounds for my next role. I haven't decided which yet. I'm gonna give it five more years and then say, 'Get me some fat roles, boys!'"
Check out even more photos of hot Channing, and go behind the scenes from his outdoor shoot.