Photos of Dakota Fanning and Gabourey Sidibe in the February 2010 V Magazine 2010-01-19 11:00:00
V Gets Double the Starlets With Dakota and Gabourey
February's US V Magazine has two covers — one for New Moon's Dakota Fanning and another for Gabourey Sidibe of Precious. The girls are on the cover of the magazine's special size issue, which features a few interesting editorials that tackle the model weight debate. Dakota and Gabourey, though, stuck to chatting about their own work in film. Here's more: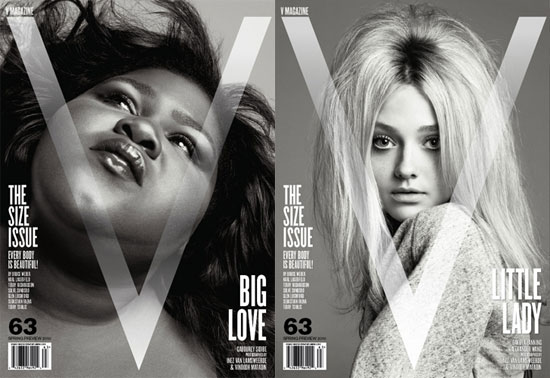 Gabourey on paving her own way: "Growing up, there weren't a lot of actresses and singers who looked like me. There were no real times that I thought maybe I can do it, until Mo'Nique came along. She's a plus-sized woman who didn't care about one day being skinny. All my life I've been hearing that I'll never amount to anything until I am skinny. And she disproved everything that everyone has ever told me."
Dakota on being a role model: "I think that when you're in the public eye, you automatically become a role model, because people are reading about you and looking at pictures of stuff you've done. But, you know, no one's perfect, everyone makes mistakes. I have made mistakes and I will make mistakes. I'm only human."
Dakota on playing Jane in New Moon: "It's really fun to play evil characters. I'd never done that before, so it was interesting to be mean. My favourite part was the red contact lenses."
7093923