Photos and Full List of All the Winners at Brit Awards 2010 Lady GaGa, Lily Allen, Jay-Z, Robbie, Dizzee Rascal, Spice Girls 2010-02-16 15:00:30
Brit Award Winners Celebrate Their Success!
At today's Brit Award in London, Geri Halliwell and Mel B were among the many stars to take the stage, accepting the Spice Girls' award for Most Memorable Performance of 30 Years (when Geri wore that dress, in case you didn't know), while Liam Gallagher threw Oasis' gong for Album of 30 Years into the audience! Dizzee Rascal was delighted to get his first ever Brit for Male Solo Artist, and Jay-Z received the International equivalent before his awesome performance with Alicia Keys. Dizzee's duet partner Florence Welch won British Album.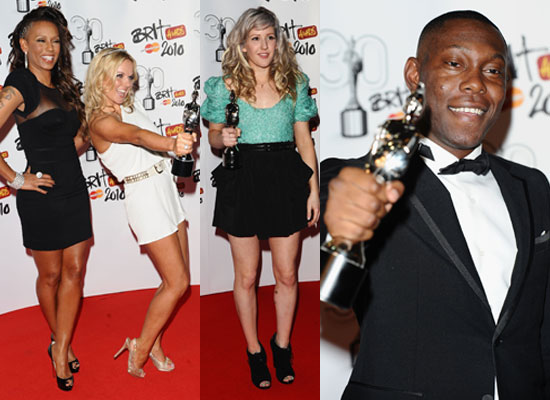 JLS won British Single and were named Breakthrough Act, while Lady GaGa received the International version after her tribute to Alexander McQueen. GaGa also won International Album plus International Female Solo Artist, and Lily Allen got the British equivalent (her first Brit), which she collected in an orange wig! Ellie Goulding was the Critics' Choice, Kasabian were British Group and Robbie Williams was hounoured for his Outstanding Contribution.

To see the full list of winners, hit the jump.
Keep reading
BRITISH MALE SOLO ARTIST
Dizzee Rascal
BRITISH FEMALE SOLO ARTIST
Lily Allen
BRITISH BREAKTHROUGH ACT
JLS
BRITISH GROUP
Kasabian MasterCard
BRITISH ALBUM
Florence & the Machine, Lungs
BRITISH SINGLE JLS "Beat Again"
BRITs MOST MEMORABLE PERFORMANCE OF 30 YEARS
Spice Girls, "Wannabe/Who Do You Think You Are" (1997)
BRITs ALBUM OF 30 YEARS
Oasis, What's the Story Morning Glory
INTERNATIONAL MALE SOLO ARTIST
Jay-Z
INTERNATIONAL FEMALE SOLO ARTIST
Lady GaGa
INTERNATIONAL BREAKTHROUGH ACT
Lady GaGa
INTERNATIONAL ALBUM
Lady GaGa, The Fame
CRITICS' CHOICE AWARD
Ellie Goulding
OUTSTANDING CONTRIBUTION TO MUSIC
Robbie Williams
Images include: Dizzee Rascal, Mel B, Geri Halliwell, Ellie Goulding, Craig David, Sam Fox