Photos and Interview of Jay-Z in O Magazine With Oprah 2009-09-03 06:00:00
Oprah Gets Jay-Z to Laugh and Talk Beyonce, Just a Little
Jay-Z isn't a man of many interviews, but he's been making the selective rounds promoting his album Blueprint 3, which comes out on September 11. He recently opened up a bit on Real Time With Bill Maher and now he's in the upcoming issue of O Magazine. He met up with Oprah in his old Brooklyn neighborhood to talk a little about his upbringing, wedding to Beyonce and the most influential books in his life. Even Oprah gushed a little about how good he smells. There's more to come when the magazine is out, but for now here are highlights: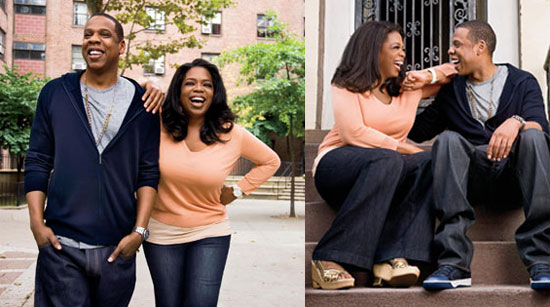 On why he was the one from his neighborhood to succeed: "There's the gift, there's the spirit, and there's the work — all three have to come together. If one of those things is off, it can stop you from becoming who you were meant to be."
On using the N-word in his lyrics: "Nothing is necessary. It's just become part of the way we communicate. My generation hasn't had the same experience with that word that generations of people before us had. We weren't so close to the pain. So in our way, we disarmed the word. We took the fire pin out of the grenade."
On his wedding with Beyonce: "Late planning! ... Very few [people knew]. The sad part is that we offended some. But people who love you understand. Because at the end of the day, it's your day."
On his favorite date spot: "I'm gonna get killed for this, but I'll tell you anyway. There's a great pizza spot we go to every Sunday. It's our tradition. It's a small place in Brooklyn, you can bring your own wine, and there are candles there. It's a nice date."