Photos of Jennifer Garner and Jessica Biel on Marie Claire for Valentine's Day 2010-02-04 11:00:47
Jennifer and Jessica Valentine's Day Girl Friends
Jennifer Garner and Jessica Biel make a gorgeous duo on the cover of US Marie Claire's Girlfriends Issue. The two became fast friends while filming Valentine's Day. The two got together to talk about the movie, their famous significant others, joke about "swapping partners" and working with mostly men on set. Here's more: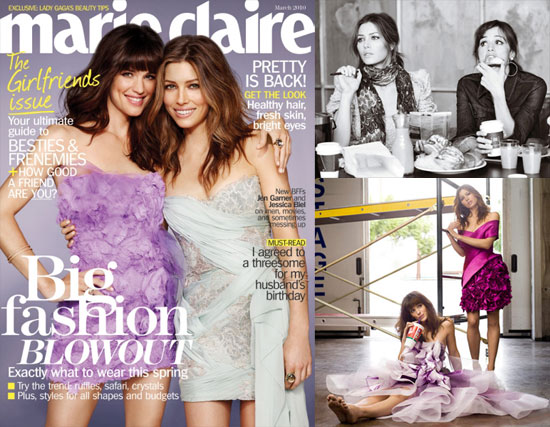 Jessica on Jennifer's daughter Violet: "Oh, I heard the sweetest story about Violet the other day. One of Violet's classmates came up to her and said, 'I heard Jennifer Garner lives in your house.' And Violet said, 'No, she doesn't.' The other kid kept insisting, so Violet came home and asked you, 'Mum, who is Jennifer Garner and why are people saying she lives with us?'" Garner: ""She just knows me as Mum, so I did have to explain to her for the first time about the difference."
Jennifer on getting out:"I'd like some wine, I never go out much anymore, so I'm going to have a glass of wine. This is living it up to me now."
On Ben's work schedule:"I'm so impressed by his discipline. He gets up and works out every day at 4 a.m. before heading off to work. Every day. I used to do that sometimes for Alias, but not every day. And I'd do it for 30 minutes, maybe 45. He does it for an hour-and-a-half. He comes home and collapses, and then rewrites scenes for the next day, then crashes and does it all over again. He's worn out."
Keep reading