Photos of Jennifer Lopez on the cover of US Elle Magazine 2010-01-07 11:00:17
Jennifer Lopez Is Hot and Hyper on the Cover of Elle
Jennifer Lopez flashed some skin front and center on the cover of February's US Elle — check out more images from the shoot here. Jennifer kept the Oscar talk out of this interview, but she did exude confidence talking about her upcoming album, swearing a bit and explaining why some of her movies worked so well. Up next is The Back-Up Plan as well as what she calls "Hyper J Lo," because she wants success now more than ever. Here are highlights: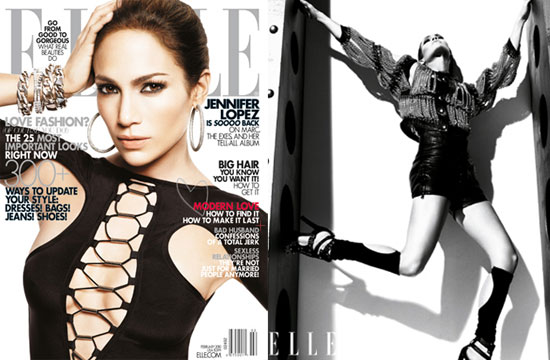 On her successful movies: "I think Maid in Manhattan and Monster-in-Law are very layered movies. And that's why they're so successful. People don't like sh*tty romantic comedies. Nothing that's sh*tty is going to make $100 million."
On being a mum and a pop star at 40: "This is what I do—what, because I have kids and a husband now I'm not supposed to be me? I'm a more heightened me if anything. Hyper J Lo. Everything I wanted before, I want twice as much now. And that doesn't mean material things; it means to explore more, to think more. Being an artist doesn't start because you're 21, and it doesn't end because you're 51. You are who you are until the day you die."
Keep reading for more about her family, career and fame
On trying to conceive: "When it comes to family and relationships, I'm quite traditional. Just because of the way I was raised. And I also believe in God and I have a lot of faith in that, so I just felt like you don't mess with things like that. And I guess deep down I really felt like either this is not going to happen for me or it is. You know what I mean? And if it is, it will. And if it's not, it's not going to."
On betrayal: "This is something I haven't been through once in my life. This is something I've been through a few times in my life. Where you really have your eggs in one basket and that breach happens and you know you should go but you're still in love and you just don't know what to do. It hits you because it's not like you're a cheater, and a liar, and I hate you, and you're no good, and I'm leaving. It's not that. It's like, I'm tormented. Even though you've done this and I know it, I still don't know what to do. I know I should go, but I don't want to. And that's why it's such a f*cked-up thing."