Photos of Kate Moss on the Cover of the March Issue of Harper's Bazaar Magazine 2010-02-03 11:00:54
Kate Steps Into Spring and Takes a Look Back With Harper's
Kate Moss flashes a sultry glance on the March cover of US Harper's Bazaar. In an interview with the magazine, she talks about the upcoming retrospective of her expansive career at the Musée des Arts Décoratifs in Paris and her design aspirations, but not the latest engagement rumours. Here are the highlights from the interview: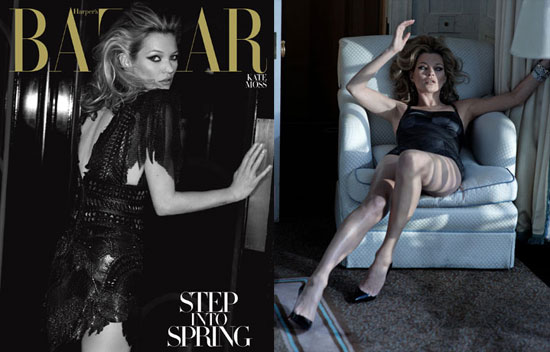 Kate on her involvement with the show: "No, I just didn't believe it . . . then finally I said, 'Okay, well, I want to know all the details. I want creative input. I want to be consulted. I want to know what they're doing and who's involved. And I want to see the space.' So they took me to see it, and then I realised it was major!"
On her fashion designing: "Um . . . I'm not really a fashion designer. I just love clothes. I've never been to design school. I can't sketch. I can't cut patterns and things. I can shorten things. I can make a dress out of a scarf."
Kate working with photographer Peter Lindbergh : "He really knows, and he makes it look so easy. I've known him since I was 18 . . . He's into older women, and as I get older, it gets better. He's not into little girls. Now that I'm older, we really talk and hang out."