Photos of Kirsten Dunst on the Cover of V Magazine Shot by Mario Testino 2010-03-09 11:00:06
Kirsten Dunst Gets Serious About Art and Film in V
Kirsten Dunst transformed herself on the cover of V Magazine's upcoming issue. After a short break from acting, Kirsten will return to the spotlight next month in All Good Things with Ryan Gosling. She opens up to the magazine about her time away from Hollywood and her strong relationships with the Mulleavy sisters, the creative force behind the fashion house of Rodarte. She also shares about her relationship with influential Japanese artist Takashi Murakami and their collaboration on a small art film last year. Here's more: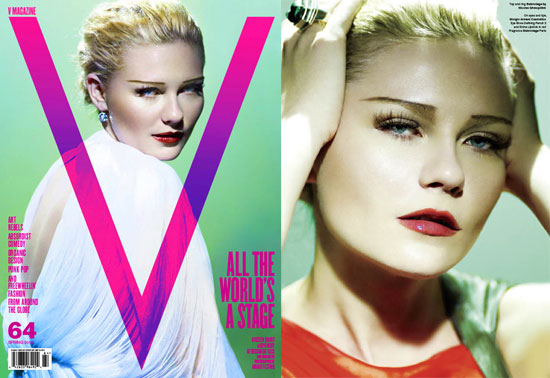 Rodarte's Mulleavy sisters on Kirsten: "She has a magical quality that all the greats, like Mia Farrow, have had before. You fall in love with her as a real person. She is both a character actor and a leading lady, which is a rare combination."
On her upcoming role in All Good Things: "I know I'll be seen in a very different light. This role is the most I can show of myself and I think it's the best work I've ever done, for sure."
On future plans: "I want to do great work and work with great directors and do great movies and produce great films. I have criteria for myself that are probably too hard to ever meet, but I'm going to try."
Kirsten on working with Murakami: "I was just so surprised by how kind and humble he was, I usually think artists are complicated by ego. But he giggles like a little kid and gets so excited."
Keep reading