Photos of Kristen Stewart on the Cover of Seventeen Magazine 2009-10-14 13:30:12
Kristen Stewart Talks Twilight and New Moon With Seventeen
Kristen Stewart is on many magazine covers in the runup to New Moon's release next month, from Interview to Allure and now Seventeen. She managed to take a break from working on Eclipse and hanging out with Robert Pattinson to sit down and chat about the whole Twilight phenomenon and what she's learned from her character, Bella. Here's more: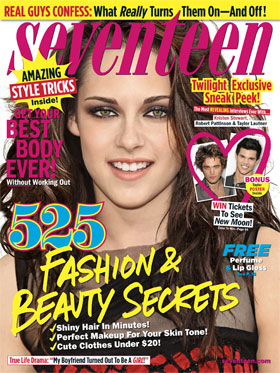 On Twilight's popularity: "I'm used to doing really tiny movies. But then it turned into a big deal. I mean, I know how obsessed the fans are — they love it, but we love it just as much!"
On learning from Bella: "You don't need to give reasons for the things you do — you just have to do what you want. And sometimes the thing that seems messed up to everyone else is what's right for you. You have to do it and not be ashamed of it."
Make sure to check out the full article and more photos when the issue hits newsstands on the 20th.