Photos of Liv Tyler on the Front Cover of UK Elle Magazine March 2010 Plus Extracts From Her Interview
Liv Tyler Shows Off Her Long Legs in Elle Magazine
Liv Tyler poses for the cover of the March issue of UK Elle looking long and lean with her legs on show. She chatted exclusively to the magazine and answered a series of quick fire questions about her life, mentioning Kate Moss, Stella McCartney, KISS and Rainn Wilson to name a few! Check out some of her answers: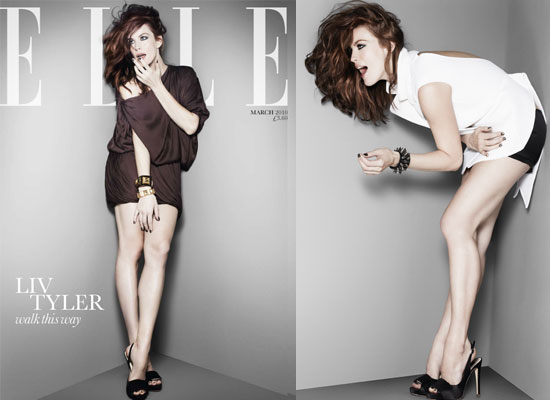 Night out of choice? "A dive bar complete with jukebox and whisky mac."
Great night in? "Stella McCartney's house in the country. Once our kids are asleep it's 'grab the wine' and talk turns to boys and husbands and who's shagging who."
Most stylish person you know? "Kate Moss. I love playing dress-up with her and her closet."
When did you know you were famous? "When my grandmother sent me a clipping of my name in a crossword puzzle."
Most ridiculous rumour you've read about yourself recently? "That Zach Braff and I were snuggling and staring romantically into each other's eyes in a wine bar. That made me laugh out loud—it was the first time we'd met and we were talking about a movie he's directing."
What do you look for in a friend? "Sincerity, laughter and loyalty."
Trait you most despise in men? "Rudeness and lack of manners—but leaving socks on the floor isn't grounds for a break-up."
Keep reading . . .
Keep reading . . .
How beautiful are you? "Right now, not very. I'm fighting a sinus infection and a pimple."
What do you see when you look in the mirror? "Bright blue eyes and dark circles."
What makes you jealous? "Sleeping in."
Best party you've ever been to? "My son Milo's fifth birthday party. Jumping on a bouncy castle has got to be the best exercise."
When did you last lose your temper? "When two paparazzi jumped out from behind a tree while I was hiking in Griffith Park."
When did you last cry? "On the set of Super during a love scene with Rainn Wilson.
Favourite movie character of all time? "Brigitte Bardot as Camille Javal in Contempt."
Favourite song lyric? "'Love is like a stove, burns you when it's hot' by Gram Parsons."
Most memorable gig? "Seeing Kiss with my mum when I was three. I remember being really scared of the band's boots."
Heels or flats? "Barefoot."
Wisdom or beauty? "Can't we have both?"
Your story in two words. "Very complicated."
What's the best advice you've ever been given? "Follow your heart and never go quietly."
What do you want to do before you die? "Live on a farm with chickens, a vegetable garden and a John Deere tractor."