Photos of Prince William in Australia, Prince William Talks About His Wedding to Kate Middleton
Will Watch: Day 2—Curses Kate Harvey!!
Yesterday, I declared that I was on Will Watch and that I was heading over to Mrs Macquarie's Chair during my lunch hour to try and score some face time with my future royal husband. Well, apparently a 24-year-old Sydney commercial litigation lawyer named Kate Harvey also had the same idea. Kate waltzed on over to the Chair with her blond hair, cute red dress and Louis Vuitton bag and when Wills approached the 5000-strong crowd she "begged" the future king for a kiss. His reply? "Of course." What??? It was that easy? Kate said of her magic moment, "It was lovely, I can't believe it." My cunning plan foiled!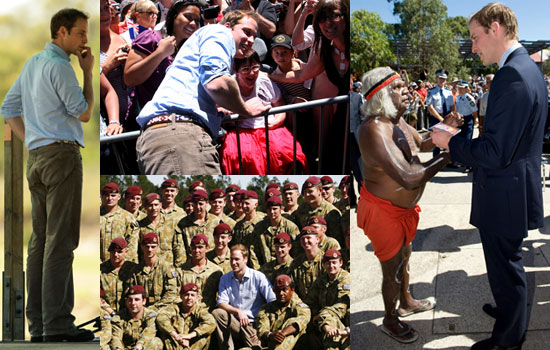 Today the Prince will be touring Melbourne before flying home on a commercial (what the?) flight at midnight tonight. Wills confirmed yesterday that he had fallen in love with Sydney, joking that he wanted to buy a property here, and vowed to return. So my royal dreams are still alive!
Keep reading . . .