Photos of Prince William and Prince Harry First Ever Painted Double Portrait By Nicky Philipps at National Portrait Gallery
William and Harry Pose Together For First Time For Portrait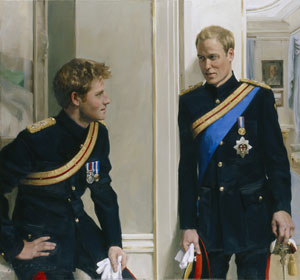 Prince William and Prince Harry have posed together for their first ever painted double-portrait, which has gone on public display today at London's National Portrait Gallery. The gallery commissioned Nicky Philipps to paint the portrait of the brothers—who wore the dress uniform of the Household Cavalry for the sitting. The artist wanted to "emphasise their brotherly relationship" and added:
"They were very good company and although I was commissioned to paint them in their official context, I hope I have also captured some of the brotherly banter that characterised the sittings".
So what do you think of the portrait?
HRH Prince William and HRH Prince Harry by Nicola ('Nicky') Philipps, 2010 © National Portrait Gallery, London