Photos And Quotes From Jennifer Garner in Parade
Jennifer Talks Romance and Therapy With Parade
Jennifer Garner is on the cover of the US' Parade magazine, ahead of the release of Valentine's Day in just a few weeks. Jen talked about her work in the ensemble film, but she also shared some details about her family life, keeping the spark alive with Ben and getting professional help during her divorce from Scott Foley. Here's more: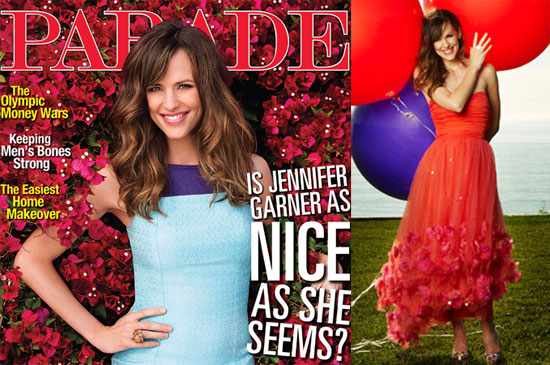 On working while Violet and Seraphina are young: "I adore going to movie sets and being part of a team trying to create something. And yet, I hate to miss even one bedtime with my girls. . . My sisters both are working mothers. I understand that my being an actress as well as being at home isn't some heroic thing. That doesn't mean it isn't confusing or difficult—especially that question of how you find a balance."
On keeping the spark alive with Ben: "You steal the time. You steal a date, you steal a kiss, you steal a whisper. You sit next to each other on the couch with computers on your laps. After the kids are asleep you...well, you know. Whatever it is. You slip away for a night, which we've only just now done for the first time. Of course, I call home while we're away. Ben would be surprised if I didn't."
On seeking therapy during her divorce: "I had a lot of growing up to do. I'm still conflict-averse. I don't like to argue. But back then I couldn't have a fight. I couldn't work things out because I wasn't able to say what I needed to say. I didn't have a voice. I didn't dare to express myself. It was a huge heartbreak for me to have something fail like that. I knew that this was either an opportunity for growth or I would sink. It's easy when you're hurt and angry to just say, 'Oh, it's them.' But I had to come into my own. I thought, 'Why did this relationship not work? What part of the failure is my responsibility?' So I went to work on it. I started therapy."
Keep reading.
On getting together with Ben: "Well, it helped that we were both single at the time. He's a very good writer."
On Ben charming her sisters and mother: "He doesn't have trouble wiggling his way in anywhere. Ben is charm personified when he wants to be. He's not easily threatened or made uncomfortable—he's very secure in that way. Maybe he just knows I'm nuts about him, and he doesn't have anything to worry about. Don't forget we were friends first for a long time."
On her 'nice' reputation: "I can't complain. This mix is perfect for me. I am the model middle child. I am patient and I like to take care of everyone. Being called nice is a compliment. It's not a boring way to describe me."